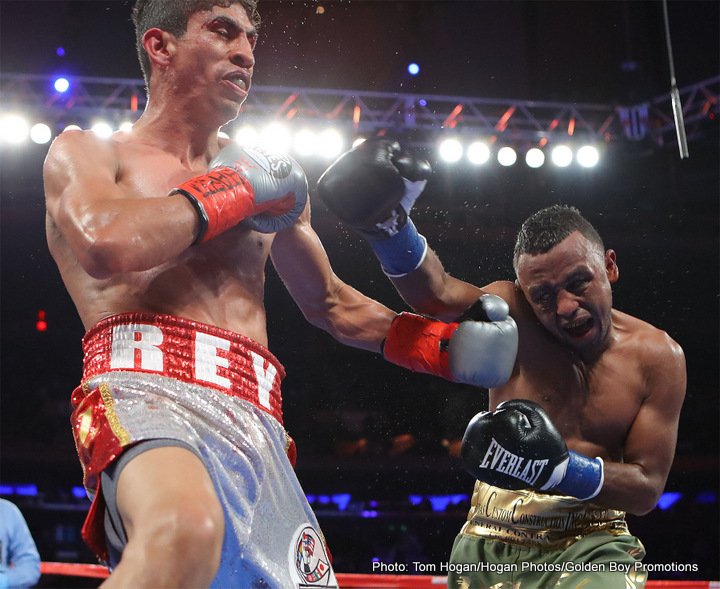 World Boxing Council super bantamweight champion Rey Vargas (31-0, 22 KOs) retained his title on Saturday night in beating Oscar Negrete (17-1, 7 KOs) by a one-sided 12 round unanimous decision at Madison Square Garden in New York. (Photo Credit: Tom Hogan/Hogan Photos/Golden Boy Promotions)
Vargas suffered cuts to each eye during the contest, but he fought well despite dealing with the blood. The judges scored it 119-108, 119-108, and 120-108.
The shorter 5'5" Negrete was getting murdered on the outside most of the fight. It was only when he started to get in close that he found some success. However, by the time Negrete changed tactics in the second half of the fight; he was well behind on the scorecards. Negrete landed well at times to the body, but he had to pay a heavy price each time he would try and land one of his own punches. Vargas was catching him with his best shots through most of the fight.
Vargas was cut in round 5 and again in round 8. Negrete tried his best to take advantage of the cuts, but he couldn't get to Vargas often enough to give himself a chance to win the fight. The cuts only slightly slowed down Vargas.
Negrete came into the fight with an unbeaten record. He now has his first career loss.
In the main event, Sadam Ali (27-1, 14 KOs) beat former 4 division world champion Miguel Cotto 41-6, 33 KOs) by a 12 round unanimous decision. While you can argue that the fight was close enough to go either way, most boxing fans seemed to believe that Ali deserved win with the way he took over the right in the second half.
Cotto stopped throwing as many punches in the second half of the fight. Later it was revealed by Cotto that he suffered an injured left bicep in round 7. The injury prevented Cotto from getting his shots off.
The scores were: 115-113, 116-112, and 115-113.
Cotto didn't protest afterwards about being robbed. He took his loss well, and chose to take the high road by not complaining.
"Feeling good. Feeling good with the performance," said Cotto. "Something happened to my left bicep, seventh round. I don't want to make excuses, Sadam won the fight. It is my last fight. I am good, and I want to be happy in my home with my family."
Well, it's a good thing that Cotto didn't fight one of the young lions like Jermell Charlo tonight, because he really would have been looking to knock him out. Ali hurt Cotto several times in the fight, but he couldn't close the show.
"I had him hurt here or there in the first couple of rounds," said Ali. "I knew I had to do something, or he would have dug in. By the 11th, I thought the fight was close. Whatever GBP has next, I'll take it. Good things happen to good people," said Ali.