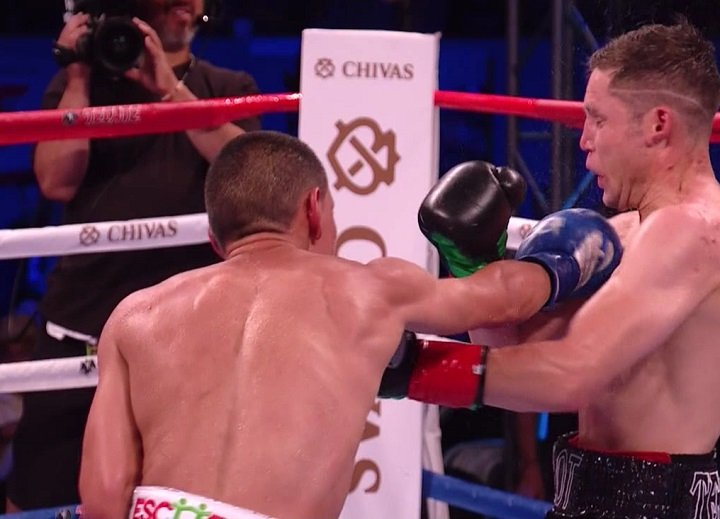 Former WBA/WBO flyweight champion Juan Francisco Estrada (36-2, 25 KOs) overcame a slow start to come on in the second half of the contest to defeat former WBC super flyweight champion Carlos Cuadras (36-2-1, 27 KOs) by a 12 round unanimous decision at the StubHub Center in Carson, California.
The win for Estrada, 27, makes him the No.1 WBC mandatory challenger to WBC 115 lb. champion Srisaket Sor Rungvisai. As good as Rungvisai looked tonight, Estrada might be better off moving back down to 112 and picking up where he left off in beating all comers.
The 3 judges scored the fight 114-113, 114-113 and 114-113, all for Estrada. It was definitely a close fight. Cuadras looked very good in the first quarter of the fight. He was too big, too strong and too active for Estrada during those rounds. If Cuadras had continued to fight at that level, he would have won the fight with ease. However, Cuadras started to tire in round 5, and Estrada was able to come on and take over the fight.
After the fight, the ringside announcer goofed up and announced that Cuadras had won the fight. The boxing crowd at the StubHub Center hated the decision, and they booed loudly. Cuadras was jubilant at thing he won the fight. He went to all around the ring, waving to the boxing fans in the crowd.
It was pretty funny when the ringside announcer corrected his mistake and said that Estrada was the winner. Poor Cuadras looked like he lost his best friend. He looked miserable. I don't know how Cuadras could think he won the fight, as he was knocked down in round 10 by a hard-right hand from Estrada and dominated in the entire second half of the fight.
Cuadras did fight remarkably well in rounds 1 through 4. But starting in the 5th, you could see that Cuadras was tired, and unable to fight Estrada off. Estrada was attacking Cuadras constantly in the last 9 rounds.
Estrada didn't always get the better of the action though. I thought Cuadras fought well enough to win rounds 9 and 12. It was pretty close as far as the rounds won by both fighters. The main difference in the fight was the knockdown. That really saved Estrada from losing the fight is he didn't get the knockdown in round 10m he surely would have come up empty.
Estrada will need to make a lot of improvements in his game if he wants to beat Rungvisai, because right now he looks too small and weak to do the job.