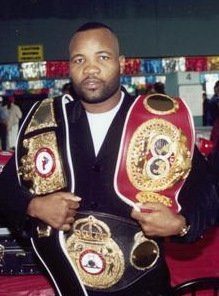 By Michael R. Cumberbatch — Welcome to the inaugural edition of "Catching up With" — a feature series focusing on former champions. In this edition, I had the privilege to talk to Reggie Johnson, a former three time champion who fought at the middleweight and light-heavy weight divisions. I found Reggie to be quite engaging, extremely intelligent, and passionate about boxing and life.
MRC: Reggie, earlier this year you talked about fighting again. At age 46 is that still a possibility?
RJ: First Michael, let me thank you for this interview and platform to be heard. My return to the ring is in progress and in early 2013 I will announce when, where, and who I will be fighting.
MRC: You've also talked about the Boxing Hall of Fame. If you were given the opportunity to state your case for becoming a member, what would you say?
RJ: I was blessed to visit the IBHOF in 2005, 2006, and this year, 2012. If any man is not inspired by that experience as a fighter, trainer, manager, promoter, etc… to take their chosen profession higher, they are working in the wrong field. I read a blog years ago that featured me …… titled "Reggie Johnson wants to be in the Hall of Fame."
Many of the bloggers thought I was crazy, and came up with all kinds of negative reasons that I shouldn't be a Hall of Fame. One reason being that I lost to Jones, Tarver, Toney, Jackson, and the 2 fights in Argentina against Castro. Despite the political losses on my record, this guy said I was dreaming and should wake up and smell the coffee. I was thinking to myself, as I read this guy state his case of why I should not be a Hall of Famer, has this fool read my resume or watched all my aforementioned fights that were political losses. After reading many of the bloggers that pretty much felt like this guy, I came across a blogger who had a different take on my wishes of becoming a Hall of Famer. He simply said that "Reggie Johnson fought the best in his era and held his own and has not ever been knocked out in his career. Then the man said, "If Barry McGuigan has been voted in the Hall of Fame, Reggie Johnson should be a shoe in because he has fought more champions who are future Hall of Famers themselves." When I read that, for some reason, it gave me hope to one day become a future Hall of Famer and I didn't read further on that blog. So Michael to state my case of becoming a future Hall of Famer, I will let my resume dictate the outcome. The theme to my return to the ring is "Three World Titles Is Not Enough." With that being said, with the feat of a 4th World title concrete me in the IBHOF or will I be Ko'd by politics again? Lol… We will see. Time is the true teller.
MRC: It's been well documented you've been on the wrong side of some controversial decisions. I want to ask you about one in particular. Let's go back to June of 1991. You come in as a decided 2-1 underdog to the then current IBF champ, 26-0, James Toney, who in his previous fight had KO'D then undefeated IBF champion Michael Nunn in the 11th rd of a fight he was losing on all cards. What were your thoughts going into that fight?
RJ: Michael I was 29-1-1 going into my first World Title fight, and Toney was in his second World Title fight. I knew my strong points of being able to adapt to styles, as well as fighting and taking fights in the opposition's back yard and beating them by brutal knockouts in South Africa and Spain. It gave me a mental edge on Toney and any other fighter in my weight class. Plus, from 1989 until 1991, I was deemed the most active fighter in the World. I think I had 9 fights within a 2 year period. Above all of that, I thought about the mission I had started at the age of 12 and all the sacrifices I made, and knowing that mainly my mom and the rest of my family and friends would be glued to the TV watching me on ABC's Wide World of Sports. Words can't explain the high that I was on going into that fight. I knew without a doubt that I would be bringing a Boxing World Title to the city of Houston and 5th Ward for the first time.
MRC: In the second round, you floor Toney with a sweeping left hook. The first time he had been down in his career. You go on impressively, and in many eyes, to win that fight. When the judges' scorecards are read and Toney is announced the winner via split decision; you seem to be in utter disbelief. Talk about your emotions at that point.
RJ: This unjust decision after giving Toney a boxing lesson right out the gate, then having Toney down and almost out in the 2nd round and cutting him badly in the 12 round with a right hook was like me losing
a loved one or dear friend. This emotional hurt can only be compared to the loved ones I've lost over the years. But like the loss of my dad, Robert Johnson (2003), my mentor and boxing coach, Mr. James Carter
(2011), and my chief Trainer, Manuel 'Chato" Robles (2007), when I fast forward and think of the blessed memories I have of them, I cry tears of joy. I realize now that my fight with Toney pushed me to the next level of the sport, and likewise for Toney, who is one of the best fighters of our era and a shoe in as a Hall of Famer. Having James Toney on my resume only adds credibility to my career and my hopes of being a Hall of Famer as well.
The boxing outfit and stable I had signed with in Southern California, Dame Boxing, knew that there was foul play in the Johnson vs. Toney fight (politics) — and when I watched the fight on tape, I witnessed
Bob Arum leaning over talking to one of the judges he was sitting directly behind. I took this to the guy who was the CEO of Dame Boxing and showed this to him, and told him this was evidence of the foul play and if we addressed this documented fact with the IBF we could file lawsuits and have a rematch ordered by the courts. He refused to address it and swept it under the table. Later the Owner of Dame Boxing became aware of this man who I will expose in my book called "On the Inside Looking Out From a Fighter's Perspective — the Reggie "Sweet" Johnson story."
MRC: Were there any talks about a rematch with Toney?
RJ: Well the rematch with Toney was first [and] foremost on my mind, then after once again Toney was shown favor in the Dave Tiberi fight; I wanted to fight Dave Tiberi, a fight that was at the table but never materialized.
MRC: You were also in the ring with the likes of Roy Jones Jr, Antonio Tarver, Steve Collins, and John David Jackson. Was there a guy who you wanted to fight but it never materialized?
RJ: There were many great fights that were at the table that didn't happen, Bernard Hopkins, twice at 160 lb, and at 175 lb, Julian Jackson, Gerald McClellan, Terry Norris, Donald Curry, and Michael Nunn who, politically, kept getting passes to not fight me when I was the #1 contender and his mandatory. Then there was Eubanks and Benn across the water.
MRC: Do you have a guy now that you enjoy watching?
RJ: I love watching Floyd Mayweather — he's the best out there. His defense matches his offense, and they both are off the radar. Imagine having a man in front of you that can hit you at will, but you can't hit him with a hand full of rice.
MRC: What are you up to these days?
RJ: Michael, experience and gained wisdom has taught me that the ring is not the roped canvas that I stepped in to face an opponent, but the mental state of mind that I encamp myself in, to be greater than my gloves. The true nature of boxing "The Ring" is more about business, marketing, and humanitarian programs, as opposed to just slugging it out. I took off my gloves for a while to try on a suit. In my time away from the ring, I've endured ups and downs, joys and sorrows, just as many other men, but I've matured as a business individual and a community activist. I may have been off the canvas but I never left the ring.
MRC: Lastly, How would you like to be remembered as a fighter; and what would you like to say to the fans that enjoyed watching you perform in the ring?
RJ: Well like I stated earlier, I want my resume to speak in volumes of the fights I fought in the ring, But I would like for my family, friends, and the many people I've encountered over the years … to be remembered as a guy who tried to live as an example to the people– and mainly the youth. I want people to say Johnson never forgot where he came from, and whoever he encountered, he gained a new friend for the most part. To the fight fans all over the world, thanks for your support and the best is yet to come!