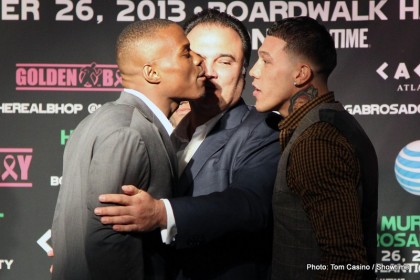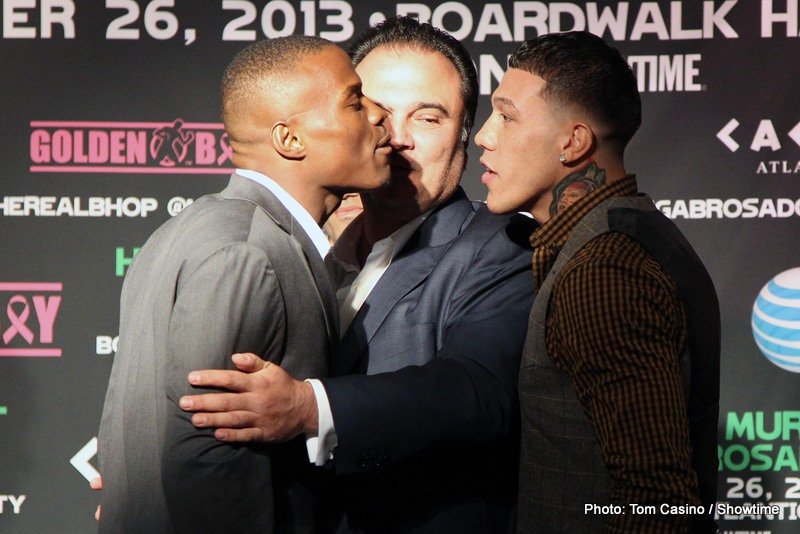 Peter Quillin defends his middleweight title for the second time against the ever improving veteran Gabriel Rosado. The fight stands out to hardcore fans as the best matchup of Showtime Triple-header this Saturday night from Atlantic City, New Jersey. In the main even Bernard Hopkins attempts to add to his legend of longevity. 
The unbeaten Quillin is on a mission to prove all of his doubters wrong with a great performance. Rosado, who claims he can't get a legit fight at 154, travels north to 160 once again for a shot to win his first title.
They say the early bird gets the worm.
That old saying holds true majority of the time when it comes to successful professional boxing careers.
Most top notch or contender level fighters have an extensive amateur background that saw their introduction to the sport at a very young age.
These guys don't have that, instead having to learn most of it on the job. Which is ok for the average person holding down a 9 to 5, but this type of on the job experience is very difficult to deal with both mentally and physically. 
In a sport that handles losses like college football does to teams that slide down the rankings seeing their dream season disappear after just one loss, it can be hard to hold much hope.
As a prospect coming up one loss if the fighter hadn't reached a near contender level or doesn't have the proper backing can be devastating.
Being upset by a no name fighter will deflate any hype or momentum you thought you had going into the fight. One bad performance in the early stages on T.V. can leave a bad taste in the mouth of fans and networks that they may never get rid of.
Sure, you may get another opportunity down the line with the odds stacked against with short notice calls to face fighters who are backed by promoters or managers who are well connected making it next to impossible to get a fair shake.
The story of Gabriel Rosado is about a man that hasn't giving up.
He had a rough start to his career loosing 5 times in first 16 fights.
He managed to beat one of the two unbeaten prospect he faced and things were looking much better for Gab, after losing two times very early to some run of the mill guys.
He then received a big opportunity from a network to face the once beaten heavy handed Alfredo "El Perro" Angulo. He failed miserably getting knocked out early and after a loss Derek Ennis his career had not only hit the brakes but was in reverse heading down a one way street.
Some fighters never even get past the "club" level and that's we're Gab stood after about 4 1/2 years in to his journey.
But lucky for Rosado his journey didn't stop there.
He went back to the drawing board to rebuild or better stated build his career. He kept working and working on his craft learning in the hardnosed gyms of North Philly, fighting once more in 2010, three times in 2011, improving every time out enough to land three fights in 2012 on the NBC Sports Network.
Looking good against hardened veterans like Jesus Soto Karass and Sechew Powell he shot up the I.B.F rankings enough to be a mandatory for K9 Bundrage. He could have waited until K9 was ready to fight him in late spring of 2013.
But nothing comes easy for Gab and he showed once again the he is not worried about risk even at such an important stage of his career.
He chose that path less taken deciding to move up in weight for a shot at a world title in his fight last January versus the new "Boogie Man" Gennady Golovkin.
In a loss he won in the hearts and minds of hardcore's across the world. He had showed improvement, toughness, and balls in a one sided beating that was out of his normal weight class and therefore very excusable.
He has been battered and bloodied, being such an underdog he has become somewhat of a people's champ.
In May on the Mayweather vs. Guerrero PPV his profile got even bigger when he faced J'Leon Love once again losing, this time a very tight fight.
A fight that many thought he had done enough to win including a late knockdown landing the more powerful punches in the 2nd half of the fight. Later the outcome was changed to no decision because Love was caught with a diet pill in the test after the fight.
After two fights at 160 Gab was ready to go back to his more comfortable weight class seeking a title shot or big fight. He got his shot alright but it would be once again at middleweight for a title.
In to the frame we bring back "Kid Chocolate" Peter Quillin, who may have not had an extensive amateur career but with the skills he's developed it's hard to tell that he was introduced to the sweet science relatively late.
Quillin's father was born and raised in Cuba. Peter was given the nickname of a former World Champion, Cuban Kid Chocolate due to their physical resemblance and Quillin's Cuban heritage.
Being raised in Grand Rapids, Michigan he must have gotten some of that counter punching ability out of the residue in the water from a state that has produced by birth or trained some of the best fighters in the history of this storied sport of ours.
He moved the New York as young man picking up boxing eventually turning pro in the summer of 2005. He fought in and around New York getting good exposure while he honed in on his craft becoming a talented fighter who can box and punch, a trait that is a rarity in today's boxing.
He collected win after win against some solid vets putting him in prime position to make a name for himself.
His big break however came with some baggage in the form of the once legendary fighter now aged and shelf worn, Winky Wright. He won the fight knocking down the former pound for pounder in a very easy win.
Many fans wanted to see him in the ring with a prime fighter or a name like Sergio Martinez. So in his biggest win to date at the time, scrutiny was tied to it and has lingered around him despite earning a very legit victory in his entertaining fight with than unbeaten 160 pound titleholder Hassan N'Dam.
Even if he comes out on top of Saturday's showdown with Rosado it won't be enough to please the boxingheads.
Quillin is in tough spot with all of the top middleweights fighting on HBO. Until there is some closure in the ongoing Cold War between HBO and Golden Boy it will be very interesting to see who they keep him occupied with.
Of course none of that matters if Gab pulls off the upset taking Peter's strap in the process.
Enough of the back story let's get down nitty gritty of who wins this fight and why.
Has Rosado changed all that much or was it the level of fighter that he faced on NBC Sports Network only there to prop him up?
I wouldn't say Rosado has completely transformed his skills from club fighter status. He is more than just a brawler now improving his skill but also his gameplan from fight to fight or within the fight.
He has some ability now to move on the outside becoming much more patient in effort to figure out the best strategy for victory.
He has an active stiff jab that he uses to work his way in or to do some work outside. When he has an opponent on the ropes he digs to the body very well. He can take and give a good punch, showing a warriors heart not wanting to surrender with a face full of blood in his battle with Triple G's.
Overall it seems the game has slowed down some for him, he can now combine his brains along with his balls to win fight.
Borrowing a line from Stuart Scott of ESPN, Quillin is a cool as the other side of the pillow when it comes to finding what works for him. He packs a punch yet shows the skill to counter punch using his opponent's aggressiveness against him.
Most assume that Gab will be the one who leads in this style clash. I agree with that as well but wonder how aggressive he will be and how long will it take for this fight to heat up.
After all, Gab has worked so hard to conform into a smarter fighter it makes me think he may have issues trying to find that in between ground of smart pressure.
Once he finds it I fully expect him to trap Quillin on the ropes the way N'Dam found success. Side note Rosado will have a 1 inch reach , what really matters is Gab's body settling in nicely now that it's his third straight fight at 160.
In the middle of the ring or just on the outskirts of the pocket is where I think Quillin will position himself for the first half of the fight. Quillin should have the style to give Rosado fits on the way in.
Quillin has shown a tendency of backing into the ropes taking unnecessary punishment that could be his downfall with Rosado becoming more comfortable at the weight now.
Yet on those ropes Quillin has fired back with counter punches that have his opponents hitting the canvas on numerous occasions in the last 2 fights.
Not only will this be the best fight of the night for the card. I also will go out on a limb and say we will get ourselves a great fight possible top 10 fight of the year.
I see these styles blending very well with both fighters showing improvements in the last few fights yet still very vulnerable enough to swing momentum back and forth. 
Gab has improved and showed he will be able to take the punches from Quillin if he stood up to Golovkin's artillery.
I guess the flip side to that is Quillin delivers his power punch in more of a surprise fashion that GGG.
And that flip side to that is Gab just looked pretty good in the 2nd half of a fight that saw him in the ring with a guy that can move and box.
Rosado is in another win-win situation as long as he puts up a good fight.
While Quillin has much more pressure to perform on a high level because of course fans will be paying attention to how he does against Rosado and comparing it to how Gennady Golovkin did.
Both men are still in search of a true signature win to add to their growing resumes. Without deep amateur pedigree both fighters try to create a legacy in the pros. What we don't want them to realize yet is that they have made if much further that most that are late to pick up boxing.
Overall I think Peter Quillin is the more skilled fighter. With that said Gab will do plenty of damage and win enough rounds to maybe even steal a scorecard.
My official prediction is a majority decision for "Kid Chocolate" Peter Quillin.
Written by Chris Carlson Owner and Host of Rope A Dope Radio at www.blogtalkradio.com/ropeadoperadio
Follow on Twitter @RopeADopeRadio & Visit http://ropeadoperadio.wordpress.com/