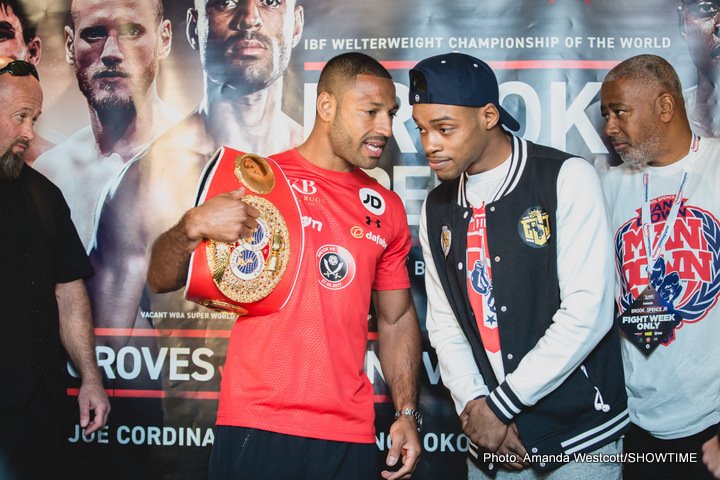 We have, as all fight fans are fully aware, one big, hugely intriguing and potentially explosive welterweight title fight tomorrow night in The Steel City, Sheffield. In the Kell Brook-Errol Spence clash we also have a genuine 50-50 fight. Who will win – defending IBF champ Brook, or unbeaten mandatory challenger Spence?
Again, it's a tough one.
Southpaw sensation Spence has been groomed for stardom, with many sage observers predicting superstar status. Indeed, thus far in his exciting and impressive pro career, Spence has pretty much shown it all. Pretty much. The one big question mark next to any up and coming fighter resides right bang next to his chin. Can the speedy Spence take a hard shot if he has to do so? Chances are good we will get an answer tomorrow evening.
Or will we?
Could we perhaps see a flawless, hit me if you can display from the slick lefty? Brook is no slouch himself when it comes to hand speed, but how much has making weight taken out of Brook; unlike Spence a giant of a welter? If the champ has depleted himself by dropping back down to 147 after his brave but foolhardy challenge of middleweight king Gennady Golovkin, the local fans might go home disappointed.
For this writer, tomorrow night will see the next star of the welterweight division's coronation. Spence, far more versatile than older man Brook, will be hard to hit, he'll land hurtful shots as Brook struggles to locate his target, and he'll put on a show; he might even make it look easy.
Some British boxing afficionados have said Spence will be shown up as "another Jeff Lacy," who was of course a big favourite to unseat Joe Calzaghe in a huge UK show years ago. Instead, it will be Brook who goes home embarrassed the way Lacy did (although Brook won't have as far to go).
Look for Spence to outbox, outclass and hurt Brook from the offset, leading to a corner retirement in the middle rounds. The loss will be largely attributed to both Brook's beating at the hands of GGG, and the defending champ's struggle to make weight.
But in reality, Spence's big edge in skill will prove to be the deciding factor.