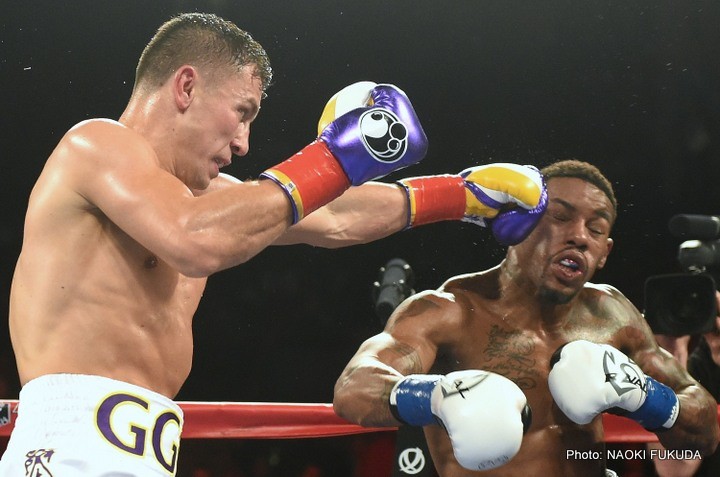 Punching power is one thing. Destructive power is another. The heavy handed type is devastating, brutal, and ruinous. That is an apt description of WBC flyweight champion Roman "Chocolatitio" Gonzalez 43-0-0 (37KO) and WBA and WBC interim middleweight champion Gennady "Triple G" Golovkin 32-0-0 (32KO). They continued to demonstrate as much in front of a full house at the Forum in Inglewood, CA. A full house saw Chocolatito destroy Edgar Sosa 51-8-0 (30KO) inside of two rounds. Triple G's feature bout looked as though it was going to be a repeat performance, as he had Willie "The Mongoose" Monroe 19-2-0 (6KO) down twice in the second. But, to Monroe's credit, he recuperated and actually won a round or two before being stopped by Triple G at :45 of the sixth round.
Both men are obviously power punchers, but they are much more than that. There are lot's of guys around who can hit, but they don't even make it to the main event level. True artist like Chocolatito and Triple G have the delivery system. They both have great footwork and balance, and It comes as no surprise that they know how to cut the ring off no matter how mobile their opponent. They are masters of leverage and precision punching, but they also have the more subtle gifts of focus, and concentration. Maybe it should be called vision. Great athletes seem to have it. In baseball, it might be the outfielder or "gets a jump" on the ball. Or, maybe the base stealer, who can read the opposing pitcher. In a brutal sport like football, the superior players can see tendencies, tells, and developing plays, all within split seconds of the big plays they make. They have a "nose for the ball".
In boxing, things happen so fast and there is so much danger that most guys aren't able to develop the necessary skill which enables them to see or sense things before they happen. Most fighters are taught and train to defend and counter against standard punch combinations such as left jab, right hand, left hook. Chocolatito and Triple G go way beyond that.
Chocolatito started the knockdown process with a hard right. The second knockdown came with a clean left hook. The third and final one was the result of a barrage of punches. Edgar Sosa was no easy touch, but Chocolatito is so sharp, powerful and superior that it's going to be hard to find someone who can stand up to him. Sosa tried to give Chocolatitio a moving target, but to no avail.
Both men soon have their opponents looking for "exit stage left". These two fighters have those extra ingredients or elements of greatness that come along all to infrequently. As Triple G is fond of saying, it's a "drama show" when he fights. The same is true with Chocolatito, who made his HBO debut Saturday night. When either of these men fights, fans are guaranteed an exciting night. Fans are marveled by the ability of these men who so easily track down and find weaknesses in their opponents. They don't bludgeon them, and they are not known for one particular punch. They take pride in demonstrating their artistry, their prowess, and their mastery of the art of boxing. Fans can't wait for their next performance.