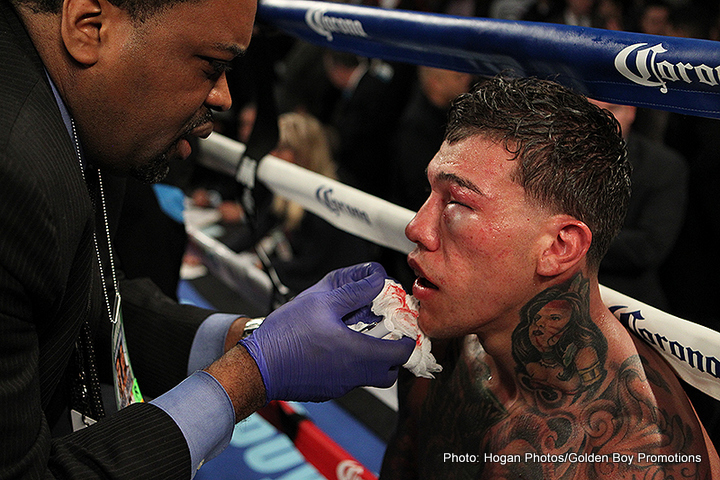 Both the fighters themselves and the fans of both Martin Murray and Gabriel Rosado are expecting something special on April 22 in Liverpool, UK. The two teak-tough middleweights will go to war next month and both aim to use a win as a steppingstone to a bigger fight.
Philly's Rosado, 23-10(13) and Manchester's Murray, 34-4-1(16) have both tasted the drama and the painful near-glory of fighting for a world title before – in fact both fighters have shared a ring with world middleweight king Gennady Golovkin – but the desire to win the crown continues to drive both men. To get another shot, Rosado will have to come through Murray, or Murray will have to get past Rosado. Either way, fight fans are in for a great night on April 22.
In fact Rosado, who will be having his first fight in the UK, says the Murray fight could be akin to the classic, unforgettable Gatti-Ward battle – but Rosado says that although he will be taking the part of Gatti, he will win next month (Gatti of course lost the first war with Ward).
"I want to win by knockout," Rosado told Sky Sports. "Against Martin Murray you are going to get blood and sweat and it's going to be a great fight. A war. It will kind of remind me of a Ward-Gatti style fight! I am Gatti, until the second fight and then I am Gatti in the rematch as well! I am not going to run and I a not going to retreat. I am just going to stand in the middle and let my boxing skills and punching power talk."
Boxing skills? Both Rosado and Murray are as tough as can be and neither fighter is a mere clubber bereft of a boxing brain; but you can put any and all of that boxing stuff aside in this one. As Rosado says, it will be a WAR.
Murray late, Rosado early, Rosado late, Murray early? It could go either way. Or of course it could be a punishing distance fight that leaves the winner with not very much at all in terms of a future career. Credit indeed to both men for taking this battle.