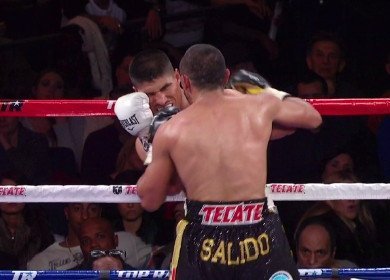 by Paul Strauss: Here's a bucket of money. Now go out and hire a biological engineer and make known your wishes for the creation or design of a great boxer. If necessary, the lab rats will take a little DNA here and a little there, garnering the needed ingredients to come up with the desired result. It will be your job to give a detailed description of what you want. Don't leave anything out. Make it known you want your boxer (not fighter) to have power in both hands. He must be technically sound, demonstrating the ability to block, slip, parry, duck under and counter each and every shot thrown at him.
Undoubtedly, you will want your fighter to be tough and not to get flustered when defending or attacking. Give your fighter great instincts, so he can read opponents' tells. Go ahead and let the biologist know your man should not expel energy unnecessarily. He should be graceful and move well, but only at the right time and at the right distance, not wasting any motion or get himself out of position.
Tell the scientists, your boxer must always be on balance, ready to strike at any instant and with power. After supplying these instructions, chances are you will end up with a boxer closely resembling Miguel Angel "Mikey" Garcia.
Prior to his dramatic Saturday night win at the Madison Square Garden Theater over Orlando "Siri" Salido, not everyone was convinced this was true. Some wanted to withhold judgment until Mikey fought someone who could give him a real test. Salido seemed to fit the bill. Salido, the WBO featherweight champion, had been in with the best, and he beat the best, including two wins over the destroyer Juan Manuel Lopez, better known as Juanma. Salido's unorthodox style was thought to be potentially troubling for the youngster Garcia. Some speculated that with Salido, the classical styled Garcia would have trouble picking up punches coming from odd angles. Even some experts wondered if Garcia might also get discouraged with the toughness of the veteran Salido. After all, Salido had already been in the ring with some hellacious bangers and withstood what they had to offer, even if he had to climb off the canvas to do it. How would that kind of toughness affect Mikey?
Saturday night's HBO Boxing main event production caused all of those concerns to vaporize. Mikey totally dominated the champion, and the only real damage he suffered occurred by accident. HBO announcer Max Kellerman seemed intent on establishing the Salido head butt as intentional, but the gentleman Mikey Garcia wasn't biting. Even after seeing a replay video, showing Salido's head movement both in and then to his right, Garcia said, "See, it was accidental." The resulting damage from the accidental head butt came in the form of a badly broken nose. It took not one, but two ringside physicians to come to the conclusion that the fight should be stopped.
In the post-fight interview, Mikey explained his broken proboscis didn't hurt much; although the butt itself did. Still, he couldn't breathe, and that was the reason for a stoppage. As fans know, in situations like this if the stoppage occurs after four rounds, it means the result is determined by going to the score cards. In this case, Mikey Garcia deservedly earned himself a TD, plus Salido's WBO featherweight world championship.
The way he did it was beautiful. He looked steady, strong and balanced, always watching, alert for opportunities. The first one came in the first round when Salido foolishly transitioned from "righty" to "lefty" in front of Mikey. Mikey touch him with a left jab, and then whistled over a beautiful left hook.
It landed on target and down went Salido for the first of what would be four times in the fight. Salido beat the count, but had an expression on his face that seemed to be saying, "Where did that come from?"
The second knock down also was due to a left hook, and when Salido got up from this one, he was definitely bewildered. His expression seemed to include not only the question of where did that come from, but how's he doing this to me! Salido tried to wing some wild shots back at Mikey, but Mikey seemed to have no trouble spotting and avoiding them. He was definitely picking up on Salido's "tells". It was obvious Mikey knew when Salido was going to attack. As a result, he would simply move just out of range, or beat Salido to the punch. Salido did have a few moments during the fight when he risked everything, bull rushing Mikey, and sending over a flurry, hoping that some would get through. Some did, but that's when the calm demeanor of Mikey showed itsself. He didn't get flustered. He continued looking for opportunities, and more often than not he found them.
By the fifth or sixth round, Salido was desperate. Mikey's punches where first directed behind Salido's gloves, then straight up the middle. When Salido's head remained down and in, Mikey would nail him with uppercuts. There was danger though, and Mikey's brother Robert cautioned Mikey between rounds of that fact. He seemed to feel there was a real possibility Salido might resort to dirty tactics, like a head butt. He said, "We don't need that shit"!
Of course that's what happened. Salido managed to back Mikey into the ropes. He threw a wild right, missing by quite a margin. His awkward attempt to get leverage on the punch caused his head to move in and to his left. All in one continued motion, he tried to get back to center, moving his head back to his right. That's when the top of his head crashed into the right side of Mikey's honker, causing it to fracture at the bridge. The two doctors (Tweedle Dee and Tweedle Dum) touched it, pinched it and conferred with each other, and then gestured to Referee Benjy Esteves, Jr. to stop the fight. The official ending goes down as an 8th TD for Mikey.
The nose will heal quickly, and then the undefeated Mikey 31(26KOs)-0-0 will be ready for anyone in and around 126 lbs. Describing him as an orthodox fighter seems inadequate, unless your understanding of orthodox includes a bit of a religious connotation such as "conforms to established doctrine". In this case, that doctrine is known as the "sweet science".