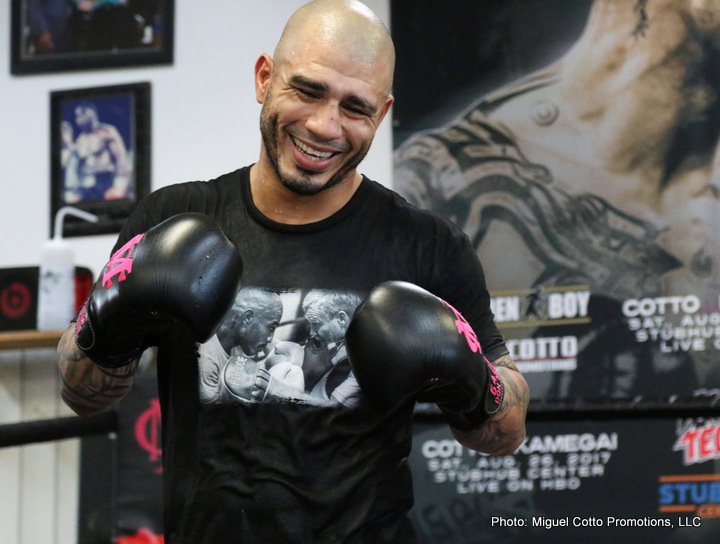 Though his fight has been somewhat overlooked due to the so-called Super Fight that will take place on the same night in Las Vegas, future Hall of Famer Miguel Cotto's Saturday night fight against Yoshihiro Kamegai could turn out to be a memorable one – for a few reasons.
Firstly, the fight set for Carson, California could be an action fight, a slugfest even; and secondly, the fight that will see Cotto and Kamegai duel for the vacant WBO 154 pound title could be the Puerto Rican great's final ring appearance. 36 year old Cotto hasn't said Saturday's bout will be his swansong but he has said that no matter what, 2017 will be his final year in the ring.
There has been talk of Cotto, should he come through okay against the Japanese warrior, having one more fight before he walks away, possibly in December, possibly in New York. Right now, a stern Cotto, 40-5(33) says he is thinking about his upcoming opponent and nothing and nobody else. But fans, and Cotto's trainer Freddie Roach, are talking about what might come next after Kamegai.
Cotto, if the form book is to be obeyed, should beat Kamegai, 27-3-2(24) and then be able to get one more fight in before he waves goodbye to a largely glorious career – and he might get himself one last big fight before he's done. There is talk of a possible match-up with Canadian banger David Lemieux, while Roach has said a few times he would like to see his charge get a return fight with Canelo Alvarez; the Mexican being the last man Cotto fought, when he pushed him hard for all 12 rounds in November of 2015 (despite what the shockingly one-sided score-cards read).
Roach has also said he'd like to see Cotto face Gennady Golovkin. Either of these three fights would be big challenges for Cotto at this stage of his career, a return with Canelo or a go at GGG especially, but stranger things have happened in boxing and maybe Cotto will face Lemiuex or the GGG-Canelo winner next. If he did, Cotto would go out with one helluva big bang; if he fought the September 16 winner especially.
While if Cotto has got one great fight left inside him, as is often the case with the great ones, imagine how thrilling it would be for he and his many fans to see him pull off a major victory in his final ring appearance. Too much to expect, even from as fine a fighter as Cotto? Maybe, but Cotto has never shied away from the ultimate challenge.