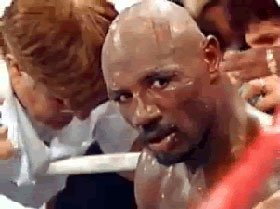 Even after ascending to the position of #1 contender in 1977, Marvin Hagler's title shot was not forthcoming. His wait as the division's top challenger – lasting over 2 years – became the longest in middleweight history.
Early on in Hagler's career, heavyweight royalty, Joe Frazier, warned the young middleweight why promoters and their showpiece fighters would want nothing to do with him:
"You have three strikes against you: you're black, you're a southpaw and you're good."
Hagler went unbeaten through 20 fights between 1976-79, then, finally, in November 1979, the muscular, 5'9″, versatile "boxer-puncher" did get his chance to challenge for the middleweight crown. The fight itself – against Vito Antuofermo – was officially, controversially, declared a draw, but with the majority of the boxing fraternity believing Hagler had done more than enough to win. Surprisingly, Marvin's second title attempt came more quickly (although he had to travel to London, UK, to get it) – this time he seized the opportunity, stopping the champion, Alan Minter, in the 3rd round.
Mexican Style
33 years later, on June 29, 2013, Gennady Golovkin – the The Ring's #2 rated middleweight – unleashed his calculated, violent, "Mexican style" on #6 rated Matthew Macklin, digging a savage left hand blow to his liver, sinking the Briton to the canvas, and elevating himself to #1 in the ratings. A chance to challenge the lineal champion, the Argentinean, Sergio Martinez, was within his sights, or so it seemed.
It's been over 3 years since Gennady became The Ring's top middleweight contender. His wait for a fight with The Ring champion has already been longer than any other middleweight, ever, including Hagler's.
The Ring champions – Sergio Martinez, Miguel Cotto, and Canelo Alvarez – have, pathetically, only defended the middleweight title a combined total of four times in the last 3 years. Worse still, each fight was fought at a "catch weight," – not at the actual middleweight limit of 160lbs. Golovkin has been ostracised. The lineal middleweight title, which has almost always been synonymous with The Ring middleweight title – once held and defended by great fighters such as Jake LaMotta, Carlos Monzon and Bernard Hopkins – is in tatters.
In this same period of time GGG has demonstrated how a champion should perform: he has blitzed through eight opponents – none of whom heard the final bell. All eight fights took place at 160lbs – no "catch weights" were needed. The #2 rated Australian, Daniel Geale, and #6 rated Martin Murray, were stopped for the first time in their professional careers. The IBF belt holder, David Lemieux, lost every minute of every round before getting stopped in the 8th.
It's not just the lineal champions who have been reluctant to fight Golovkin. Top 10 ranked middleweights, Billy Joe Saunders and Chris Eubank Jr., both recently rejected lucrative offers to fight him. Saunders declined $2 million, stating: "They (Golovkin's promoter) are offering life changing money but it's not just about that because it would be a big risk for me. They've got to pay me more money."
Eubank Jr. startled most people when he bravely threw down a challenge to Gennady at the beginning of the year. For a brief spell his bravado clogged up social media, yet when the contract was reportedly ready and waiting to be signed, the machismo vanished, along with his pen.
The middleweights have scarpered, hence the reason welterweight, Kell Brook, is stepping into the ring with Golovkin on September 10.
ESPN's Dan Rafael summed up his thoughts on why GGG/Alvarez hasn't happened:
"I just don't think De La Hoya (Canelo's promoter) wants this fight right now. Alvarez is his company's cash cow and an underdog against the monstrous punching Golovkin, who we all know is ready, willing and able to make the fight immediately."
"The best fighter I ever saw"
Charley Burley – an American middleweight, born in Pennsylvania, who fought from 1936-50 – also knew what it was like to have contracts "fall through" at the last minute, and have fighters make unreasonable demands in order to swerve a fight with him. Burley was considered the best fighter of a talented group of black boxers in the 1940s – they became well known, because the leading contenders and champions blatantly "ducked" them, so much so, that the journalists of the time dubbed them the "Murderers' Row."
Burley had almost 100 fights and was never knocked out. He beat future world champions, Fritzie Zivic and Archie Moore, and was ranked in the top 3 at 160lbs in 1942, as well as 1944-46.
He was not always the most consistent, but when on form, Archie Moore – who shared a ring with Ezzard Charles, Rocky Marciano and Muhammad Ali – said "Burley was the best fighter I ever fought, and the best fighter I ever saw." Moore lost a 10 round decision to Burley in 1944, getting dropped four times in the process. "Burley gave me a boxing lesson," he said.
Charley's 5'9" frame possessed punching power that warranted respect too, with 50 wins coming via KO. Decades after he retired, AJ Nelson, one of Burley's sparring partners, stated that Roy Jones Junior's ring style resembled Charley's, saying "Both had unorthodox styles, could hit you from any angle, both hard to hit. Charley jabbed more than Jones."
When the history books say that even the masterful Sugar Ray Robinson and Billy Conn steered clear of him for being "too risky," it is clear Burley was a special fighter. A special fighter, sadly, who was never given the chance to fight for a world title, and eventually became disheartened with the sport, retiring at the age of 32.
"Avoided" is an overused word in boxing, but Burley, Hagler, and now GGG are arguably the three most avoided middleweights in prize fighting history.
Nationality? A limited grasp of the English language? Skin colour? Whatever the reason, all three men were not deemed marketable enough to secure "the big fights" for a large portion of their careers. This factor, combined with being supremely skilled and incredibly difficult to beat, meant the queue to fight them was often non-existent (and continues to be for GGG).
Golden doors
Hagler was avoided, but at least his opportunity eventually came, and once taken, he used his newly claimed status to entice his era's super star welterweights, as well as the top 160lbs fighters, into fighting him. If Golovkin becomes the first man to KO Alvarez, golden doors will open, and the risk for squaring off against him may suddenly, magically, be worth the reward. The retired "Money" Mayweather – even in 2015, displaying virtually no evidence of deterioration – would definitely take notice.
Worryingly for Gennady's boxing legacy though, time is running out. He is 34 years old and still does not have a Hall of Fame worthy opponent on his ledger. Burley, like Golovkin, was a gifted prize fighter, but the "avoidance" he experienced means he is not remembered in the same way that some of boxing's legends are.
Will Saul Alvarez ever give GGG the fight he deserves? The Mexican's reputation is being severely tarnished the longer he avoids Golovkin.
Heavyweight champion, Floyd Patterson – who kept the intimidating, Sonny Liston, waiting as his No.1 challenger for 2 years – once reflected on the psychological pressures of having an indomitable rival who would not be perturbed – Alvarez should take note:
"One night in bed, I made up my mind. I knew if I wanted to sleep comfortably, I'd have to take on Liston."
*The Ring rankings have been referred to in this article.