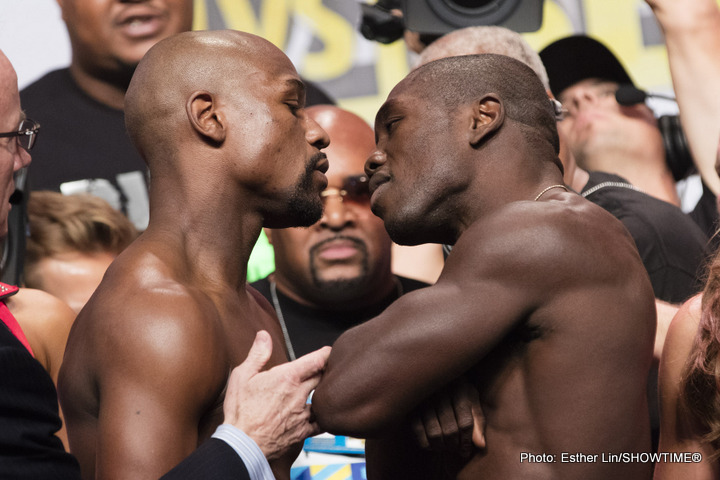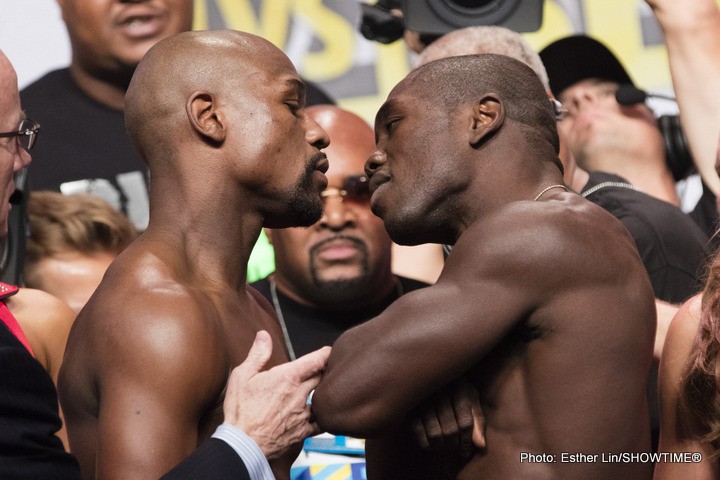 Tonight, pound-for-pound King, Floyd Mayweather returns to the ring for what could be the final bout of an illustrious career spanning over nearly two decades. During that span, Mayweather has faced practically every template of every style the sport has seen. From rough and rugged, to tall with talent, to small and violent.
Looking down his well chronicled resume, it's safe to say that he's probably been there and done that; but at the age of 38, such task become tougher, as a laundry list of legends have failed at this very feat. The latest challenge for Mayweather is the ever-ready Andre Berto. As we prepare for this clash, lets take a look at "Keys to Victory" and "Four to Explore":
FLOYD MAYWEATHER – KEYS TO VICTORY
For Mayweather, the biggest key to victory will be his overall sharpness and reflexes. Both his offense and defense is highly predicated on timing, and entering the ring against a fast-fisted youthful opponent will certainly test that. Mayweather will need to serve a heavy dose of jabs, slowing the aggression of a opponent known to take a few to land a few. Mayweather will need to remain patient into the mid rounds, letting Berto throw as many shots as he wants, while making him miss and wearing him out as he makes him pay. If Mayweather can frustrate Berto into mistakes and stay sharp late, it could be a very easy night down the stretch, then on to the next!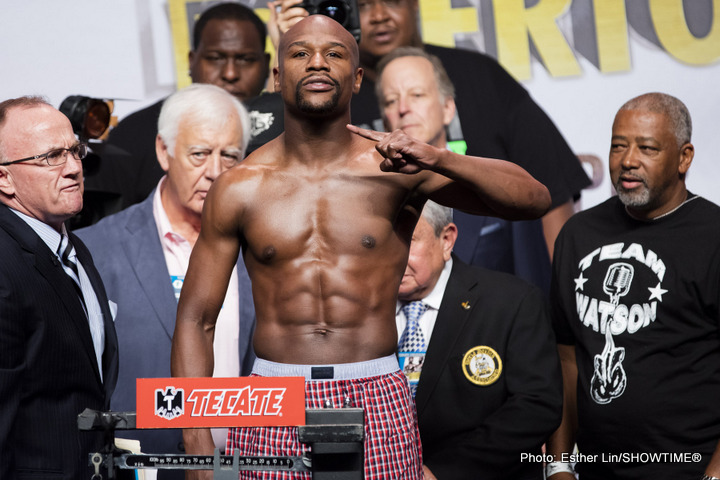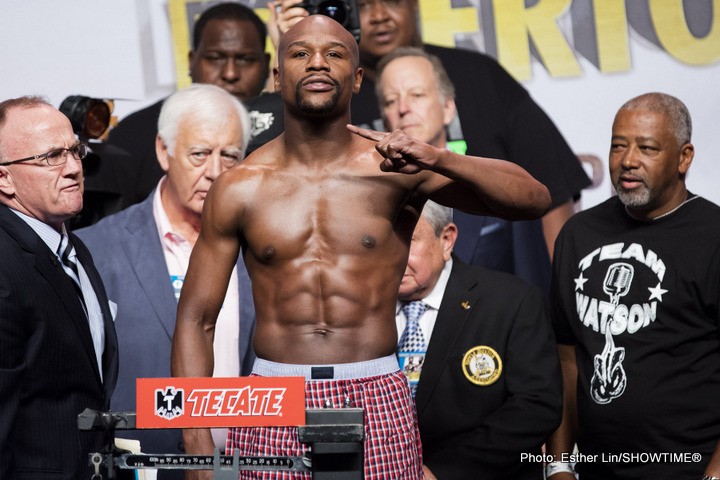 ANDRE BERTO – KEYS TO VICTORY
The biggest key to victory for Andre Berto is early dominance. Rarely has Mayweather been forced to start a fight on his backfoot with constant pressure from a fighter with this type of speed and punch rate. Mosley had the speed, but his penchant to hunt for the big shot was his downfall. Berto likes to throw punches in bunches. If he can bring early pressure and utilize his speed with a varied punch selection, he could potentially stall the P4P king early, making things awfully interesting late. Berto will need to shoot a fast jab early and often, and keep touching Mayweather at all cost. If he can do these things and remain fresh down the stretch, he has a shot at defeating the 'best'.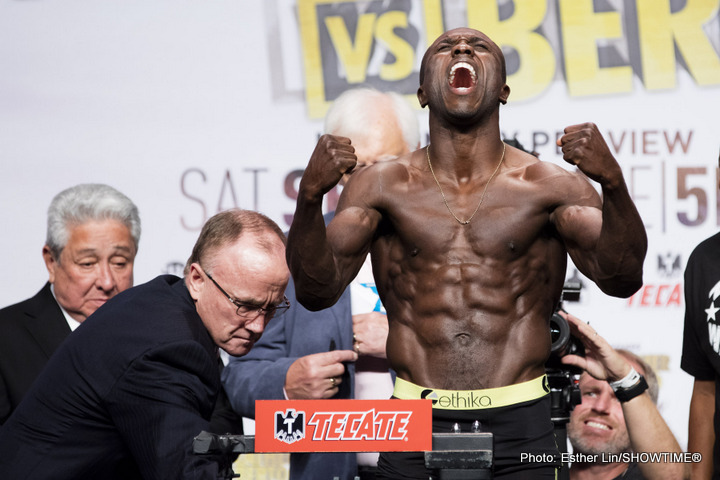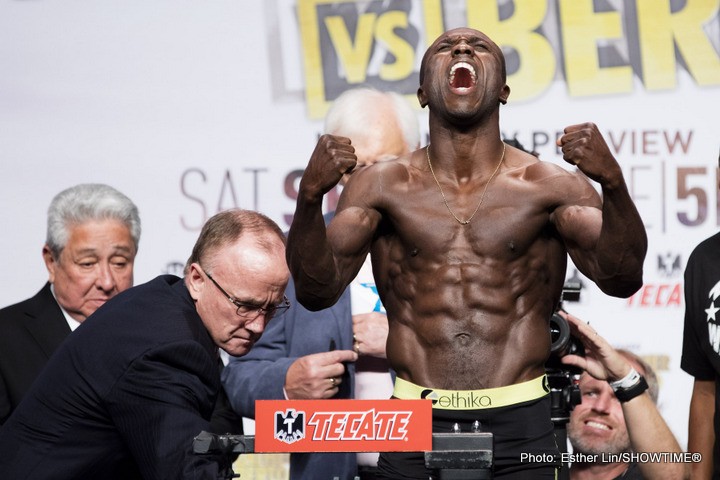 FOUR TO EXPLORE – (KEY ELEMENTS TO WATCH/INTERESTING FACTS)
'NUMEROLOGY': Muhammad Ali was 38 when he lost to Larry Holmes, who was 38 when he lost to Mike Tyson. That same Larry Holmes was 48-0 when he loss to Michael Spinks, one victory shy of matching the record of Rocky Marciano which was established 30 years prior to his loss. The date Holmes lost to Spinks was September 21, 1985. This marks 30 years, nearly to the same date, when Mayweather will enter the ring with hopes to avoid the same fate. Andre Berto is a 30-to-1 underdog. Yesterday, we saw Serena Williams lose to an opponent ranked 43rd in the world who faced 33-to-1 odds whom she had beaten 4 times (4-0) in head to head competition. Will Mayweather make history? Or become a victim of it?
​'HYPED UP or LET DOWN'?: Days after defeating Manny Pacquiao, Floyd Mayweather stated that he would "go out with a bang" by giving the world an "exciting matchup" with "someone who will come to fight" in #49. Recently, we learned that person was Andre Berto. While Berto has proven that he will never lay down and has the heart of a lion, the fact remains that Mayweather generally opts to win while operating in 'safe' mode. When pressured about limited action in the past, we've seen him followup with a more fan friendly style, as witnessed against Cotto and Canelo where he stood right in front of the two. Will that Mayweather surface again? Or will he coast til the end?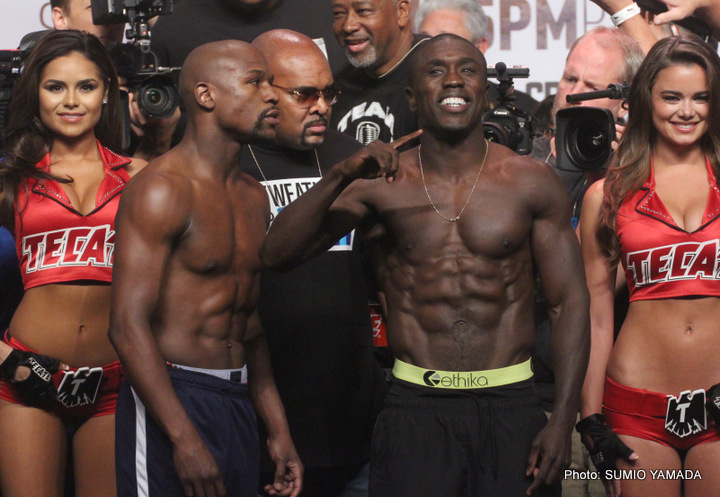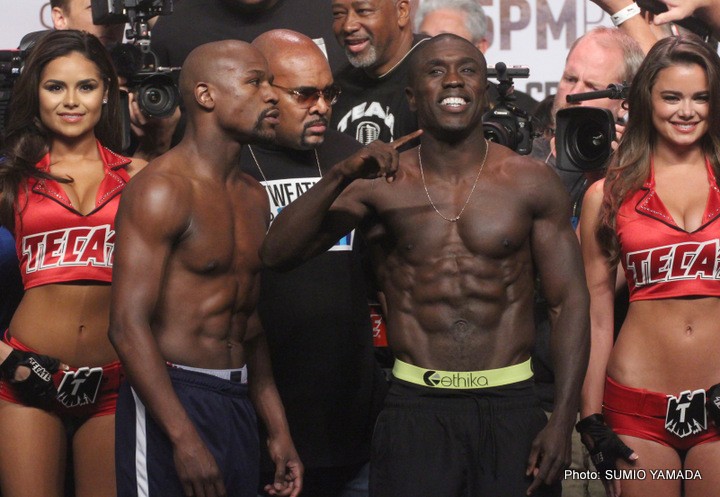 'HUNTER or HAUNTED'?: One element that has gotten lost in this buildup to the fight is the man who will sit behind the stool navigating the path of Andre Berto for 12rds come Saturday night. Few give proper credit to a man who is arguably one of the more cerebral trainers in the game today. Hunter had limited success with the likes of Angulo and a few others; but Andre Ward is proof that for those who can listen and learn, success is a high probability. With Berto hungry for a career highlight victory and nothing to lose in pursuit of it, can Hunter be enough to tip the scale? Or will Berto be his latest pupil to fail?
​'DEJA VU'?: Floyd Mayweather began his career in 1996 in a casino in Las Vegas in a bout that ended after a lopsided two rounds, halted by an official named Kenny Bayless. After a rollercoaster ride filled with highs and lows, he will enter the ring 19 years later to bring his career to an end. This ending will also come in a Las Vegas casino, in a bout to be officiated by the same man (Kenny Bayless) who carried out those honors when it all began. Seems the stage is set for a familiar story to unfold. Will Berto cooperate? Or will his story re-write history.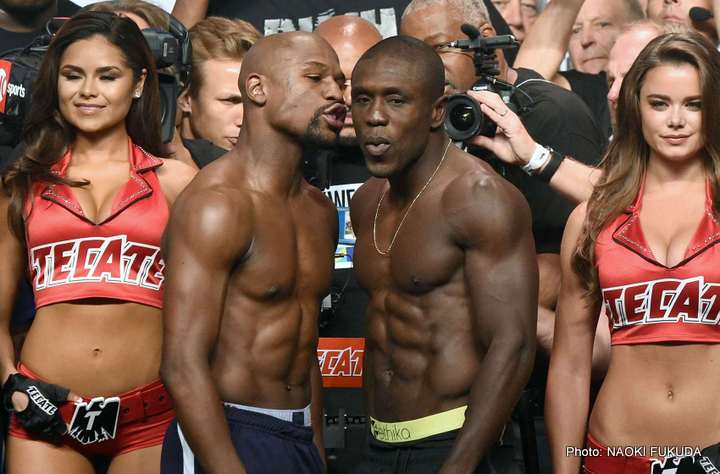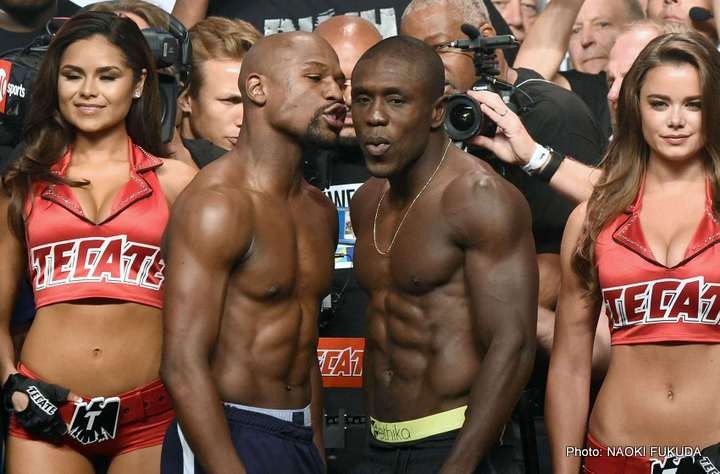 OFFICIAL PREDICTION – UPSET BAROMETER (RATING 1 – 5)
When the bell finally rings tonight, there will be a different aura in the air. The fight that everyone has criticized and downplayed from day one will produce a result that's vastly different from most expert accounts. Mayweather will come out early with a point to prove, only to be forced back into his shell at the realization that Berto is a stronger underdog than the odds present. Berto will press early and push late, forcing the normally calm Mayweather into a gunfight unlike most we've seen in recent years….until Mayweather adjust. After 3 to 4 high exchange rounds, expect Mayweather to shift gears and insert his dominance, picking Berto apart and slowly taking his heart.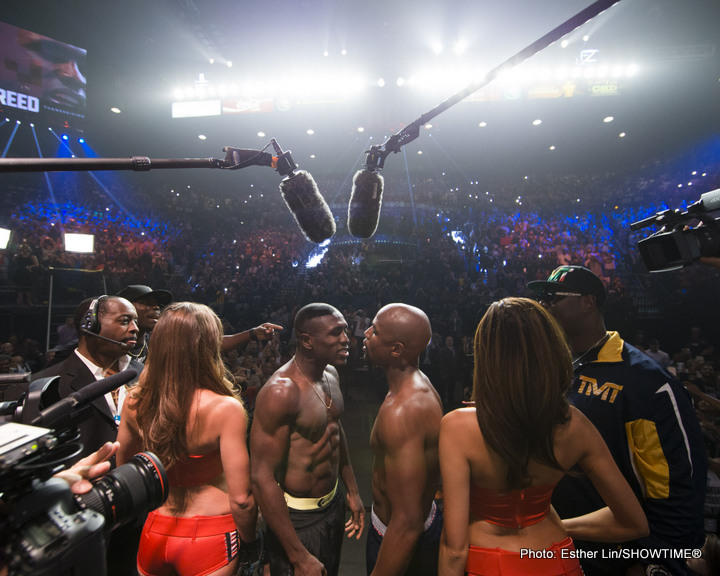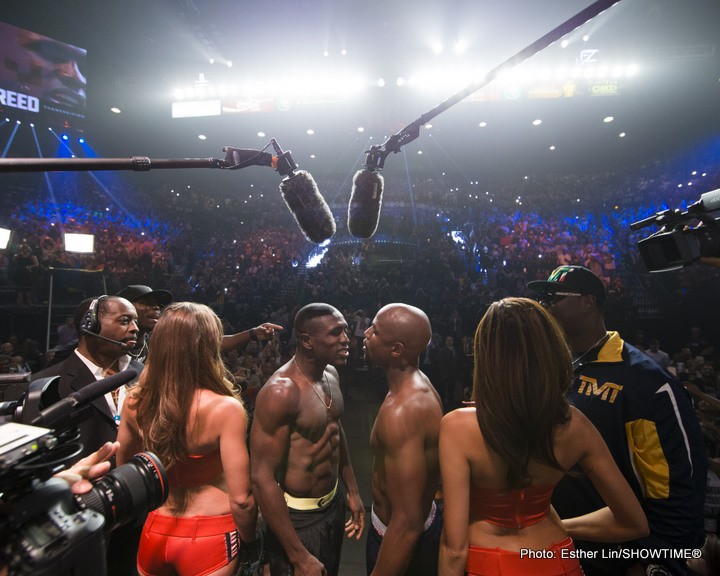 MAYWEATHER via UNANIMOUS DECISION
(Upset barometer peaks at 3 of 5. While Berto has speed and a punchers chance, his window of opportunity will greatly shrink after 4 rounds)
(Vivek 'Vito' Wallace can be reached at 754.307.7747, Twitter (@lefthooklounge1), Instagram (ViveksView), and Facebook).