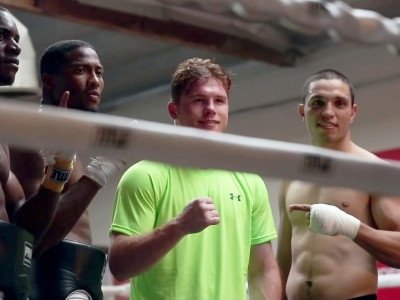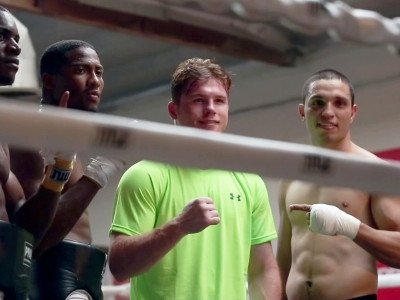 Floyd Mayweather Jr. (44-0, 26 KO's) seemed to get confused about the name of his opponent Saul "Canelo" Alvarez (42-0-1, 30 KO's) during ALL ACCESS Mayweather vs. Canelo episode 2, saying "I'm fighting Dennis the Menace, I mean, Carrot top, I mean, Chucky."
Mayweather also spoke on the weak opposition that Canelo has been matched up against by his promoters at Golden Boy in saying "I've faced real opponents. It's not his [Canelo] fault. His job was to beat anyone that they put in front of him. When I think of my career and Canelo's career, tell me 10 you have beat out of 42 fights; just 10. I have more than 20."
Mayweather Jr. does have a point in commenting on Canelo's weak resume. The red-haired Mexican fighter has had essentially the same amount of fights as Mayweather, yet Canelo's opposition has been much weaker. Canelo's has faced the likes of Carlos Baldomir, Lovemore N'Dou, Kermit Cintron, Ryan Rhodes, Shane Mosley, Alfonso Gomez, Austin Trout, Matthew Hatton, and a lot of fighters that fans have never even heard of.
Baldomir, N'Dou and Mosley were either over 40 or near 40 when Canelo fought them. Cintron was clearly past his best, and it's still unclear why Canelo was able to fight Matthew Hatton for the vacant WBC junior middleweight title in 2011 when Hatton wasn't even a junior middleweight.
Canelo's fans will say that he didn't have the benefit of an amateur background, so it was okay for him to pad his resume for most of his career until the Trout fight, which you can make a strong argument that it should have been a draw instead of a win for Canelo.
Sometimes it doesn't matter if a fighter like Canelo doesn't have the experience over an older fighter, because just being much heavier, stronger and younger than his opponent can make up for a lack of experience. I'm not sure if that's going to be possible for this fight against Mayweather Jr., because there is no substitute for experience when you're facing a guy like Mayweather. Just being 20 pounds heavier and 13 years younger probably won't be enough for Canelo to win this fight. He's going to need a knockout or else he's going to be in big, big trouble on September 14th.