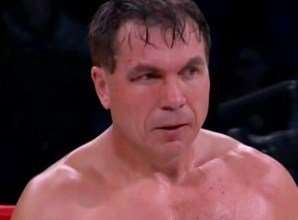 By Rob Smith: Former WBC heavyweight champion Oleg Maskaev (37-7, 28 KO's) didn't look half bad in defeating Owen Beck (29-12, 20 KO's) by a 3rd round TKO on Sunday night at the Sports Palace in Moscow, Russia. Maskaev put Beck down three times in the fight in stopping him in the 3rd round at 2:59.
Beck was knocked down once in the 1st and twice more in the 2nd round from big shots from Maskaev. The finisher came from a short right hand from Maskaev that put Beck down. To Beck's credit, he did make it back to his feet but he was unable to stand without swaying from side to side and then caused the referee Viktor Panin to stop the fight.
Maskaev hadn't fought since being stopped in the 1st round by Nagy Aguilera in December 2009. That's a long time to go in between fighting for someone Maskaev's age, but he looked good.
It's unclear how far Maskaev can go in the division. He'll have to be matched carefully for him to be able to get a title shot, because I have a feeling if they put Maskaev in with someone of decent quality, he'll get stopped again. He's really easy to hit and his lack of hand speed makes it easy for his opponents to flurry on him to get him out of there like Kirk Johnson and Aguilera did.
However, Maskaev has good enough power to rise up the rankings and get another title shot if they can match him the same way that other heavyweight contenders like Tyson Fury and Manuel Charr have been matched. Maskaev can beat the kinds of opposition that Charr, Fury and David Price have been fighting. That would be pretty easy for him because those three fighters have been matched with the utmost care in selecting for beatable opposition.