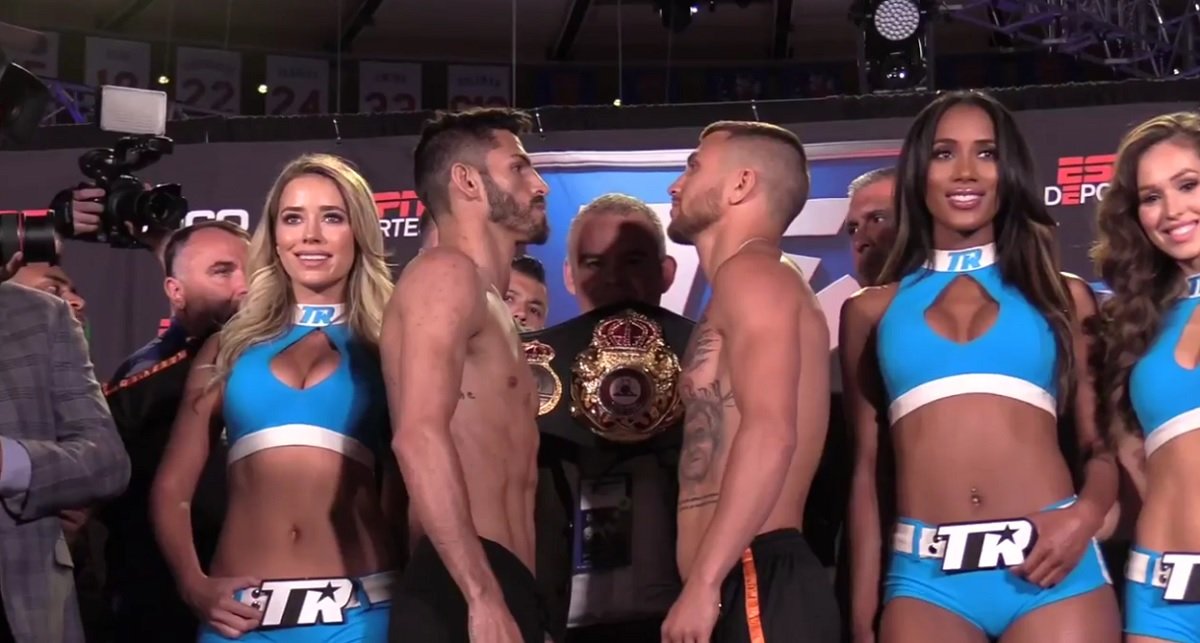 This Saturday night on ESPN Vasiliy Lomachenko challenges Jorge Linares for a lightweight belt, live from Madison Square Garden in New York. Lomachenko is attempting to secure a third title in as many weight classes, 12 fights in to his pro career. Can Linares finally breakthrough on the highest level? Will Vasiliy make yet another opponent quit on the stool unable to answer the bell? Boxing fans will get answers to their questions about each boxer this Saturday.
Vasiliy Lomachenko is not your average 11-bout professional fighter, an unimaginable amateur record led to a sped-up pro career. Lomachenko hit the ground running when he attempted to win a belt in just his second bout. The Ukrainian native didn't get the victory versus Orlando Salido but it may have been the best thing for him. Loma made the necessary adjustments in the 2nd-half of the fight and damn-near caught all the way up. Had it been a 15-rounder it's very likely Lomachenko wins be knockout.
Vasiliy didn't let the setback get him down and 3 months later he beat Gary Russell Jr. for an interim trinket. Since that victory, Loma has been on an absolute tear at the 126 and 130 pound division. Although it's a complete opposite style then Salido, Linares does present some tools that Loma has yet to face as pro.
Jorge Linares is the poster child of looking the part but not quite living up to it substance-wise. It doesn't take long while watching Linares to see what a truly talented pugilist he is. The slick footwork and combination punching is a thing of beauty. The problem with Jorge is he's a front runner, like a prize-horse who gets out of the gates fast only to fade down the stretch. Even in victory, Linares has faltered by the midway point, or completely unraveling the way he did years ago against Antonio Demarco. The skillful Venezuelan did everything right until he didn't, eventually being stopped in the 11th round.
Sometimes Linares's bad habit of fading is due to lack of focus, while other times the cuts over his eyes have let him down. It should be noted that Linares did get a necessary surgery to help limit how wide a cut can open and lately the scar tissue hasn't been a serious issue. That said, one can only wonder how long his eyes will hold up facing such an accurate puncher in Loma.
It's safe to say for both men, they will be fighting their best or at least, the most talented opponent to date. Salido is definitely more accomplished with quality wins but didn't have the skill of Linares. Gary Russell Jr. is probably faster but doesn't use the variety of punches and techniques offensively or defensively as Linares.
This hack-of-a-scribe believes it will take some time for Loma to take over. The opening frames possible all the way to the 5th or 6th round should be competitive. The level of skill and footwork will be fun to watch as each fighter counters the other in a game of high-speed chess.
The difference in footwork and game plan is Lomachenko can use crafty movement to pressure not just evade. In a blink of the eye, Loma will land a punch use his quick feet to create difficult angles to deal with. Loma has this ability to stay just out of range to be hit clean repeatedly, but seems to always be within distance to strike.
Lomachenko is deservedly the favorite, but there is potential for Linares to use his quick hands and feet to disrupt Loma's pattern. Other than an outside chance of Vasiliy never catching up or figuring out Linares style, Lomachenko should be able to separate by the midway point.
Once Lomachenko calibrates, things could become one-sided in a hurry and real bloody. A sharp shooting marksman like Lomachenko will overwhelm Linares with volume and clean punching as the blood gushes out.
As a boxing fan let's hope this skills-fest of a fight remains closely contested until the final bell. As a realist (blogger) one can't help but to think Lomachenko technically stops Linares due to cuts or wins via decisive decision.
My Official Prediction is Vasiliy Lomachenko by Unanimous Decision.
Side Note: ShoBox: The Next Generation returns this Friday which gives fans a close look at Devin Haney in the main event. Also, keep any eye out post-ESPN card for HBO's Sadam Ali vs. Jaime Munguia.
Follow on Twitter @RopeADopeRadio