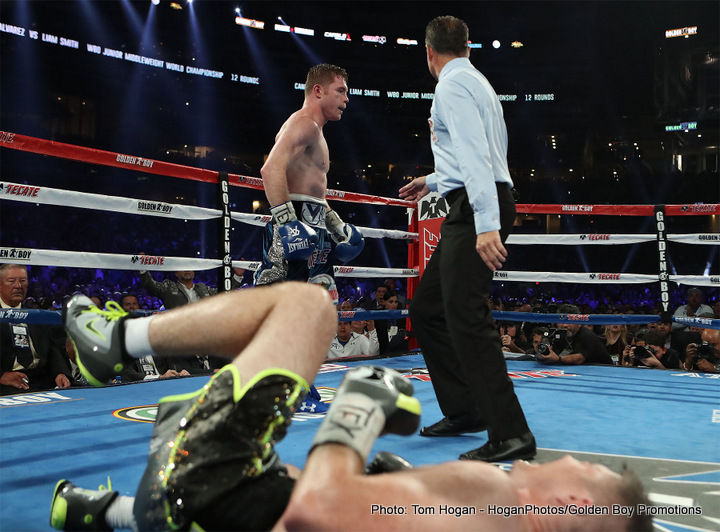 Twice in two weeks British world champions – Kell Brook and Liam Smith – have stepped up to the elite level and come up short. Of the two a case can be made that Kell Brook does belong at the elite level, just not at middleweight; and certainly not at middleweight against the machine that is Gennady Golovkin. The Sheffield welterweight world champion's next outing at light middle will prove beyond doubt if he's as good as many of us believe he is when up against the likes of Canelo Alvarez – assuming, of course, that the Mexican stays at 154lbs to defend the WBO belt he just won from Britain's Liam Smith, against whom he looked superb, securing a 9th round stoppage on the back of a vicious left uppercut to the body.
Liam Smith, everyone agrees, is a solid fighter – brave, durable, and tough. However at the elite level those qualities by themselves are not enough. And this is where we must be honest and acknowledge that the sport in Britain suffers from a training culture that places an emphasis on conditioning at the expense of craft, skill, and the finer points of a sport that when it comes down to it has more in common with chess than chequers.
Let's look at Smith's style, which mimics almost to a tee every one of Joe Gallagher's fighters. He carries a high, tight guard, wherein his hands never leave the side of his forehead apart from when he throws a shot, typically leading with a stiff, single jab, which he throws at the same speed and with the same force. He jabs to the body but normally to the head, and when he let's more than one shot go it is usually a left-right followed by a left hook to the body, perhaps finishing with a left hook to the head. There is very little variety – either in power, speed, or range, which makes him easy to read and anticipate. At the highest level a fighter needs to vary the positioning of his hands and feet in order to confuse his opponent by constantly changing the range and distance – i.e. holding his hands away from his face shortens the distance, while also enabling him to move easier from the waist, thus allowing him to generate more power and torque in his shots, and also to roll under and slip any incoming.
The point is that a tight guard is far too restrictive and inhibits a fighter's ability to relax and throw fluid and fast combinations. It also leaves the body exposed, something that Alvarez was able to take full advantage of against Liam Smith.
Ultimately, boxing involves the generation of kinetic energy throughout a given combination of punches, with each punch adding power to the next. Joe Gallagher is a trainer who believes in a very basic style that involves very little head movement, minimal use of angles, and ring craft. His fighters arrive in top condition and rely on their superior fitness and work rate to wear down their opponents. It is a style and ethos that while lacking finesse has proved successful over the years. But it is clearly lacking when it comes up against elite opposition such as Canelo Alvarez in the case of Liam Smith, or Carl Frampton in the case of Scott Quigg.
Alvarez is a counter puncher for whom Liam Smith was tailor-made. It was staggering to see Smith throwing single jabs most of the fight while standing still, thus reducing him to stationery target against whom his opponent couldn't miss. When fighting a counter-puncher you either have to double and triple up the jab in order to deny them the space to counter while forcing them onto the back foot, or you counter the counter. What you never do is throw single jabs while standing still.
When it comes to Joe Gallagher, there's an argument to be made that his stable is too big to allow him to spend enough time on any one fighter imparting anything more than the aforementioned basics. While he is able to get them fit – and let's be honest, getting a fighter in shape is a prerequisite and a given – they all come in at the lowest common denominator in terms of style. Maybe Gallagher is incapable of teaching his fighters the finer aspects of the craft. If so it is no criticism, as he merely joins a long line of British and European trainers for whom boxing is more bludgeon than ballet.
What we saw play out when Liam Smith met Canelo Alvarez was more than a clash of styles, it was a clash of cultures. The fact that Britain currently boasts more world champions than at any other time in the history of the sport, this is not so much a testament to the quality of British boxing as an indictment of a sport that has become to so stacked with organizations and belts that the title of world champion has become increasingly devalued.
While the heart and courage Liam Smith showed against Saul 'Canelo' Alvarez was commendable, his lack of ring craft and style was exposed. It is why he lost and lost handsomely against a fighter who himself was exposed against Floyd Mayweather Jr.
It's true what they say. In this sport it's about levels
This article originally appeared at https://thisboxinggame.blogspot.co.uk