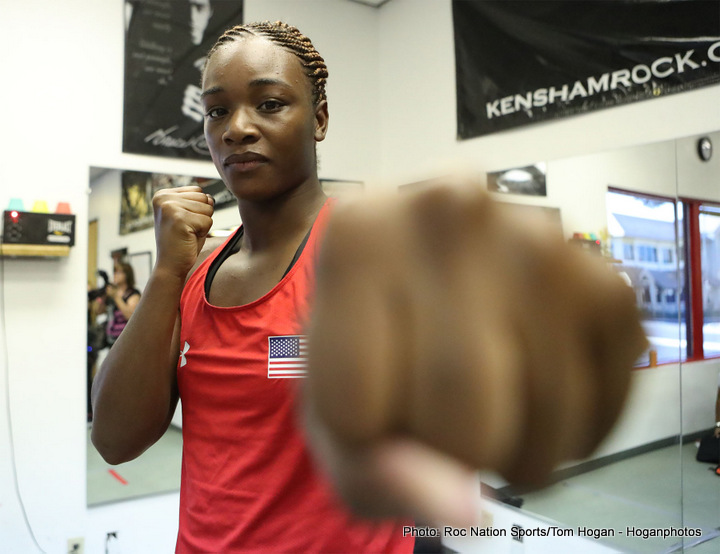 NABO Junior Welterweight Champion Maurice "Mighty Mo" Hooker (21-0-2, 16 KOs) and Two-Time Olympic Gold Medalist Claressa "T-Rex" Shields participated in a media workout in Las Vegas, NV on Monday, Nov. 14, ahead of their undercard appearances on Kovalev-Ward "Pound For Pound" taking place Saturday, Nov. 19 at T-Mobile Arena.
Shields, who will be making her professional debut against American rival Franchon Crews, will be featured on the freeview telecast beginning at 7:00 p.m. ET/4:00 p.m. PT on the Pay-Per-View events channel prior to the official telecast, and through livestreaming on HBO Boxing's YouTube channel.
(Photo Credit: Roc Nation Sports/Tom Hogan – Hoganphotos)
Hooker, who will be defending his NABO title against veteran Darleys Perez (33-2-1, 21 KOs), will be featured during the televised undercard leading up to the main event on HBO Pay-Per-View® beginning at 9:00 p.m. ET/6:00 p.m. PT.
Both fighters put on a display of mitt work, heavy bag, speed bag and shadow boxing for the media in attendance. Below is what the rising stars had to say during the media workout:
Maurice Hooker, NABO Junior Welterweight Champion:
"Kovalev-Ward is a special event. I'm going to do what I do best and hopefully, steal the crowd. The crowd is going to love me…they love knockouts, and that is what I am ready to give them.
"Aaron Pryor is one of the best. He brought a lot of knockouts. He was a great fighter whom a lot of people dodged. Like him, I'm coming into this fight with people dodging me. They are afraid because they don't know what I can do. This fight means a lot…an opportunity to show them who I am. I am going to bring the knockout just like 'The Hawk' would."
"I want to stay busy. I want to fight Ricky Burns and Eduard Troyanovsky and win 'em belts. Shout out to my big bro Terrance Crawford. He's doing his thing. Hopefully, he gets a fight with Pacquiao, move up and let me take over.
"My prediction for Saturday is a knockout. I love knockouts. I am always going for the knockout. With every punch that I throw, even the jab, I am going to try to take Darleys Perez's head off."
Claressa Shields, Two-Time Olympic Gold Medalist:
"I'll have been in camp for seven weeks. I'm excited. I'm ready to take on this new task of being a professional fighter and ultimately, winning a belt.
"When deciding to go pro, I thought about my legacy—I didn't want to disappear for four years, and win another gold medal but have people not know my name or what I look like or how I box.
"Expect to see a really good fight, a very skilled fight from me, this Saturday. The world is going to see a level of boxing that no woman boxer has ever showed before. I'm a smart fighter. I'm an entertaining fighter. I throw everything well and have great combinations.
"Franchon Crews and I have sparred and boxed before in huge tournaments. She's coming into this fight fully prepared and I've been training for a KO. In the amateurs, my overall record was 77-1 but I've never KO'd anyone. Now, we have smaller gloves, no headgear and I'm way stronger than I've ever been. This is a different kind of pro debut. This should actually be a World Championship fight between me and Franchon Crews but somehow, she took it for a pro debut.
"I love boxing. That's why I commit my time and body. I look forward to fighting in front of all the fight fans. I have friends, family, fans from all over flying into Vegas just to see me fight, so hopefully I can pack the house before the main event."
Kovalev vs. Ward "Pound For Pound", a 12-round mega-fight for the WBO/IBF/WBA light heavyweight title at T-Mobile Arena in Las Vegas, is presented by Main Events, Roc Nation Sports, Krusher Promotions and Andre Ward Promotions and is sponsored by the MGM Grand Hotel & Casino, Corona Extra, Zappos and JetLux. The championship event will be produced and distributed live by HBO Pay-Per-View® beginning at 9:00 p.m. ET/6:00 p.m. PT. Tickets are available on axs.com and the T-Mobile Arena box office.
###
Undefeated fighters super lightweight Sonny "Pretty Boi" Fredrickson (14-0, 9 KO's) and featherweight Tyler "Golden Child" McCreary (11-0, 6 KO's) will see action on November 19, as part of the highly-anticipated Light Heavyweight Unification showdown between Sergey Kovalev and Andre Ward at the T-Mobile Arena in Las Vegas, Nevada.
Fredrickson and McCreary, both natives of Toledo, Ohio, will both perform on their biggest stage to date. The two will be featured on the Kovalev-Ward freeview telecast which begins at 7:00 p.m. ET/4:00 p.m. PT on the Pay-Per-View events channel prior to the official telecast, and to be announced cable, satellite, and telco channels. The freeview will also be available through livestreaming on HBO Boxing's YouTube channel.
Fredrickson will fight Gabriel Duluc (11-1, 2 KO's) while McCreary will battle Vincent Jennings (5-2-1, 4 KO's).
"I'm thrilled that my fight will be offered to fans as part of the freeview telecast," said Frederickson. "I have been on previous Andre Ward cards, but this one will be especially meaningful since it's also my first fight in Las Vegas."
Fredrickson, who is looking to make a big statement in front of a large crowd and packed media contingent, also added, "I have fought in front of a lot of people before and hopefully, this leads television fights and big opportunities. I want to thank my promoter Roc Nation Sports for allowing me the opportunity to shine on this incredible stage, my team at Victory Sports & Entertainment and also to Andre Ward for all his help and guidance. This is a big steppingstone for me and in 2017, I expect to move up in the rankings and take my career to the next level."
McCreary, who is also eager about the opportunity, stated, "This is a big opportunity for me and I wanted to thank my team and my promoter Roc Nation Sports. I have been training hard and am excited to showcase my skills on this big stage. I am ready to show everyone that I can to rise to the occasion. It's also exciting for me to fight on Andre Ward's undercard. He and I have become friends since we met last year at the Cotto-Canelo fight, and he has become a mentor to me, so I am very thankful to be on this fight card."
"We are very excited to have both Sonny Frederickson and Tyler McCreary fight on, arguably, the biggest card of the year," said Rick Torres, President of Victory Sports & Entertainment. "We know that the Kovalev-Ward fight will produce a great battle and look forward to two of our young guns getting the fireworks started earlier in the evening. Both have been training very hard for this and are looking forward to putting on great fights as they take the next steps in their careers. Fans at home, especially those in Toledo, who tune in early can see both on the freeview telecast. All of this couldn't be possible without Roc Nation Sports and we're very appreciative of the commitment and confidence they have shown in Sonny Frederickson and Tyler McCreary."