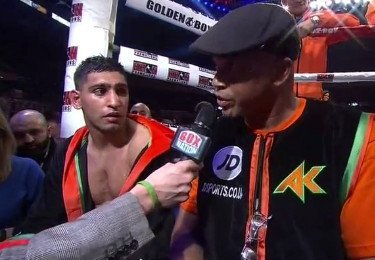 It's no secret that Amir Khan (28-3, 19 KO's) looked pretty bad last Saturday night in beating Julio Diaz (40-8-1, 29 KO's) by a 12 round unanimous decision. Khan was knocked down in that fight in the 4th and hurt to the point where he needed to hold onto Diaz in the 11th.
Khan was also hurt in the 9th and 10th rounds from shots from Diaz. The judges gave him a close decision by the scores of 114-113, 115-113 and 115-113. Khan now will be off until December at which point he'll be likely facing Lucas Matthysse, Danny Garcia or Lamont Peterson.
Khan said after his win over Diaz "I know I'm going to keep getting better and better the more I'm with Virgil [Hunter]…I'm going to spend more time with Virgil. I'm going to fly over to San Francisco in between fights and have a min-camp.
There are four guys out there that are at the top of the division, which are Peterson, Garcia, Matthysse and Zab Judah. Judah I've beaten, so you can call it three guys. They're fighting each other. I'd love to fight the guy that comes out the winner. I know I made a mistake in the Garcia fight and I won't make it again. That's the fight I want. The Garcia fight. I have a lot of unfinished business."
If Khan really wants to take care of unfinished business again, he should first fight Diaz or Marcos Maidana again because those fights really need to be fought over again so that Khan can really prove that he's the better man. He didn't really prove it against Diaz last Saturday.
I had Diaz winning the fight. Khan also has unfinished business with Breidis Prescott. It doesn't matter that other fighters have beaten Prescott since then. The fact of the matter is Khan never did, and if he's going to fight less than popular fighters like Carlos Molina and Julio Diaz, then he should have no problems with fighting Prescott again.
Khan is kidding himself if he thinks he's improving. It doesn't look that way. Khan looks like he's getting worse for whatever reason. He had to hold and run in the last half of the fight against Diaz just to keep from getting knocked out, and this was against a guy that's not noted for having power at welterweight. There are much harder punchers at 140 and 147 than Diaz, yet Khan was hurt a number of times by him.