Former New England middleweight and WBC USA Silver super middleweight champion Kendrick "Peppa" Ball Jr. dominated Oscar "Moustro" Riojas en route to an eight-round unanimous decision, winning every round on all three judges' scorecards (80-72, 80-72, and 80-72), in the main event.
(Photo credit Emily Harney/Fightography)
"My hands were down too much, which was my only problem tonight, but overall, I boxed well. I used my jab more than usual, moved around the ring well, and kept my distance," said Ball.
Ball was the aggressor throughout the light heavyweight bout as he stalked Riojas around the ring. He outworked and out landed Riojas. Ball also connected on the harder punches, especially in the last two rounds, as he tried to knock Riojas out. Riojas demonstrated a big heart and sturdy chin as he did not go down despite taking a great deal of punishment.
"I would like to stay busy and hopefully get a big money fight later this year," said Ball.
He improved to 21-1-3, 12 KOs, and is unbeaten in his last fourteen fights. This was Ball's third bout of the year. Riojas dropped to 28-17-3, 16 KOs. His two-fight unbeaten streak ended.
"Punch-Out at Polar Park" was promoted by Shearns Boxing Promotions in conjunction with Kendrick Ball's Camp Get Right Boxing at Polar Park (home of the Boston Red Sox Triple-A affiliate Worcester Red Sox (WooSox)) in Worcester, Massachusetts. This was the first outdoor boxing show in Worcester. Ball helped build Polar Park as a Local 243 Union Laborer. The fight card was supposed to take place on Friday. However, it got pushed back to Saturday due to inclement weather.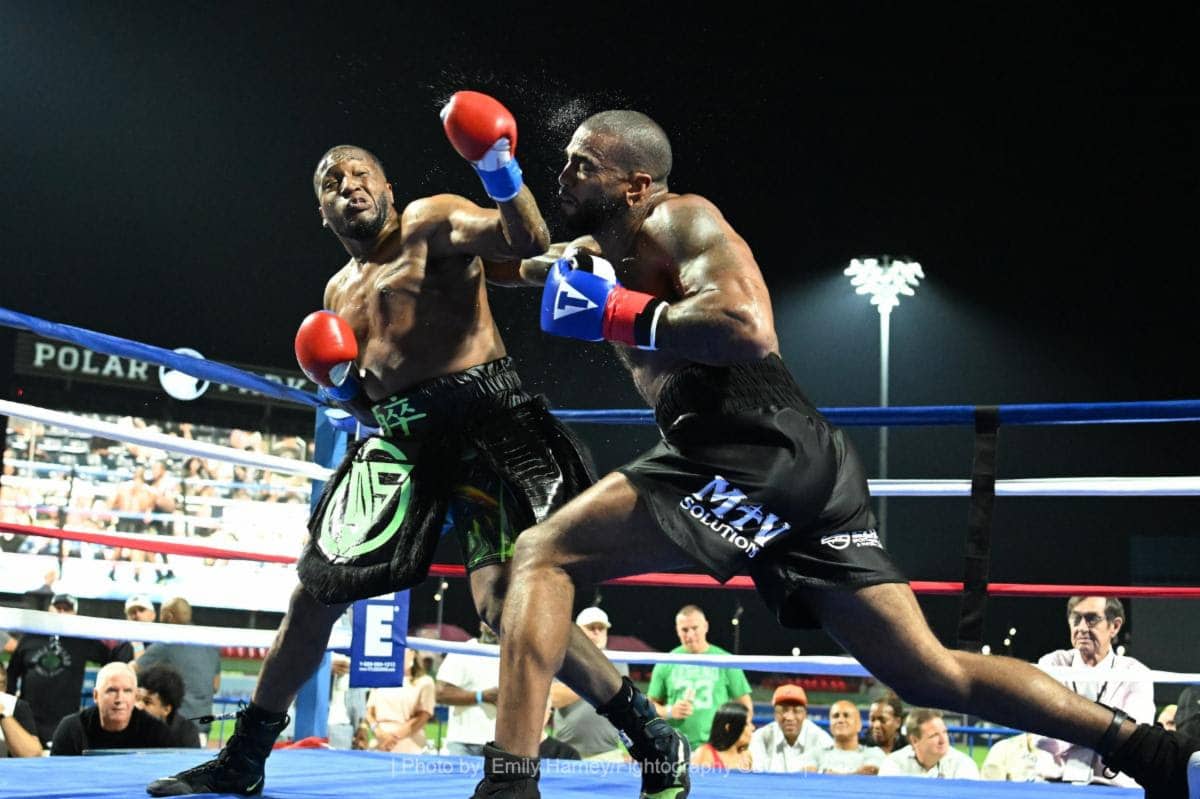 Undefeated heavyweight "Don't Play" Sean Bey won an extremely unpopular eight-round majority decision (judge Tom Clark had it 75-75, but he got overruled by judges Joe Apice and Stephen Clark, who both had it 76-74) over Quintin Sumpter in the co-feature. The non-partisan crowd loudly booed when the decision was announced. Bey, who overcame stage four cancer (which has been in remission for the past four years) that sidelined him from boxing for five years, upped his record to 8-0, 7 KOs. This was his first fight that went past four rounds. Sumpter fell to 6-2, 4 KOs. He had his one-fight winning streak end.
Bey, who finished fourth at the 2016 United States Olympic Trials, controlled the first three rounds by out-landing Sumpter, in particular his jab. Sumpter, a 2020 New England Golden Gloves Novice champion, turned the fight around at the end of the fourth round, knocking Bey down from a left, right hook. Bey barely beat referee Leo Gerstel's ten-second count and was on unsteady legs when he got up. He was lucky that the round ended seconds later.
This was the first time Bey had been down in his professional career. At the beginning of the fifth round, referee Gerstel took a point away from Bey for constantly pushing Sumpter. Sumpter dominated the next four rounds as he was the more active boxer, got the better of the exchanges, and connected on the harder shots, while Bey did not land many punches, however, the three judges from ringside did not see it that way.
"King" Kevin Walsh kept his undefeated record intact with a six-round unanimous decision (60-54, 59-55, and 59-55) over Philip Davis in a lightweight bout that was closer than the scorecards indicated. Walsh controlled the first three rounds of the fight by being the more active boxer. He out-landed Davis, especially with his jab. Davis came on strong in the second half of the fight, as he landed the harder shots. Walsh improved to 10-0, 4 KOs. This was his fourth fight of the year. Davis dropped to 3-6-2.
Former four-time National Golden Gloves champion Melanie "Pitbull" Costa won a four-round unanimous decision, winning every round on all three judges' scorecards (40-36, 40-36, and 40-36) over Kalindra Walkiria De Carvalho Faria. Costa, a Norton police officer, upped her record to 2-0, 1 KO in her second bout in four months. De Carvalho Faria, a standout mixed martial arts fighter, fell to 1-1. Both female super bantamweight boxers battled in a hard-fought, action-packed bout that was the night's best fight.
Costa was the more aggressive boxer and got on the inside of De Carvalho Faria to land multiple punch combinations despite being the smaller fighter. She also got the better the exchanges and connected on the harder shots.
Josniel "TG" Castro got back into the win column with a third-round technical knockout over Jorge "Tomatito" Martin Garcia. Castro knocked Garcia down from a right hook, and referee Jackie Morrell stopped the junior middleweight bout at forty-one seconds as Garica could not continue to fight. He improved to 10-1, 8 KOs, and rebounded from being knocked out in the fourth round by Mitch Louis-Charles in January. Castro's new trainer is former light heavyweight world title challenger Sullivan Barrera. Garcia dropped to 13-12-1, 3 KOs.
Robert Degaetano did not make his professional debut on this fight card because his opponent Michael "Titan" Taylor, drove home to New York after the weigh-in, and a replacement opponent, could not be found on such short notice.
Neal Sullivan, a Worcester police officer, obtained his first professional victory (1-0-1, 1 KO) with a second-round technical knockout over Michael Medeiros. Sullivan, fighting for the first time in six years, connected on a right hook that sent Medeiros face-down on the canvas. Referee Gerstel immediately halted the light heavyweight bout at fifty-four seconds. Medeiros fell to 0-5.
Tevin "The Hitman" Regis (1-0, 1 KO) scored a first-round technical knockout over Joshua Zimmerman in his professional debut. Regis knocked Zimmerman down via a left hook. Referee Morrell halted the junior welterweight fight at one minute and thirty-five seconds, as Zimmerman was wobbly when he got up from the knockdown. Zimmerman dropped to 0-11.
Former 2019 New England Golden Gloves Novice champion James Maner dominated Saul "The Spider" Almeida en route to a four-round unanimous decision, winning every round on all three judges' scorecards (40-36, 40-36, and 40-36). He upped his record to 4-0, 2 KOs. Almeida fell to 1-18-4, 1 KO. Maner landed whatever he wanted on Almeida in this one-sided cruiserweight bout.