In the main event of the Golden Boy Promotions-promoted event at
StubHub
Center, Thurman (23-0, 21 KOs), of Clearwater, Fla., dropped Diaz in the second round. Diaz (40-10-1, 29 KOs), of Coachella, Calif., rebounded with a strong showing in the third but got hit with a body shot that ended the fight. Diaz, upon the suggestion of his corner between rounds, did not come out for the fourth.
Said Thurman, "I felt the body shot (to Diaz). I felt he was going to go down. I wondered if I hadn't landed it clean enough. He's a tough guy. He showed up to fight. You saw what he was doing in the ring. His rib… he had eight more rounds to go so he did what he had to do.
"I landed a clean left hook to the temple (in the second). He felt it. So, he thought it would be better to take a knee, rather than take another shot to the head. I train to do that. If you feel that your legs aren't right and you are in with a dangerous puncher, you take a knee. It was a wise decision.
"Everybody shoots for the Mayweather sweepstakes. I am here to entertain, to dominate the welterweight division. I love the sport of boxing. I love knockouts. I am going to keep giving them to you.
"Shawn Porter is a terrific fighter. He's a great friend of mine. He's a devastating boxer-puncher like myself. Whenever they're ready, I am ready.
Diaz, who took a knee after getting hit, had no excuses. "I got caught with a good body shot, in the rib,'' he said. "I had trouble breathing. After the punch, I couldn't breathe. I am human. I got hurt. The guy had some power. But I am a two-time champion. I have never quit in a fight. I didn't have anything to prove. I took a knee to recuperate from a shot to the back of my head. And the rib shot really got me. I ain't 18 years old anymore. I wanted to give a war, but I had to know when it was my time.''
Marcos Maidana, who was in attendance, spoke with SHOWTIME about his major assignment next Saturday, May 3, against Floyd "Money" Mayweather live on SHOWTIME PPV (9 p.m. ET/6 p.m. PT), after the opening bout of the telecast.
"I'm very happy to see this crowd here cheering me on. There is no doubt this is going to be a very difficult fight against Floyd Mayweather, but I am very prepared for this fight.
"There is no doubt that Floyd Mayweather has a great defense, but I have a great attack and that is what I will use.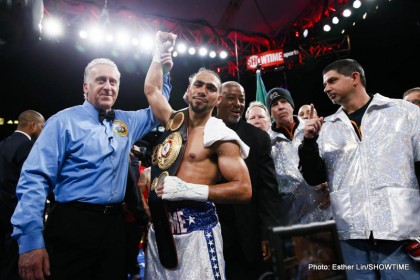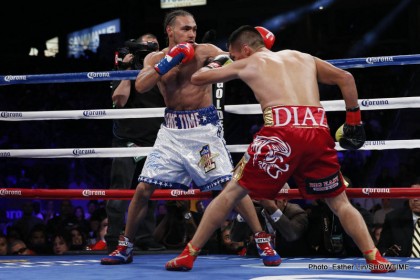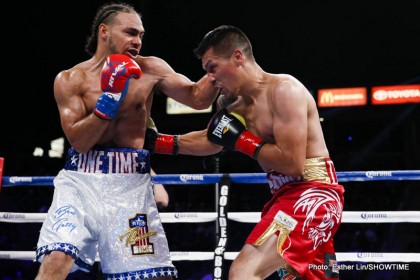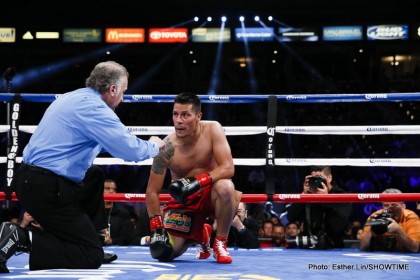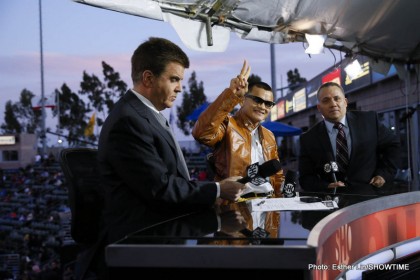 "I need to do the same thing that I did with (previously unbeaten Adrien) Broner. I need to go out from the get-go and attack him. I know it will be more difficult with Floyd Mayweather but I am ready.
"I am surprised and shocked at the same time seeing all the press that has been following me but I am very tranquil and prepared."
When asked what the best moment of his career has been thus far, Maidana said, "The best moment is the (fight with Victor) Ortiz."