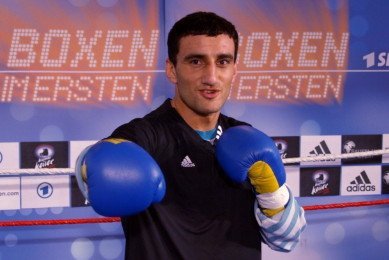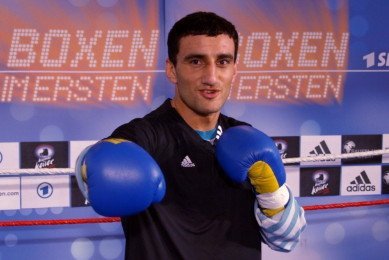 Bruce Binkow
Good morning, everybody. I wanted to welcome you all to this call. We are obviously very excited and enthusiastic for what promises to be a fantastic card next weekend in Atlantic City, New Jersey.
 
Obviously we're here to talk to the participants in the main event, Bernard Hopkins and Karo Murat, but just for the record, the rest of the card for the evening will feature Peter "Kid Chocolate" Quillin fighting Gabriel Rosado in a 12-round WBO middleweight championship bout, and also heavyweights Deontay Wilder and Nicolai Firtha in a 10-round WBC Continental Americas championship bought.
 
It's Saturday, October 26 at Boardwalk Hall brought to you by Golden Boy Promotions in association with Caesars Atlantic City. The sponsors, as usual for Golden Boy events, are Corona and AT&T. The fight will be seen on Showtime Championship Boxing at 9 p.m. Eastern and Pacific. We'll also have a secondary audio program in Spanish for those that want to watch in Spanish.
 
There are still some tickets available. The prices are $300, $150, $75, $50 and starting at $25. They're available at Boardwalk Hall Box Office and all Ticket Master locations as well.
 
I think that anytime Bernard fights is an event, I think we've collectively maybe taken for granted that Bernard's been around for a long time and possibly will be around forever, but I can assure you, I'm almost 100% sure that won't be true. So we're really excited to see Bernard defend his light heavyweight belt, his IBF light heavyweight belt.
 
So I wanted to start off this call by introducing the promoter for Karo Murat, who's going to be the man that's going to attempt to derail Bernard's plans of defending his title. That would be Kalle Sauerland. Kalle will introduce you to Murat and take questions after that. Kalle?
 
Kalle Sauerland          
Good afternoon or good evening as it would be for me, but wherever you are, good morning or good afternoon. Karo Murat is, to a lot of you guys, probably not so well known yet, but he has been with us since 2006. He comes from a very tough background. He's a fighter who's earned his chance back two years ago and has long waited for this moment.
 
It's a fight for him where there's not much to lose but of course the world to gain. We know we go in as the underdogs. We have a lot of respect for Bernard Hopkins and of course his achievements, but the respect of the court will go out the window as soon as the first bell goes. That's something that Karo has promised me.
 
To coin an English phrase, he's the underdog, but every dog has its day, and that's something that we, of course, hope that will happen on October 26. We believe in our man Karo Murat and would like to pass the microphone over to Mr. Murat.
 
K. Murat                    
Hi, this is Karo Murat. As my promoter says, I want to derail Hopkins' attempt of defending the world title belt. I'm really enthusiastic to finally get a crack at a world title after such a long time. It's going to be a good, intense fight in the U.S. This is my first time fighting in the U.S., and I like my chances against Hopkins.
 
Q
I'm wondering when you've watched any of Bernard's recent fights does he look like a 48-year-old fighter to you and what do you think of the amazing legacy that Bernard has carved out by still being at or near the top of his game at age 48 years old?
 
K. Murat
I've always followed his career up to when I was like 12 or 13 years old. I appreciate his accomplishments. He was the undisputed world champion at middleweight. He's now the world champion at light heavyweight. I have all the respect in the world for him. And I have to say that he has sometimes-tremendous fights. Sometimes when given the chance that he will go as the winner but still winning his fights. I respect him for winning the world title at age 48.
But I have to say one thing; you see the mileage on him. So to me he looks like a 48 year old. He doesn't have the speed anymore he may have had at 30 years old. He tries to clinch a lot and to win the fight through his experience and that's it. I respect him, but I will try to beat him.
 
Q
Hey, Karo. Thanks for taking our call. I wanted to ask you, you talk about the mileage that you see on Hopkins but no one ever-there have been few fights where we've seen it. My question to you is this is your first time, as I understand it, in the U.S. You're fighting a legend and it's close to his hometown where you're fighting. What do you tell your detractors about your chances? How do you convince them that you really have a shot?
 
K. Murat        
I'm in real good shape. I'm happy to get this chance. I'm 30 years old now, and I'm physically and mentally on top of my game. You know, the time is now to beat Hopkins. When Hopkins fought Cloud, a lot of people already said that the time had come, that he's going to lose and going to retire, but he schooled him and showed the world that he's still ready and a good 48-year-old boxer.  
 
But I'm going to surprise a lot of people, and as I see it, he had his first pro fight in 1998 in Atlantic City. And so he has to see that the time has come. We are fighting again in Atlantic City. So it will be a good closing out for him to finally retire by the hands of mine.
 
Q
Okay, and then one specifically, you said what pretty much what every opponent has said about him. Tavoris Cloud was undefeated. He thought he was going to beat Hopkins. What specifically, when you say you see mileage, what specifically are you talking about, in terms of the evidence of mileage in Bernard Hopkins, because he didn't look like he was old when he fought Tavoris Cloud?
 
K. Murat        
I saw a down fighter when I saw Cloud boxing Hopkins. That's why he allowed Hopkins to beat a 48-year-old man. As a person, you see that he's growing old because of his gray hair and his gray beard.
 
I saw in the fight versus Cloud that Bernard has pretty much the experience that none other boxer has, but you see that he's just trying to get one punch or a one-two combination of it and then clinch. Clinching is the state of his game.
 
In the years before when he was a middleweight, when he was the middleweight champion he didn't show all that much clinching. You saw him beating people with ease, but nowadays you see, with the clinching and just the one-two punch, you see that he's growing old. He may say that it's just conditioning, but I don't think so. I think it will go over it.
 
L. Satterfield  
Yes, he clinches and yes, he's done all of those things, but how do you stop him from doing those things, because that's how he wins?
 
K. Murat
I cant say how I will do it, but I guarantee you that I will do it.
 
L. Satterfield   Thank you very much.
 
Q        
Just two questions for Karo, one, I know this fight has been scheduled several times, and you also had only had one fight in the past two years. I just want to know what you've done to prevent from over training, and also what you've done to prevent from just going crazy these past two years?
 
K. Murat        
No problem at all, I just prepared for the first meeting with Bernard. When the problem with the visa came up I just took a break. After we got the confirmation, I think it was two or three days later, I just started training again. So I have that mental edge at the moment that nothing can break me out of my groove, I would say.
 
So when I took the break I just relaxed and saw it as if I already had a fight, just getting down to it, and afterwards, when I started training, it was like as if I got up to a new fight, starting all over again. I wouldn't say that it made me crazy to wait that long to get my change for a world title. But it was a little bit disappointing to not have a fight in such a long time.
 
K. Sauerland   
One thing, that you should also take into account is that he's part of Team Sauerland, and our guys train pretty much all under the same center. So whether it's Arthur Abraham, Jürgen Brähmer, Mikkel Kessler, Robert Woge, Eddie Gutknect, all these guys, in Germany we don't have many of the smaller classes at all. There they're about around that weight and he's, of course, been kept very active.
 
Q
Okay, I appreciate that clarification. And then I just have one more question; one of the fights that were on the table during these two years was a title shot against Cloud. Was it frustrating for you to watch someone else beat Tavoris Cloud knowing that you can do it yourself, or do you see more satisfaction in beating a legend, or having the chance to beat a legend like Bernard Hopkins?
 
K. Murat        
To be honest, I would say that looking back I'm really happy that Hopkins beat Cloud and fought Cloud, because now I get the chance to fight the legend in Bernard Hopkins. It's much more than if I would have gotten in the fight versus Cloud, if he had beaten Hopkins. I see myself as a boxer, as well as a fighter, to go up when it gets tough. I would say that's my chances, as well as my ring intelligence, better off ring intelligence. Hopkins is one of the best light heavyweights. I want to box the best, and that's why I'm enjoying this fight. That's a statement.
 
Q
Hi, Karo. The question I have for you is the last time a German boxer came over to the United States to fight an aging legend that was a champion was your country mate, Axel Schulz, in 1995. I'm curious, for you, he came up very short, this close in that fight. I'm curious for you, what would it mean for you to beat a legend like Bernard Hopkins and bring that championship over, not just becoming a champion but also bringing that back over to Germany?
 
K. Murat        
I know I always wanted to fight in the U.S., and it's not about Hopkins being an advantage because the fight is in the U.S. When I watched George fight and I see that outsider won, it's not about the decision but you see the real decision when the crowd stands behind the real winner. It's not always the guy that the judges see winning. I'm just hoping for an impartial referee, good judges and the rest is up to me.
 
Q
Karo, since this is your first fight in the U.S., and I think it's your first fight for a major world title, could you talk a little bit about, for those that aren't familiar with your background, how you ended up in Germany and how you got into boxing?
 
K. Murat        
I started boxing at the age of 13, and to be honest I just went to school but didn't know what I had to do with myself in the spare time. I have brothers, and then one day they took me with them to the boxing gym. Those two brothers, they were also boxers, and they were more talented than me, but they stopped. I won and won and won so I got in touch with Sauerland Events and started my professional boxing career. I never thought that I would one day meet such as legend like Bernard Hopkins inside the ring. Its the hard work pays off. It's not always the talent.
 
Q        
Where exactly was that when you started? Was that in Germany or was that in Iraq?
 
K. Murat        
I came over to Germany at the age of 12 and one year later I started boxing.
 
Q        
Thank you to Germany. We appreciate you guys being accessible and look forward to seeing you next week. A couple of housekeeping notes while we're waiting for Bernard, I wanted to once again thank our partners at Showtime, Stephen Espinoza, our partners at Caesars who are always such great hosts for us and for the media when we go to Atlantic City, and Corona and AT&T as well.