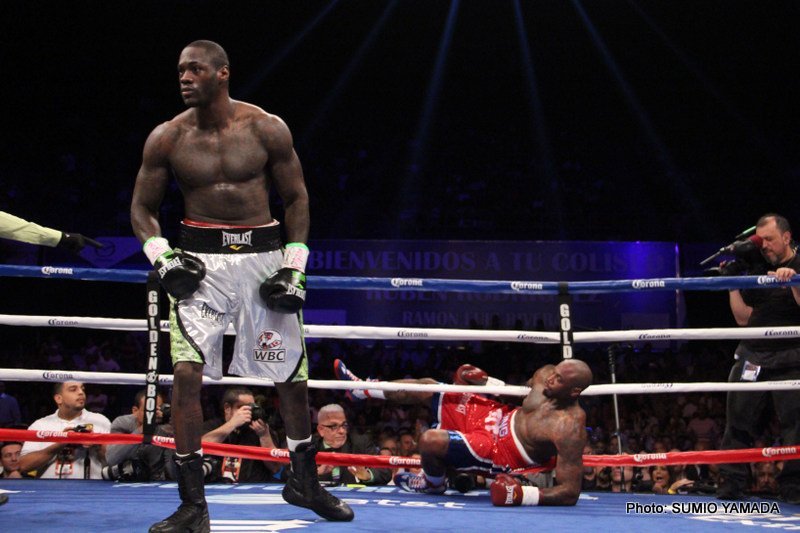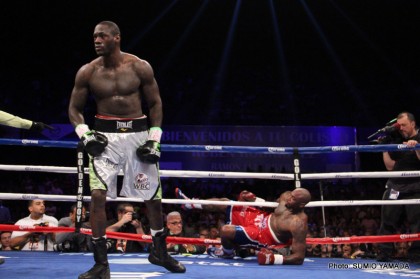 The first of several Showtime bouts was short, but exciting. Approximately six years ago Juan Manuel "Juanma" Lopez destroyed Daniel Ponce De Leon in one round. The win propelled Juanma to the top of his division. Ponce De Leon had to fight hard to regain his position at the top level of the division. Saturday the two met again.
This time both had grown into junior lightweights, and neither was young or up and coming phenoms. Rather, both men were fighting to extend their careers be serious title contenders. The question was who had the most left?
The first round was very cautious, so much so smatterings of boos could be heard from the Puerto Rican Crowd. The round was a difficult one to score. Ponce de Leon pressed the action in the second, trying hard to protect himself from southpaw JuanMa's powerful right hook, the punch that was responsible for his kayo loss in their first bout. It seemed like he had learned how to get under it, or block it.
All the while he was timing JuanMa's rhyhym. At the tail end of an exchange, the southpaw power puncher unloaded a left over the top. Juanma caught a glimpse of the punch, but it was too late to block it, or duck under it. The punch landed on the right side of his head with enough force to drop Juanma. It resulted in a quick knockdown with JuanMa quickly popping up, seemingly ready to go.
Ponce De Leon mistakenly thought Juanma was vulnerable, and he went in for the kill. Unfortunately for him, that meant exposing himself to the crunching right hook that landed with much more force than his power punch. All of a sudden Juanma felt like he did six years ago. He swarmed all over Ponce De Leon, hoping another power shot would get through. A couple did, and Ponce De Leon stumbled forward, trying to clinch. Juanma moved back and continued to throw punches. Arms extended, Ponce de Leon slid down Juanma's body to the canvas. Referee Luis Pabon signaled a second knockdown. Ponce De Leon protested, but to no avail.
When the action resumed JuanMa renewed his attack mode. He threw powerful combinations, but Ponce De Leon was blocking, or partially blocking most of them. He looked vulnerable though, and the referee thought he was catching too many shots, so he literally jumped in-between the two fighters, grabbing Ponce De Leon, shielding him from anymore blows. Ponce De Leon, somewhat comically, continued to try hard to reach around Pabon in hopes of hitting JuanMa. with punches. JuanMa was in no danger, and the fight was over. Ponce De Leon was livid. He felt he could have continued, and when the referee tried to console him, he would have none of it.
The ringside announcers all seemed to feel the stoppage was premature, that is with the exception of Brian Kenny. He and Paulie Malignaggi got into a spirited discussion as to what they thought occurred. Paulie felt the second knockdown wasn't a knockdown. He also felt De Leon was recovering from the first knockdown, and should have been given a chance to continue. Kenny felt there definitely was a second knockdown with additional punches landing. He loudly supported his position by saying "Look his head is being snapped back!" Paulie held his ground.
All of which adds fuel to the fire for a rematch. Rather, than just propelling JuanMa upwards to another title shot, and leaving De Leoin out of the picture, the fight leaves more questions than answers. Could Ponce De Leon have continued? Would he have been kayo'd, or would he have been able to return the favor and catch JuanMa again? It would seem another try at answering those questions is in order, and that means a rematch. Hopefully, it will not take six years to do so.
Jumping to the behemoths, fans were led to believe Deontay Wilder scored another first round knockout against his toughest competition to date. At least that's what we're led to believe. Malik Scott was thought to be Wilder's toughest test. Scott planned to stay away from Wilder's power punches long enough to tire him in later rounds. Wilder has never gone over four, so the question of his stamina remained an uncertainty.
Instead of that concern being addressed, fans now have a much bigger one! Did Scott taken up water sports and plunge to the canvas, or did a power punch put him there? It was revealing when the trio of announcers had to retract their opinion that Wilder landed his big right hand? When they viewed a slow mo, it was obvious the right hand fell short of Scott's chin.
The punch ran out of steam as it barely hit his arms. Scott's arms barely moved in response to the punch. Oh oh, the announcers, not wishing to award any acting kudos, quickly switched gears. It must have been the left hook that preceded the right that had enough power to have caused the kayo? Viewing a replay and focusing on that punch didn't support that theory either. The hook was more of a slap to the right side of Scott's head. All of which left viewers with a query about whether they had just witnessed an aquatic imitation of a duck? More than just a few perceptive fans swear they heard a quack quack!
The main event resulted in one of Danny Garcia's toughest fights. He had a lot of difficulty with the skillful Mauricio "El Maestro" Herrera. Leading up to the fight, Garcia had three things going for him. First, he is a Puerto Rican fighting in Puerto Rico. Secondly, he is the champ, and the unwritten rule is you have to take the title. Thirdly, his style is more fan friendly. He is a power puncher against a somewhat unorthodox technician. Simply put, he looks better. He appears to have better balance as the two move around in the ring. His punches have a different resonance to them. They seem to reverberate more than his opponent's.
However, Garcia was the one whose face was lumped up. It was Angel, his father, who risk losing his wings when he spewed profanity while pleading with his son to throw more right hands, to bend his knees in close, so he could generate some leverage in close. Angel seemed to be the disheartened messenger. He was witnessing his son's frustration, and it was his son's honker that was splattered with blood. The two took solace with open scoring when it revealed the judges thought Danny was winning. Even at that, Danny's corner remained anxious. They knew Danny was being taken out of his game.
Herrera gained the respect of a lot of people, the ringside announcers included. Paulie Magniaggi, Al Bernstein and Mauro Ranallo all felt Herrera did an excellent job of avoiding Garcia's best punch, the counter left hook. They felt Herrera was the better ring general, controlling distance so as to smother Garcia's attempts to counter. The number of punches landed was close, with Garcia having a clear advantage with power shots. However, all three Showtime analysts scored the fight for Herrera. That of course meant nothing, because two of the three judges scored the fight for Garcia. The third had it a draw.
Consequently, Garcia remains champ by the hair of his chinning chin chin, and the 33 yr. old Herrera walks away with new found respect from the boxing world. Throughout his career, he has struggled somewhat in limbo, but this prime time Showtime showcase should gain for him some long deserved recognition that he is one of the top fighters in the division. His talents merit another shot at a big fight. Maybe even a rematch with Dannyt in MSG, or Vegas?