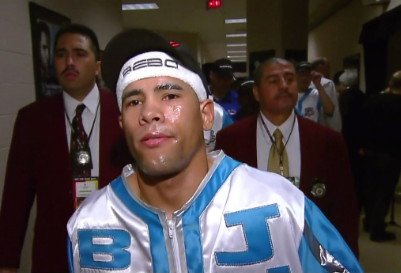 Juan Manuel Lopez is a shopworn fighter that's going through the motions. Like a hopeless gambler, day in and day out he boxes without a plan to win and seems to be there because he has no choice. When the chips are down, he throws caution to the wind and goes for broke.
This was no more evident then in his latest fight against Francisco Vargas.
He was tentative, especially in round 2, always backing up and trying to counter or throwing obvious and lacklustre straight lefts against a faster fighter with more reach. When Vargas backed him up against the ropes and tagged him a few times, Juan Ma first exchanged, then started moving and punching along the ropes with little success.
In round 3, he came out looking to be the aggressor and leapt in with obvious punches. After a minute of ineffective activity, Vargas backed him up against the ropes and started unloading. A frustrated Juan Ma stayed on the ropes and started throwing back. He was rocked and knocked down. Even more telling, he stood up and walked towards Vargas to continue trading power shots.
As the bell sounded for the end of round 3, his trainer paced towards him to help him to his corner. Juan Ma put his arm around his trainer, a spent man. His corner first asked him how he was feeling and then told him they're not giving him another round. He put up little fight against his corner and stayed seated when they told the referee their decision.
This hectic roll of the dice worked against Ponce De Leon, but being knocked out 4 times in the last 4 years isn't worth these small victories. With his lack of confidence, desire and his shopworn body, the odds are stacked against him. It's not walking out on top, but its time to walk out with his body and mind while he still can.