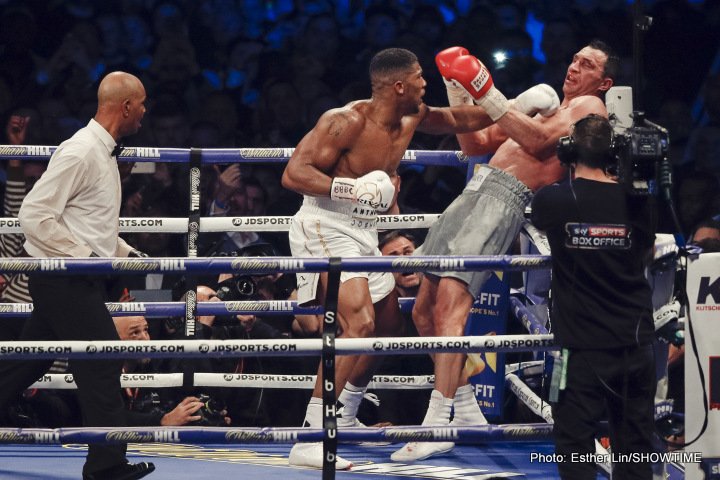 IBF/WBA heavyweight champion Anthony Joshua might be soon vacating his IBF title if the International Boxing Federation opts to order him to fight his mandatory challenger Kubrat Pulev next. Joshua (19-0, 19 KOs) has a lot of big money options available for his next title defense, one of them being a highly lucrative rematch with Wladimir Klitschko.
If the IBF forces Joshua to defend against 36-year-old Pulev next, it's possible that Joshua will vacate his IBF title. It's not that Joshua would be ducking #1 IBF Pulev. it's more of a case that Joshua would lose a great deal of money by not fighting a bigger name in his next flight like Wladimir or Deontay Wilder.
Pulev will always be there for Joshua to fight, but you can't say the same thing for guys like Klitschko, who is nearing the end of his career. The interest is still high in a rematch between Joshua and Klitschko in the boxing world after their exciting fight last Saturday night at Wembley Stadium in London, England.
"We certainly do not want to vacate belts, but we also want to make the best and biggest fights out there," said Joshua's promoter Eddie Hearn to skysports.com. "There's plenty of ongoing discussions right now regarding Anthony's next move – the more belts you accumulate, the more cluttered the situation becomes."
Hearn is dropping a pretty big hint that it's not really worth it for Joshua to get tied down by being forced into title defenses against the different sanctioning bodies' top rated contenders. Collecting titles is nice, but it arguably can stunt a fighter's career when they get trapped into countless lackluster fights against less than talented and popular fighters.
Pulev, 36, is a decent heavyweight, but he's far from great, and he looked really bad in his recent win over 37-year-old journeyman Kevin Johnson last month in beating him by a 10 round decision in Bulgaria on April 28.
"CONFIRMED: Winner of Joshua-Klitchsko MUST face Pulev next or be stripped. Looking forward to that one 👊" said Pulev's promoter Kalle Sauerland on his Twitter.
Joshua loses nothing if he vacates his IBF title, because he can always come back and grab it again. It's not as if a popular fighter like Joshua can't get a unification fight against whoever picks up his vacated IBF title. If Pulev has to fight for the vacated IBF title against the likes of Klitschko, who is rated just below him, he's likely going to get knocked out by him like he did in 2014. Even if Pulev faces #4 IBF Carlos Takam, I can't see him winning that belt. The reality is, Joshua will have an easy time getting a fight against whoever wins the IBF title if he chooses to vacate it rather than bend to the IBF's wishes and face Pulev.
"It is our intention to navigate AJ to become the undisputed champion and capture every belt in the division," said Hearn.
Hearn and Joshua need to forget about winning all the world titles, and focus instead on getting the best possible fights. It's better for Joshua to have only 1 heavyweight title rather than looking to collect all 4 of them. We saw what happened with Wladimir when he started collecting heavyweight titles. He got stuck fighting a lot of marginal heavyweights that the different sanctioning bodies would rank for whatever reason at No.1.
Wladimir could have had many more interesting fights during his 10-year reign as a world champion if he hadn't been stuck making title defenses against lesser names. Nowadays, I don't think the casual boxing fans really care whether a fighter holds all 4 belts. As long as the fighter holds at least 1 world title, it validates them in the eyes of the boxing fans. The fans know the best is. They don't need to have a champion's promoter constantly telling them that their fighter is the undisputed heavyweight champion for them to want to see his fights. The stuff goes in one ear and the other with boxing fans. They just want to know if the fighter is a champion and more importantly, they want to see good fights. I don't know if you can call Joshua vs. Pulev a good fight. It seems like Pulev has unfinished business with Klitschko that he needs to take care of.
Joshua has a rematch clause with Wladimir that could force a second fight between them. If that happens, then Joshua may end up having to drop his IBF title anyway. I'm sure he won't lose much sleep over the matter. They money will be good enough for Joshua not to worry a lot about having to give up his IBF strap. The IBF will arguably lose out if Joshua drops their IBF title, because they could end up with a less popular fighter as their heavyweight champion. I don't think it's a good deal for the IBF to lose Joshua as their champion.
The IBF will make the decision by next week if they're going to try and force Joshua to defend against Pulev next. It would arguably be a self-defeating move if the IBF does make the decision to force Joshua to fight Pulev, because it will likely have a chain reaction of Joshua vacating the IBF title right away, leaving Pulev and likely Takam to fight over the vacated strap.