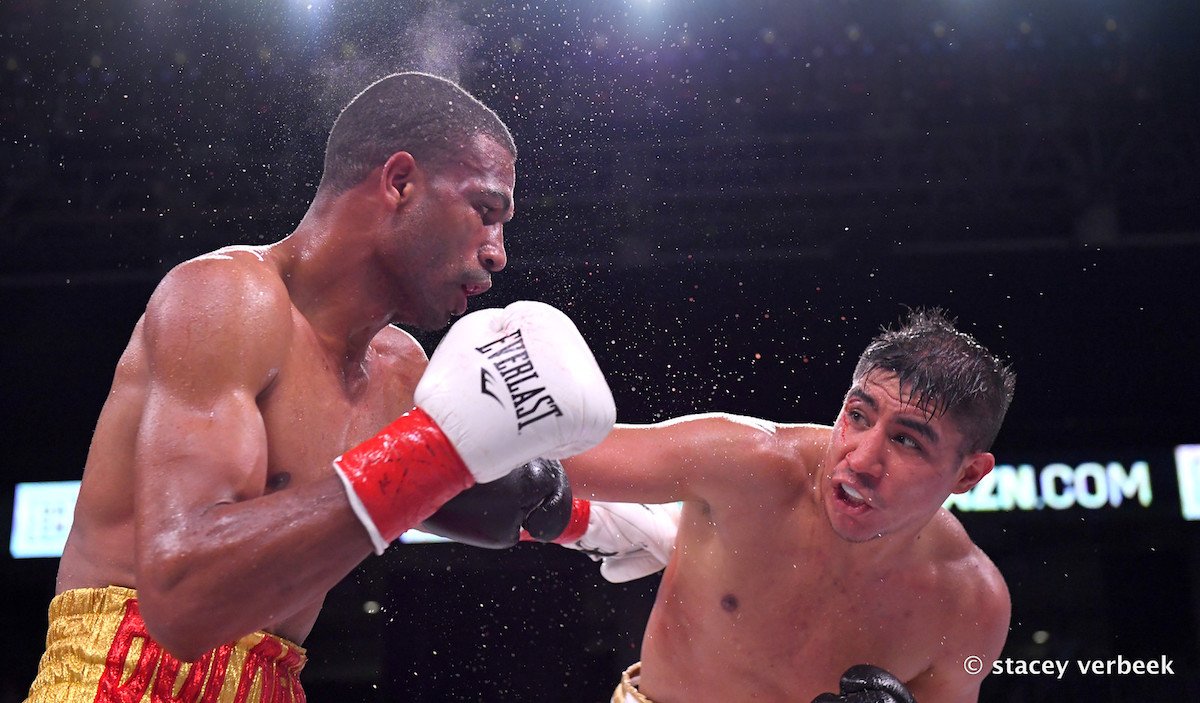 Jessie Vargas (28-2-2, 10 KOs) has turned down an IBF welterweight title eliminator against talented unbeaten Kudratillo Abdukakhorov (15-0, 9 KOs) for January 5. Instead, Abdukakhorov, 25, will face
#6 IBF Keita Obara (20-3-1, 18 KOs) on January 5 in Malaysia, according to Fight News.
It's a no-brainer that Vargas turned down the IBF welterweight title eliminator against Abdukakhorov. The chances are Vargas would lose the fight. Even if Vargas won, he would need to face IBF welterweight champion Errol Spence, and that would be bad news for him. Vargas has never been knocked out before during his 10-year pro career. Spence would likely KO Vargas, and that would be bad for him and for his promoter Eddie Hearn of Matchroom Boxing USA. Hearn thinks Vargas is capable of winning a world title at 147 when matched against the right guy. Spence obviously isn't the right guy.
Obara, 31, is coming off of a 3rd round knockout win over Alvin Lagumbay on August 9 in their rematch. Lagumbay knocked Obara out in the 2nd round in their first fight last April. In addition to being previously knocked out by Lagumbay, Obara has also been stopped by former IBF light welterweight champion Eduard Troyanovsky and Kazuyoshi Kumano.
Abdukakhorov has a good chance of beating Obara, as he's looking hard to beat right now. It's for the best that Vargas isn't taking the fight against Abdukakhorov. It's a bad match-up for Vargas, who is going through a rough patch in his career having failed to get wins in his last two fights. It's bad enough that Vargas failed to beat Thomas Dulorme in his last fight. A loss to Abdukakhorov would be a huge blow to Vargas' sinking career.
Matchroom Boxing USA/DAZN promoter Eddie Hearn wants to angle Vargas, 29, for a title shot against new World Boxing Council welterweight Shawn Porter. Hearn figures that since Vargas is the highest rated contender at #2 with the WBC, after the recently beaten #1 WBC Danny Garcia, that he should be the one that faces Porter. The only problem with that is Vargas hasn't won a fight since last year.
In Vargas' last two matches, he's been held to a pair of 12 round draws against Thomas Dulorme and Adrien 'The Problem' Broner. Many boxing fans think Vargas deserved losses in both of those fights. Hearn doesn't care. He states that since Porter won the vacant WBC welterweight title, then that means that he needs to fight the highest ranked contender in his first defense of his belt. That would mean Vargas will be the guy that gets the fight against Porter. Hearn is vowing to make the Porter-Vargas fight no matter what, so it doesn't matter if the WBC orders the Porter vs. Vargas match or not. Hearn will attempt to put it together.