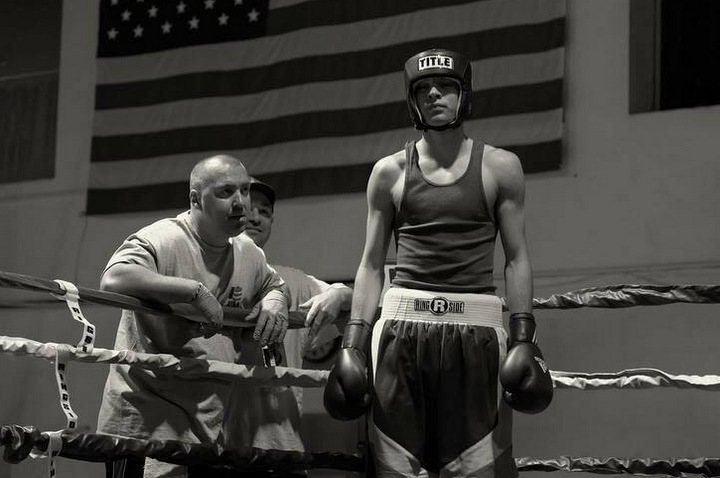 James Perella is a highly successful amateur fighter who has amassed an impressive 120-20 record and is ranked the third best boxer in the U.S. for his weight class (152 pounds). He has won the U.S. Championship and the New England Golden Gloves four times (2012 to 2015) in three different weight classes (123, 141, and 152 pounds). Perella was named the Most Outstanding Boxer of the New England Golden Gloves in 2012, received a silver medal at the National Pal Tournament, and won the Region One Championship in 2014. He came close to qualifying for a spot on the 2016 Olympic Boxing Team until a combination of injuries and a pair of extremely close split decision losses put an end to his dream to represent his country.
Despite his love for boxing and his stellar ring accomplishments, the 23-year-old from Mansfield, Massachusetts has no desire to fight professionally. Instead, he'll trade in his headgear and boxing gloves in a couple of years for a shirt and tie and apply for law school after he graduates from college. Perella was gracious enough to take time out of his busy schedule to discuss with me his biggest accomplishment in the ring, what is next for him in the amateurs, why he wants to go to law school, and much more.
James Stillerman: What was the biggest highlight of your boxing career?
James Perella: When I defeated Rashidi Ellis in 2012, it was my biggest accomplishment. That victory helped me obtain the Most Outstanding Boxer of the New England Golden Gloves Tournament. It was also one of my best victories to date, especially considering how well Ellis has started his professional career [15-0, 11 KOs]. It was an extremely technical and hard fought bout that was like a chess match where each fighter was waiting for the other to make a mistake and then capitalize on it.
James Stillerman: Can you discuss your attempt to make the U.S. Olympic Team?
James Perella: I broke my hand in sparring in late January of 2014, so I had to sit out for six months and wait for my hand to completely heal. Once my hand healed, there were only two tournaments left for me to compete in for an opportunity to qualify for the Olympic Team. I went to Philadelphia for a qualifying tournament in the late summer and won the first three bouts before I suffered a disputed split decision loss. Then I tore my ankle in November of 2014; however, I still competed in another tourney in Tennessee and again won three consecutive fights before losing another contested bout via split decision. In that loss, my ankle really bothered me and prevented me from fighting as well as I could of.
James Stillerman: What is next for you at the amateur level?
James Perella: I'll train for one more run at the Olympics for 2020 before I hang up my boxing gloves for good. So for the next four years, I'll work on improving my boxing skills, continue to spar with great fighters, and participate in qualifying boxing tournaments. I'll fight in a tourney in Iceland and Italy later this year and if I prevail, it'll help qualify me for the U.S. National Championship Tournament. I believe if I can stay healthy, I'll have a great opportunity at making the Olympic Team in 2020.
James Stillerman: Who have you sparred with?
James Perella: I've sparred with [two-time world title challenger] Peter Manfredo, Jr. [40-7-1, 21 KOs], Angel Camacho, Jr., [15-0, 5 KOs], Toka Kahn Clary [19-0, 13 KOs], Ryan Kielczewski [25-1, 7 KOs], among others. These sparring sessions are great because they have enabled me to learn a great deal, gain invaluable experience, and made me a better overall fighter.
James Stillerman: What do you like most about your trainer Brian Pennacchia?
James Perella: Brian is great and I wish I trained with him at the BP Boxing & Fitness from the very beginning. We work well together because we are always on the same page. We don't really need to talk to one another because we already know what the other is going to do. More importantly, we trust each other and this is extremely important in boxing. Brian has been an integral part of my success.
James Stillerman: I heard that in addition to boxing you are going to school?
James Perella: Yes, I am enrolled at UMass Dartmouth where I'm finishing up my criminal justice degree. Once I graduate from college, I'll go to law school.
James Stillerman: What made you decide to go to law school?
James Perella: I interned a couple of summers ago at the Suffolk District Attorney's Office and I really liked it. I enjoyed working with the attorneys in criminal matters and helping individuals feel more secure, get justice served, and assist families to obtain closure. It was a great internship that allowed me to help a lot of people and make a positive impact on society. I made up my mind then there that this is what I wanted to do in the foreseeable future.
James Stillerman: So, you have no interest in going professional?
James Perella: I don't have any interest in going professional at this time, but it could happen. As of right now, I'm committed to pursue my education and eventually obtain employment in the Massachusetts legal profession in either the District Attorney's Office or go into private practice as an arbitrator.
James Stillerman: How did you get into boxing?
James Perella: I started boxing when I was eight-years-old. I got bullied on the school bus when an older child stole my Pokémon Gameboy and my mom told me I needed to learn how to defend myself. She enrolled me in a karate class every Saturday morning, but I didn't like it, so I tried boxing and loved it. The first time I sparred, I got a bloody nose and instead of it deterring me from the sport, it made me like it even more and I wanted to get better each time out which I've done for the last 15-years.
James Stillerman: What is your best fighting attribute?
James Perella: My best weapon is my jab. Without it, I would be lost. I'm a tall fighter, so my jab is what enables me to set up my combinations and it keeps my opponent on the outside where I can get the better of the punching exchanges.