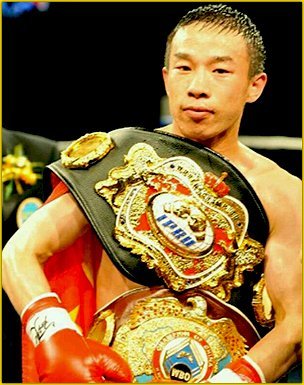 Bob Arum had desperately wanted a Chinese world champion for his ever-expanding foray into the middle-Eastern market, and after amateur star Zou Shiming came up short against Amnat Ruenrong in his flyweight challenge in March, 140 lb prospect Ik Yang today followed suit and was comprehensively outclassed by 34 year old unknown Argentinian fighter Cesar Rene Cuenca, in his challenge for the vacant IBF light-welterweight title.
Cuenca, whose slate was 47-0 with only 2 knockouts – yes you did read that right – came in having never boxed outside his home country, and at 34 years old, wasn't necessarily meant to present too tough a task for the fighter known as "The Wildman".
Sadly for Yang, he more than lived up to his nickname, and was sloppy, slow and continually frustrated by the slick footwork, fast hands and accurate counter punching of Cuencas, who looked every inch the master boxer for the duration of the contest.
It started badly for the Chinese fighter when he was rocked back in the first round and held up by the ropes, prompting referee Danrex Tapdasan to administer a standing count.
For much of the 2nd, Yang attempted to walk Cuenca down, eating leather to land his own shots, although too often he was left hitting thin air as the stylish South American expertly circled away from Yang's big right hand, went missing, and began putting the rounds in the bag.
A big right hand in the 5th round from Yang looked for a time to be the breakthrough the Chinese fighter needed, sending Cuenca down to the canvas, yet the Argentinian appeared unruffled, rose to his feet, and quickly went back to his boxing – establishing his fast jab and landing with sharp, accurate combinations as the two traded up close.
As the fight wore on, Yang's frustration became evident, and it was clear to all watching he simply didn't have the answers, or the experience, to deal with the fast, accurate southpaw, who was seemingly tagging him at will and piling up the points.
Going into the championship rounds, Yang knew he needed a knockout, and eventually – in a fit of frustration – he dumped his opponent WWE style on to the mat and lost a further point for his trouble – yet by that stage it was a moot point.
Cuencas was excellent as Yang came at him throwing everything but the kitchen sink in the dying seconds, and maintained his composure until the very end, tying up close when needed and displaying every inch of ring savvy one would expect from a seasoned champion – not an unknown fighter who had never boxed anybody of note.
With the unanimous decision victory, Cuencas takes the vacant IBF 140 lb title, and in what is surely the Autumn of his career, opens up a whole host of possibilities to box in America against the likes of Ruslan Provodnikov, Jessie Vargas or countryman Lucas Matthysse.
On that performance, it is well deserved indeed.
Twitter @Undilutedpoison