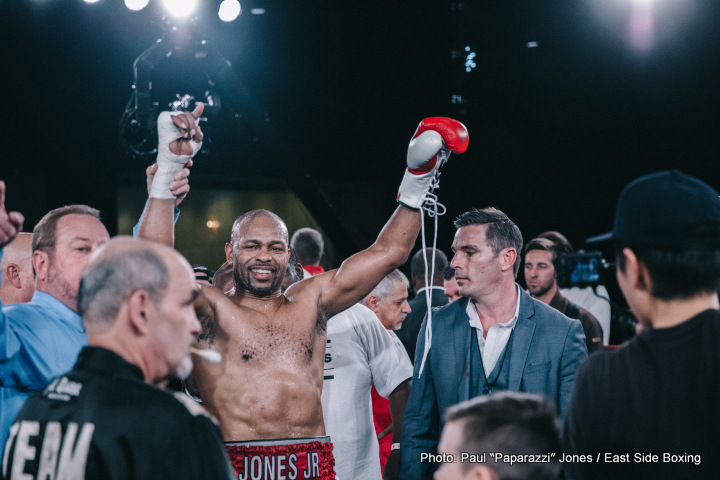 47-1 as a pro, world titles won at middleweight, super-middleweight, light-heavyweight and heavyweight and big names such as James Toney, Bernard Hopkins, Virgil Hill, Vinny Pazienza and Mike McCallum not only beaten but dominated. This is what the once great Roy Jones Junior could have walked away with in the spring of 2003.
Shortly after making history with his brilliant display of boxing genius in beating John Ruiz to claim a portion of the world heavyweight title, Jones had done it all. The untouchable talents of Jones had allowed him to defeat every man he faced – the loss, a contentious DQ defeat to Montell Griffin, was swiftly and brutally avenged – and his title collection was formidable. Jones though, decided to drop back down to light-heavyweight after the Ruiz triumph, in an effort to maintain his prior dominance at the weight. We all know what happened as a result.
Jones, never the same after bulking up in weight and then trying to fight again as a 175-pounder, suffered some brutal KO defeats and saw his reputation suffer. But what if Jones, who was then aged 34 and had absolutely nothing left to prove, had called it a career immediately after the Ruiz fight of March, 2003? It's no stretch to say that the 47-1 Jones, a fighter who had never truly been beaten, would be ranked today in the top-20 greatest fighters in boxing history, maybe even the top-10.
Jones is a classic example of a fighter not knowing when to retire. As Don Dunphy once said, "it's not how you come in, it's how you go out." Unfortunately, as we all know, Jones seems hell-bent on going out a loser, perhaps on his back. The 48 year-old faces bare-knuckle king Bobby Gunn tonight, and another KO defeat, Jones' sixth, is a distinct possibility.
Jones says he will "shock the world" by beating Gunn, but in truth the world has moved on. Jones was both a boxing and punching master from his 1989 pro debut to the Ruiz bout, and he was also a huge attraction. Today Jones continues to remind us all how he should have retired 14 years ago and been placed amongst the best of all time. Once upon a time, Jones really was right up there with the immortals.