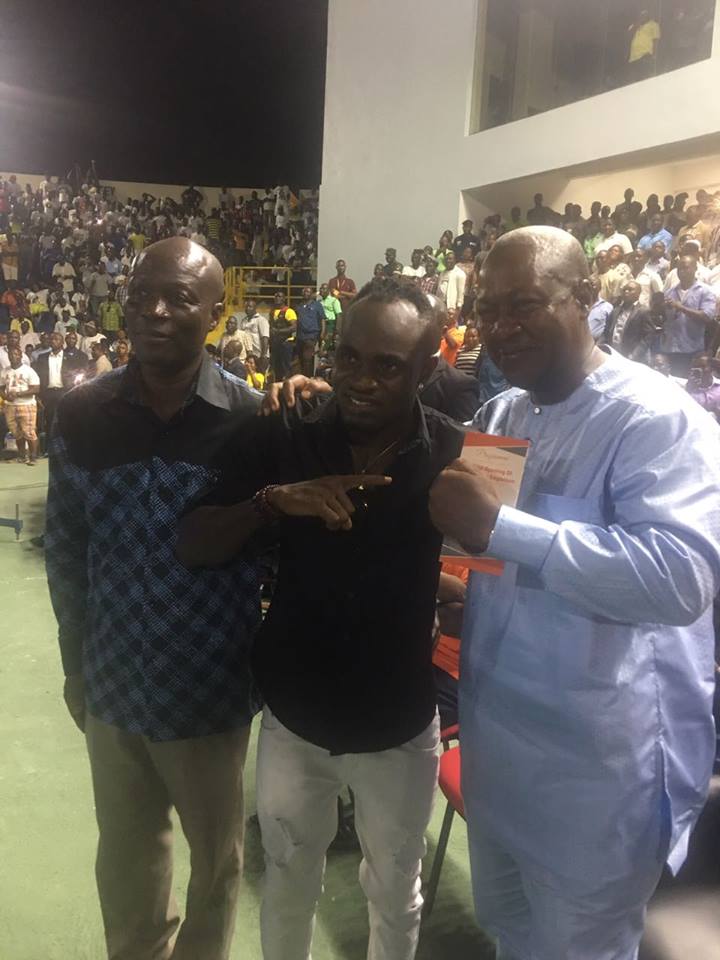 Ghana President John Mahama has apparently demanded boxer Emmanuel 'Game Boy' Tagoe to knock out Argentina's Fernando David Saucedo by the end of round 3 when they clash for the IBO Lightweight championship in Accra on November 25.
Tagoe and Team BabyJet Promotions who are promoting the bout at the newly built Bukom Boxing Arena, met and presented the IBO belt to the Ghanaian leader during Tuesday night's official inauguration of the new edifice. Tagoe appeared all smiles as he engaged in a tete-a-tete with President Mahama, and now the boxer has revealed what he was told.
"President Mahama told me to stop Saucedo in round 3, he said that's what he wants. Three already is my own favourite number and I was looking forward to doing something special and now that His Excellency the President himself has requested, I have no choice than to stop him," Tagoe disclosed Wednesday after visiting and receiving blessings from the leader of the Muslim community, His Eminence Sheikh Dr. Usman Nuhu Sharabutu, Ghana's Chief Imam.
"I am in high spirits for this fight and I have no doubt that I will win especially with the support I am getting from all Ghanaians. The Ga Traditional Council, chiefs, Chief Imam, the Mayor of Accra and now the President have all shown their love and support and the only way I can pay back is to win this title and give my country a world champion again," Tagoe added.
Tagoe versus Saucedo headlines the BabyJet Promotions bill at the Bukom Boxing Arena next week Friday, November 25. It's the first international fight set to be staged at the new home of Ghanaian boxing and has many side attractions including planned performances by leadinh musicians, Stonebwoy, Becca, Aletse Tinny, Wisa, Jupiter among others.
Gate fees have already been released and it has ringside VIP going for GH¢200 (two hundred Ghana Cedis) and general entrance at GH¢100 (one hundred Ghana Cedis).
I'm chief promoter of Tagoe vrs Saucedo – Mayor of Accra declares
The Mayor of Accra, Hon. Alfred Okoe Vanderpuye says the Ghana capital is ready to host the rest of the boxing world come November 25 when local showman, Emmanuel 'Game Boy' Tagoe faces Fernando David Saucedo of Argentina for the IBO Lightweight world championship, amid the head of the city even declaring himself the chief promoter of the impending event which is billed to take place at the country's newly built first ever boxing arena.
"We want to thank BabyJet Promotions for your ability to bring a bout of such level to the city of Accra and the country Ghana. It is our hope that our brother will do well to win the title to add his name to the list of others who have won world titles for Ghana," Hon. Okoe Vanderpuye told a team from BabyJet Promotions at his Accra Metropolitan Assembly office on Wednesday.
"I can assure you that I will be there that day, I have been talking about it in my constituency, Ablekuma South. When I go out to prepare the ground for the coming election I have been telling them about the fight so I am your chief promoter, I am promoting your fight every day," the Mayor said amid smiles.
Furthermore, Hon. Vanderpuye expressed delight that new boxing stadium is not only ready for the country to use but it gets to stage a world title fight within days after its inauguration which is set to be executed by President John Dramani Mahama himself on November 14.
"Government recognizes that Accra and for that matter Bukom area and Ga-Mashie has always been a centre that has produced great boxers and I think it's on that note that His Excellency the president himself initiated to have this stadium built within the area," he said.
"And I am very happy that just when the president will commission the facility that a fight of this magnitude has been accepted internationally to take place there. This shows that we did not just build the facility but it's one that meets international standards and I know this will open the door for many more international fights to take place there," the Accra Mayor continued.
Hon. Alfred Okoe Vanderpuye added: "Let me also use this opportunity to urge the youth to take seriously the opportunity that this facility offers to train and work hard to develop their boxing careers to fight and win world titles on behalf of the country."