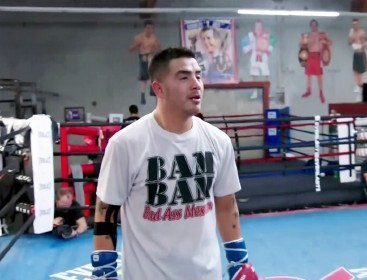 IBF welterweight champion Kell Brook's promoter Eddie Hearn is looking for a slugger to help accentuate Brook's fighting style and make him look good in his first defense of his title in his next fight on December 6th.
Hearn says he likes the idea of Brook fighting former WBA lightweight champion Brandon Rios next, because he's a fighter that is well known to American fans and someone that will make it an interesting fight.
Hearn has several other sluggers on his wish list for Brook's next fight in case he doesn't get Rios. He likes unranked Josesito Lopez, a fighter who no longer is ranked in the top 15 after knockout losses to Marcos Maidana and Saul "Canelo" Alvarez. Lopez would be a good fight as far as him being an opponent that will make Brook look good in beating him, as long as Brook doesn't hold all night like he did in beating Shawn Porter. Another night of holding and I'm not sure that fans will care if Brook beats Lopez. Hearn may need help from the sanctioning bodies before a fight against Lopez could happen because he's not ranked in the top 15. Hearn also likes Robert Guerrero. He's someone that you have to think would be right behind Rios in terms of being a perfect brawler for Brook to fight.
"The Brandon Rios' fight did excite me, because he's an all-action fighter that will bring it, and a lot of people who he is," Hearn said to IFL TV." Josesito Lopez, Berto, he's a bit past it. Guerrero's a good fight. I think we need a big name, a credible name. I think [Keith] Thurman is a tough fight."
Hearn is less excited about Brook fighting WBA interim welterweight champion Keith Thurman and former two division world champion Devon Alexander. Hearn sees those two guys as potentially tough fights for Brook, and that's not what he's looking for in his next fight. Hearn wants a guy that will make Brook look good.
Thurman and Alexander are guys that would clearly make Brook look bad, and they might even beat him. Thurman would be especially dangerous for Brook because he's not someone that could be shut down by Brook with him holding him.