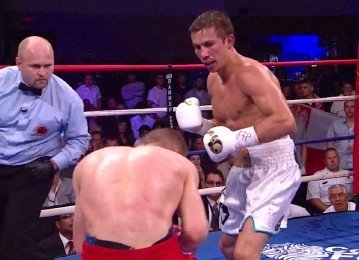 By Rob Smith: WBA World middleweight champion Gennady Golovkin (24-0, 21 KO's) is heading for a clash against unbeaten super middleweight contender Thomas Oosthuizen (20-0-1, 13 KO's) if the fight can get get put together. Golovkin, 30, would be moving up in weight for one fight to take on the tall 6'4″ International Boxing Organization (IBO) super middleweight champion Oosthuizen at MSG Theater, in New York, New York, USA in a fight that will be televised in the United States nationwide.
It's come to this after the fight that Golovkin wanted against IBF/WBA middleweight champion Daniel Geale didn't materialize due to Geale choosing to fight fellow Australian Anthony Mundine in a better money fight. Once it was known that Geale was going to take that fight instead of the World Boxing Association ordered fight against Golovkin, the WBA wasted no time in stripping Geale of his WBA title.
However, he reportedly knew that he had to face Golovkin next after the WBA told him when he first captured the WBA belt against Felix Sturm last September but he still opted for the bout against Mundine. With that fight unable to take place, Golovkin's promoters at K2 are looking to put a fight together with the 24-year-old Oosthuizen.
Golovkin will be giving away a lot of size and reach against Oosthuizen and he's going to have to use a lot of pressure on the tall South African if he wants to win this fight. Oosthuizen knows how to use his reach quite well, and he'll no doubt try to jab and bomb his way to victory over the shorter 5'10" Golovkin if possible.
The Golovkin-Oosthuizen fight can't take place unless Oosthuizen wins his fight this month against light heavyweight Fulgencio Zuniga (25-5-1, 22 KO's) on November 10th in South Africa. Oosthuizen should win that fight and be ready to fight Golovkin in early 2013 barring any injuries.
Golovkin, a former 2004 Olympian for Kazakhstan, is trying to make a name for himself in the United States after having spent the first part of his career fighting out of Germany. Golovkin has a late start and he doesn't have an advantage of a build in fan base like some of the other fighters at this weight because there's not a large Kazakhstan fan base in the U.S. Golovin will have to become popular the old fashioned way by looking to knock off the biggest names in the middleweight and/or super middleweight division.
It may not be easy because getting the top middleweights to agree to fight him could prove very difficult. Golovkin would like to fight the new WBO middleweight champion Peter Quillin but that fight doesn't look like it's going to happening in the near future. You'd have to favor Golovkin by early knockout over the likes of the flawed Quillin if that were to be made, which is why it might prove all but impossible for Golovkin to get that fight.