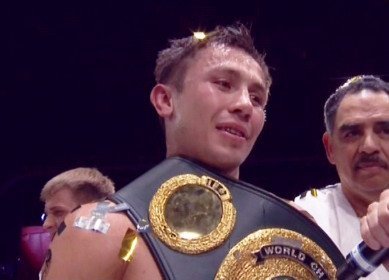 WBA middleweight champion Gennady Golovkin (26-0, 23 KO's) has a ton of respect for his June 29th opponent Matthew Macklin (29-4, 20 KO's), and he believes he is pretty evenly matched with him in terms of power, speed, and skills for their fight at the MGM Grand at Foxwoods Resort, Mashantucket, Connecticut, USA.
Golovkin said to esnewsreporting.com, "I respect him, he's a good man. It's a very difficult fight for us because he is the same size, same speed, same power; different style. It's a great fight."
Macklin is about the same size as Golovkin, but there's a difference in power and skill. Golovkin is just a much better fighter on the surface. Macklin has the same kind of speed, but the difference in skills and power will likely be enough for Golovkin to have a huge advantage in this fight.
Macklin wins his fights by going toe-to-toe with his opponents and basically out-toughing them. He doesn't have huge power, but he makes up for it by jumping on his opponents and overwhelming them with punches from the very start of his fights. He has problems if his opponents stick around into the later parts of the fights when Macklin's stamina causes him to fade.
What works against Macklin in his fight against Golovkin is he can't do what he normally does by going after him and trying to punch with Golovkin because that would lead to his own demise in this fight. But if Macklin tries to box Golovkin, he'll be putting himself in a situation where he'll be slowly picked apart by the hard head and body shots from Golovkin.
It'll be a slow torture if you will, and probably much worse for Macklin than it would be if he were to go all out from the start of the fight to try for a knockout.