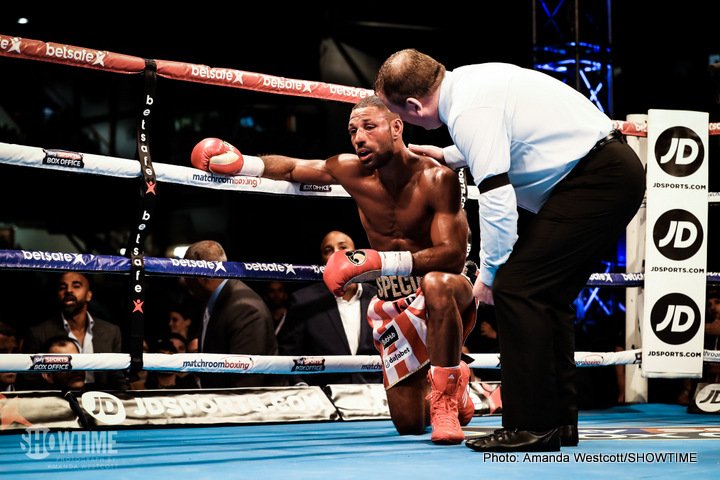 Did the beating he took from Errol Spence, to his facial bones especially, do permanent damage to former IBF welterweight champ Kell Brook? Come to think of it, did the damage Brook took in the Gennady Golovkin fight, which took place eight months earlier, do irreparable harm to the Sheffield warrior?
We don't know, and as Spence says in speaking with Sky Sports, we will not know until Brook fights again. 31 year old Brook, 36-2(25) will box his 154 pound debut in March, when he will fight Sergey Rabchenko. But Spence, who makes the first defence of the belt he ripped from Brook later this month, against Lamont Peterson, says "there is no reason Brook cannot win a world title at that weight."
"I don't see why Kell can't win a world title at that weight," the unbeaten southpaw said. "No-one will know what my fight has done to him until we see him fighting again, but he is a good fighter and we had expected him to move up for a while. Kell is a guy that has a lot of heart, a lot of balls and is a real fighter."
But has Brook been too brave, stubborn even, for his own good? That challenge of GGG, in hindsight looks foolhardy, while Brook, who was struggling mightily to make 147, should perhaps have moved up way sooner than this March. Yes, Spence applauds Brook for opting to defend his belt against him instead of vacating it, but if Brook truly feels he can win a second world title, then should vacating the IBF welterweight belt really have been such a hard thing for him to do?
In any case, we will only see how much Brook has left when he gets in there with Rabchenko. Once again, Brook has not picked an easy option. Rabchenko, 29-2(22) is coming off a stoppage loss (TKO 9 by Tony Harrison in July) but he is a proven force at 154, he has boxed and won in the UK before, and he is clearly no pushover.
Might Brook come a cropper for a third time running? Kell's entire fighting career will be on the line the night of March 3rd.