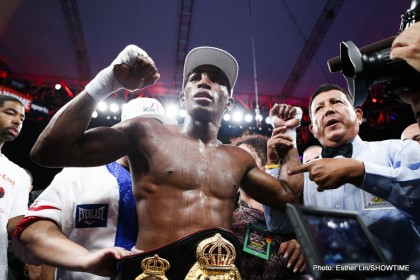 L. Ellerbe – Thank you. Now we'll bring the main event. It's a rematch of the 2012 technical draw and you know both men are going to want to settle the score. So first up I'd like to introduce, he comes to us with 36 and 2 record with 21 KO's. He's fighting out of Glendale, California. He represented the United States in the 2004 Olympics. He's a very very tough fighter. He's been in with just about everybody. He fought the likes of Ishe Smith,who's part of the Mayweather promotions stabl, Willie Nelson and Demetrius Andrade. He fought Lara. He's been a pro for 11 years. He turned pro in April, 2005 and he's a very very good fighter. And we also look forward to a very exciting fight. Vanes Martirosyan, would you like to say a few words.
Vanes Martirosyan
Thank you Leonard. You getting better with my last name every time. It's an honor to be on the Mayweather Promotions card once again and I can't wait for the fight. I'm really excited as I have had the best training camp that I've ever had. I've been away from my family for a month and a half now. I just can't wait for the fight to come.
L. Ellerbe
Vanes is fighting Erislandy Lara. Lara comes to us with a 22 and three record with 13 KO's representing Cuba but training with Ronnie Shield in Houston. He's one of the, in my opinion, one of the slickest boxers Very very slick, talented fighter. If you look forward this is going to be an excellent match up. Lara, would you like to say a few words.
Erislandy Lara
I want to thank everybody for putting this together in Mayweather Promotions and Showtime. I'm just ready for the fight. The fight is a week away and we're ready to go.
Q
Vanes, in the first fight it seems that later on in the fight you were getting some success by putting on more pressure question mark are you going to fight the second fight like it's the 10th round of the first fight?
V. Martirosyan
We know, we watched the first fight. That was four years ago. He's got a lot better. I changed a lot also. We have noticed the fight there to be that we would do from the first fight. But there's a lot of new things that we need to do. My main concern about this fight is that I just hope it's a clean fight cause the first fight was really a dirty fight. There was a lot of low blows, a lot of head-butts and things like that. Let's just hope the referee does his job better but we're ready for anything and the first fight was a learning lesson. And it's going to be the best fight on this night.
Q
My question is for Erislandy. With the improving relations between the United States and Cuba recently. How important is it for your career to headline a professional fight in your home country? And is that something you and your team have talked about doing?
E. Lara
Absolutely. This is something I want to do. I'm fully aware of everything going on in the United States and Cuba and if it's possible I would love to headline a fight in Cuba one day.
Q
You also had mentioned recently that you would even like to fight to unify 154 titles. Would you also be willing to do that if a stablemate Jermall Charlo?
E. Lara
I don't choose my opponents. They tell me who I'm fighting and I prepare and I fight to the best of my abilities and that's what I have done in every fight. This is the fact and we both trained so this is not realistic at this point. But would I fight him? Yeah. I'll fight him and win.
Q
You've been on the short end of some decisions, questionable decisions such as your fight with Andrade. Has that affected your game plan heading into this rematch and how aggressive you may need to be to pull out a decision?
V. Martirosyan
I have to be ten times more aggressive. And I guess I need to win the fight. You know, way better, trying to be more aggressive to show the judges we've moved on than the judges have.
Q
Did you start to feel as though it wasn't going to happen? And how incomplete do you feel your career would have been if you didn't get the chance to fight him again?
V. Martirosyan
I know I've been with Al Haymon and he's with Al Haymon. You know every time I fought when I was with Al Haymon they asked me if I wanted to fight. One of the guy's name on the list was Lara. So it was just a matter of time. At the time we fall we were both with different promoters. And right now we're with the same management. So to be with the same management I knew that it was going to happen sooner or later. So I'm just happy that it finally happened.
Q
Vanes also if you could, what did you think of the scoring and the way the fight was scored in the first fight you know when it was fought.
V. Martirosyan
We watch the fight a few times. I think that he knows I was coming on strong. The round that they quoted as a draw I don't know why they scored that fight on that round because it was only 20 seconds into the round and that's what made it a draw. I just feel like I was winning on points in that fight. And the cut was bad and when they asked the judges to score the round they scored in his favor and they called it a draw. I just feel like I was up in that fight.
Q
If you could ask Erislandy the same question about what he thought about the scoring and also what his thoughts are in the fight finally coming together? And whether he thought it would ever happen?
E. Lara
To me I was winning the fight easily. I was out boxing him. If you go look at CompuBox I out landed him in every single round of the fight. I was doing my job. Obviously we fought on his turf like I always do. I fight fighters on their turf like I do. Now it's on my turf and actually I felt like I was winning the fight 100% and I was coming on strong. I was winning the last few rounds before the cut and I was on my way to stop it and then before, you know, he decided not to fight. So I'm looking forward to this fight. I'm very excited to fight and it's time to put a period on the fight and end it. And show everybody why I'm the best 154 pound in the world.
Q
Vanes, he just said he felt he was on his way to stopping you in that fight. What are your thoughts on that?
V. Martirosyan
He was running the whole fight. I stopped them but he was running, man. He was running the first few rounds and then he started running the whole fight. I don't know what he's talking about. He was stopping me. You know what I mean. I know he felt me in the first fight he's going to feel me ten times more in this fight. He wasn't stopping shit. If he was stopping I feel like the head butt was on purpose. The low blows were on purpose. Fight a clean fight and don't play with my balls the whole fight and we'll see who's going to stop who in this one.