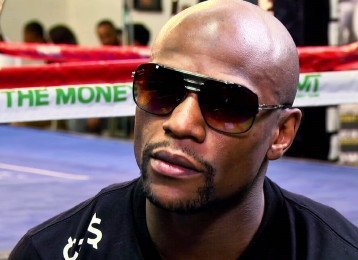 Byron M. (Tacoma, WA): Please tell me that Mayweather is joking about Pacquiao having to sign with Mayweather Promotions in order to secure a fight with him in the future! What is that about?
Vivek W. (ESB): I think the comments as printed were blown out of context. I'd be the first to say that Mayweather absolutely meant what he said. But the actual purpose behind the statement was never defined through the media source that initially reported, which made it appear that Mayweather was just doing what some feel Mayweather always does (talk). There appears to be a major disconnect relative to what he meant by this statement, so I think it can only help to add clarity.
In a nutshell, what it all comes down to is the fact that Mayweather, without question stands as the bigger draw. Once upon a time there may have been a debate. But right now, unequivocally, there are no questions. Without needing to elaborate much further, ask yourself this: why would Floyd – (who clearly feels he should get the lions share of the entire promotion) – take the bigger portion of the fight purse, yet concede the lions share of the promotional element of the purse (which isn't small)?
A wise strategy that Pacquiao would quickly attempt to adopt would be to concede money on the front end as the fighter, and leverage it on the back end as a promoter, under his MP PROMOTIONS banner. Smart! But not a plan Mayweather would be willing to accept. In Floyd's mind, whatever the proceeds are for this fight, he will strategically place himself at an angle that will give him (what I would estimate at) no less than a 65/35 split.
Fans are equating this angle to the fight purse alone. But Mayweather equates this verbiage to all proceeds rendered from the fight as a whole. Remember, Goldenboy Promotions will play a major role in such a fight if it were to happen. When it comes to business, two is a beneficial couple. Three is a crowd!
Under this plan, proceeds would need to be split by Mayweather Promotions, Goldenboy Promotions, & MP Promotions. Not gonna happen, ladies & gents! And if Mayweather wins in spectacular fashion against Canelo and Pacquiao looks less than stellar against Rios….win, lose, or draw, this position will only strengthen. And the odds of the fight happening will only continue to weaken. This passage won't get us a fight….but it should clear the air. Stay tuned.
Elvin H. (London, UK): There's a lot of back and forth between Khan and Alexander. What's going on? And will we actually get a fight?
Vivek W. (ESB): Will we actually get a fight? That's a question that I don't think can be answered in a simple yea or nay at this stage. There's a ton of politicking going on and I hate to say it, but it's primarily coming from the side that doesn't have much room to play politics. One thing that I think needs to be addressed up front is the fact that contrary to what Khan's camp reported, no contract or stipulation has changed hands. This has been confirmed by sources on both sides. Yes….BOTH sides.
Based on recent comments from Khan, it appeared that Team Alexander received specific terms that they refused. There has apparently been loose discussions, but no actual terms confirmed to build a negotiation on. At its best, i think Khan made those comments as a matter of small talk, as opposed to a true talking point.
He discussed location as the primary issue, but there's so much more to a negotiation. Particularly when the other guy is the one who will enter the ring as Champion. What baffles me is that Khan continues to represent himself with such a grand level of entitlement, yet nothing on his résumé supports it. I was once a huge fan, but the unsteady skill and the continuous entitled approach has really soured me on him as a fighter in the sport.
It's very disappointing to see him continue to dig a deeper whole for himself. He could be a likable guy. Right now, to many he has made himself the exact opposite. Hope he gets it together. I expect the fight will be made, but as of now, there's a ton of work to finish.
Eric I. (Columbia, SC): I don't think Adrien Broner gets the props he should. Do you see him reaching the elite level of the sport?
Vivek W. (ESB): I think whether or not he reaches the elite level depends solely on him. Broner has a 300+ fight amateur pedigree, natural talent, and the type of ring demeanor that will allow him to land in some very entertaining fights in the future. When we talk elite, we speak specifically about talent. But far beyond that, Broner possess a few elements that will continue to give him high visibility…..be it good or bad.
Outside of the ring, he's over-bearing….unpredictable….and pretty much off-centered. All that does is distract fight fans and opponents from seeing what he is. That's talented! The distractions make him talented in a way that keeps him somewhat under the radar….in terms of the respect he's given, commensurate to his actual ability. Perfect example: we speak about GGG, Matthysse, Thurman and others who have good KO power, yet few acknowledge the 81% next to Broner's KO ratio.
Garcia gets more credit around the sport for his power, yet his ratio caps out at 61%. These are the little things that fall under the radar when fans take issue with a certain fighter, yet feel compelled to support others for all the wrong reasons. Broner was criticized for failing to stop Malignaggi. Few took note of the fact that this was a multi-division champion who faced the likes of Hatton, Cotto, and beyond, that has never been stopped in less than 11rds by anyone.
I won't say that Broner will become the best of his era, but I will agree that he has far more ability than people give him credit for. I'm not a fan of the Mayweather comparisons, but on some levels they do exist. Floyd isn't known for doing any more than he has to to secure a win. That subtle gesture is what Broner displayed against Malignaggi. He knew Paulie couldn't hurt him, and he wouldn't press the action because he didn't need to.
Hit the rewind button and you saw a totally different disposition against DeMarco, a fighter who he knew would come to bang, yet the results were practically the same on the cards. Very similar when you look at Mayweathers contrast in his fight with Oscar as opposed to his fight with Corrales (RIP). One he did just enough to win, the other he immediately turned the heat up from the first bell!
I've always said, if you want to know how much an opponent is in the head of Mayweather, Ward, or Broner, pay close attention to how early they attack, and precisely how they attack. Rigondeaux and Hopkins are very cerebral as well, but their effort is far more measured. Not the other three. And that's where the parallels begin. Broner has the whole "hate me" element as well which is an internal motivating mechanism. Will that, combined with his skills propel him to the elite status? Skill and notoriety have a way of doing that very thing. Lets see what happens!
Vivek 'Vito' Wallace can be heard every Monday night at Left-Hook Lounge Radio at 9ET/6PT. Also, he can be reached at 954.300.5692, vivekwallace@ymail.com, FaceBook, Twitter (@vivekwallace747), & Instagram (viveksview).