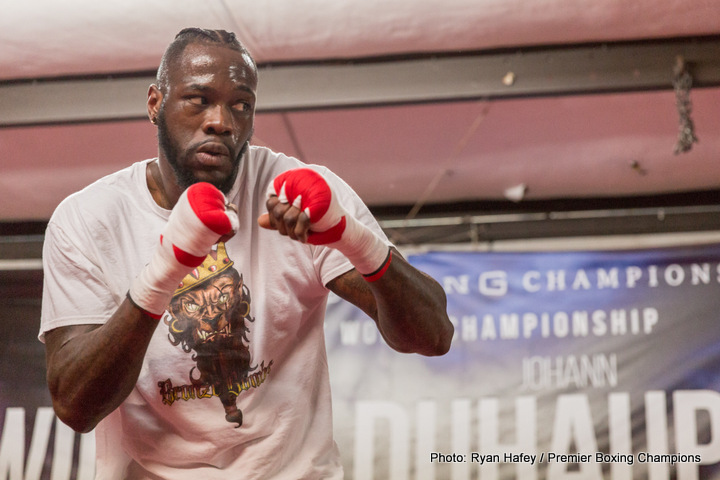 Reigning WBC heavyweight king Deontay Wilder knows all about the time that can be wasted and the various other negative aspects that arise when a fighter is caught cheating by taking illegal stimulants or drugs. Twice Wilder has seen fights of his fall apart due to his would-be opponent testing positive for an illegal substance just prior to the bout.
Alexander Povetkin ruined Wilder's chance to take and pass his biggest test to date, while this month's original return foe Andrezj Wawrzyk also tested positive for something he had no business taking. Now, ahead of his quickly rearranged defence against new challenger Gerald Washington, Wilder says he is anxious to see further drugs cheats (and sadly there will be more in the coming months/years) punished severely. Wilder, like the rest of us, thinks things have gone beyond a joke, what with big name after big name being caught cheating with drugs.
It's time to do something, before the great sport of boxing is "ruined," Wilder says.
"It's sad for the sport," Wilder told the AP. "I just hope something even more can be done about this situation before it ruins the sport of boxing. I think the WBC is doing a fabulous job in bringing the doping program and having these fighters sign up for it and if they don't they're off the rankings. But I also would like to see it go into second gear. I want to see some punishment done. I want to see if you do this, if you put a steroid or anything that allows your body to do what it's not naturally supposed to do, I think you should not only get suspended, but maybe indefinitely, or fined. We need to do something. They need to take their careers away from them because this is ridiculous."
Who can disagree with what Wilder has said? The sport needs more fighters like Wilder; a warrior who fights clean and fully respects the sport. Wilder may not be the best heavyweight out there today (but then again he might just be the best) but he wants the big fights to prove that yes, he is. And Wilder doesn't want any unfair, potentially dangerous, advantage to help him beat his rival heavyweights.