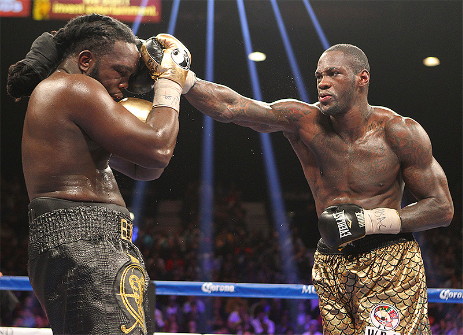 (Photo credit: Hoganphotos/Golden Boy Promotions) Newly crowned WBC heavyweight champion Deontay Wilder (33-0, 32 KOs) is only one day removed from his victory over WBC champ Bermane Stiverne (24-2-1, 21 KOs) and already Wilder is targeting IBF/IBO/WBA/WBO heavyweight champion Wladimir Klitschko for a unification match that Wilder is hoping will take place later this year after Wladimir gets through with his title defense against his IBF mandatory challenger Bryant Jennings on April 25th.
Deontay, 29, points to his youth, speed, and inside fighting skills as assets that could lead him to victory over the 38-year-old 6'6" Wladimir if the fight goes down this year.
"I got youth. I'm faster, definitely…I can fight on the inside as well," Wilder said. "I think my speed, my youth, and my IQ in the ring. All of those attributes about me pose a threat. I think that fight is definitely going to happen."
Deontay says he'd like to face Tyson Fury first before he gets to Klitschko if he can get the 6'9" Fury to agree to a fight against him. That's a big if because Fury has designs on fighting Klitschko. Fury believes he's got the talent to beat Klitschko, and he wants to test his skills against the Ukrainian.
Fury has been after a fight against Wladimir for at least a year, and he had to best Dereck Chisora recently to become Wladimir's mandatory. It's doubtful that Fury will want to risk losing the title shot against Wladimir by facing a guy as dangerous as Deontay, because it's potentially a bad match-up for Fury. Wilder is faster, stronger and he's almost as tall as him.
"He wants the WBC belt, as he said many times, back in the family," Wilder said about Wladimir. "I'm exciting at heavyweight as well. He's exciting at heavyweight. There's nothing like two big giants going at it," Wilder said at the post-fight press conference last Saturday night.
It's no secret that Wladimir wants the WBC title, because it's the last remaining world title that's not currently in his possession. However, Wilder is a much more difficult opponent for Wladimir than the 6'2" Stiverne would have been. Wladimir would have been able to jab, hold and blast away at Stiverne if he had faced him for the WBC title. But against the 6'7" Wilder, Wladimir will be facing someone even taller than himself who has the hand speed, arm length and power to reach his vulnerable chin. Wladimir would obviously be favored against Deontay, but if got cracked by one of his big right hands early in the fight, it could be all over for Wladimir.