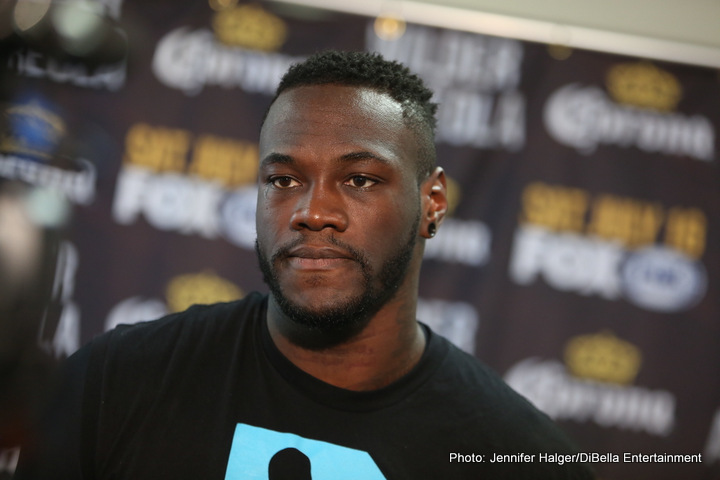 It looks as though reigning WBC heavyweight champ Deontay Wilder will have to find a new opponent for his scheduled February 25 return fight in Alabama. Wilder was of course set to defend against Andrej Wawrzyk, but Wawrzyk has failed a doping test.
ESPN.com reports that Wawrzyk failed a urine test, coming up positive for the anabolic steroid stanazolol. The pre-fight test was conducted by the Voluntary Anti-Doping Association (VADA) and Wawrzyk could now be out of the fight.
"I have received notice of a failed doping test by Andrej Wawrzyk," Alabama Athletic Association executive director Jody McCormick said in an official statement. "The test was conducted by VADA as part of the WBC Clean Boxing program. Wawrzyk still has the option to have his B sample tested. If it also comes back as "adverse," Mr Wawrzyk will not be allowed to compete in the state of Alabama."
According to a news piece on AL.com, Wilder is still expected to go ahead and fight, but the search for a new opponent is "ongoing."
It really is getting quite ludicrous, the number of heavyweight fighters failing either pre or post-fight drugs tests – with big names Alexander Povetkin and Lucas Browne being just two examples of fighters hitting the headlines for this just recently. In truth, no-one was too excited about the Wilder-Wawrzyk fight, with nearly everyone predicting a pretty straightforward stoppage or KO win for "The Bronze Bomber."
Perhaps, then, this is a blessing in disguise and Wilder will now end up facing a more credible and exciting opponent. Don't count on it though, as with such a short amount of time to find a replacement foe (less than five weeks until fight time), Wilder and his people may have only a very small number of options to work with.
Or maybe Wawrzyk will do as McCormick suggested and have his B sample tested. If he does so, and if it comes back clean, maybe Wawrzyk will go ahead and fight Wilder after all.