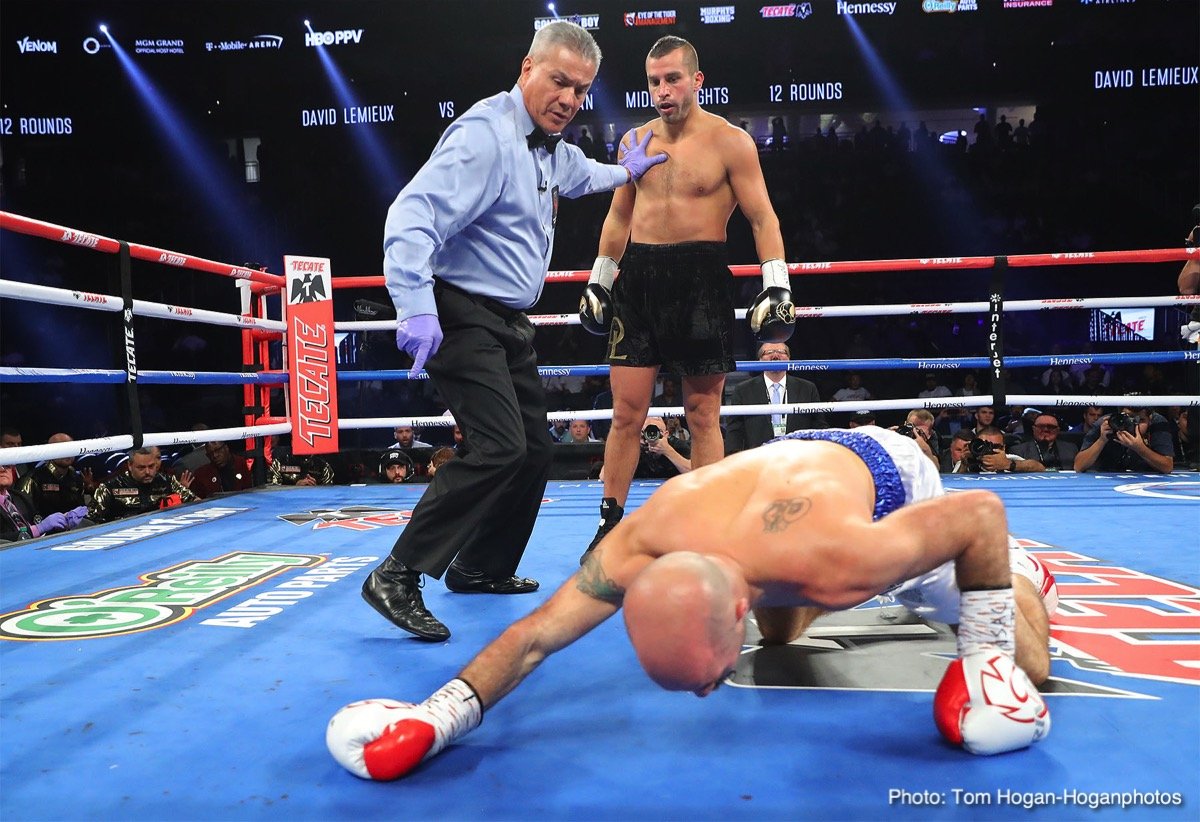 Fresh off his quick, one-round blitzing of Gary "Spike" O'Sullivan, Canadian powerhouse and former IBF middleweight champ David Lemieux will return to action on the Canelo Alvarez-Rocky Fielding card in New York on December 15th. Lemieux, 40-4(34) will likely face Tureano Johnson, 20-2(14) on the DAZN card.
While Lemieux both wants and remains in the frame for a big fight with a Canelo or maybe a Gennady Golovkin, the 29 year old is keeping himself busy. Johnson of the Bahamas is pretty much a fringe contender, having lost his last fight, when he was stopped late by a 10-0 Sergiy Derevyanchenko (Sergiy of course just giving Danny Jacobs a tough night for all 12 rounds), and the 34 year old has not boxed since then. That loss took place last August, so who knows if the rest has either done Johnson good, or has simply allowed him to pile on rust.
Johnson is tough – he took a lot from Derevyanchenko before finally being halted – and his only other loss came against Curtis Stevens, back in 2014. Lemieux, having put that bad and frustrating night against Billy Joe Saunders behind him, will of course be looking to vaporise yet another opponent. Johnson is not too hard to hit and that could mean big trouble for him on December 15.
Lemieux we know can be outboxed, yet stand in front of him and try and trade, or make a single mistake against him, and Lemieux can put the lights out in dramatic fashion. This will be what the fans will be hoping to see on December 15. Lemieux has to be looked at as a big favourite to win, but there is nothing wrong with Johnson's courage and his willingness to fight. This one could prove interesting, quite brutal even, while it lasts.
Also set to appear on the Canelo-Fielding card is once-beaten 140 pounder Yves Ulysse Jr, against TBA. Ulysse, 16-1(9) has picked up two good wins in a row – over unbeaten duo Cletus Seldin and Ernesto Espana – since dropping a split decision to Steve Claggett back in October of last year.