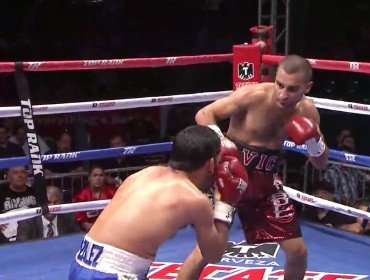 Vic Darchinyan (39-5-1, 28 KO's) realizes that he's been brought in as the sacrificial lamb for Nonito Donaire (31-2, 20 KO's)to slaughter this Saturday night on HBO to make Donaire look better than he is and to make boxing fans forget about the sight of a bleeding Donaire being clowned by WBA super bantamweight champion Guillermo Rigondeaux last April. Darchinyan doesn't care that he's being brought in as a kind of a tune-up fight for Donaire instead of a credible opponent, because he plans on embarrassing Donaire by knocking him out in front of the entire nation on HBO at the American Bank Center, in Corpus Christi, Texas, USA.
Darchinyan said this on Tuesday's conference call "I think so, yes. I think so. That's why he [Donaire] chose me after the loss to Rigo. I think also that Nonito was exposed. I've been training hard for Nonito. I will stop him. I'm going to demolish him. I'm going to prove to all of the world that it's not about him, and that it's all about me. I have more skills, I have more power."
If Darchinyan is going to beat Donaire on Saturday than he's going to have to keep his right guard held high to block Donaire's left hook, because that was Darchinyan's undoing the last time they fought in 2007. Darchinyan rushed Donaire and was hit on the way in with a left hook and dropped. Darchinyan hasn't changed his way of fighting since that time unfortunately. He's going to have to come up with a different way of attacking Donaire because it's not going to work for him to charge forward into Donaire's left hook.
It might work if Darchinyan keep's right hand held high while he's rushing forward, but I wouldn't bet on that. They scouted out Darchinyan really well before they agreed to this fight, and they evidently have noticed that Darchinyan has lost two out of his last four fights.
In a perfect world Donaire would be fighting a rematch against Rigondeaux this Saturday instead of someone with 2 losses in his last 4 fights, but I guess there were come concerns with the skills that Rigondeaux would bring to a second fight. If Donaire's promoter Bob Arum does want to eventually put Donaire back in with Rigondeaux then he should do it sooner rather than later because Donaire badly needs to redeem himself for that loss because he's not seen in the same light by boxing fans after the way Rigondeaux clowned him. Beating Darchinyan won't fool anyone about Donaire unless it's a fan that doesn't follow boxing and isn't aware of where Darchinyan stands in the super bantamweight division. This fight isn't even going to be taking place at super bantamweight. It's a fight that will be held at featherweight. Darchinyan, who is more of a super flyweight, wanted a catch-weight, but he didn't get his wish, so he's going to be facing the bigger Donaire at featherweight. Darchinyan thinks he's the stronger puncher of the two. He'll have an opportunity to prove that on Saturday night, but he's going to have to show more defense this time around if he wants a chance to show what he can do.