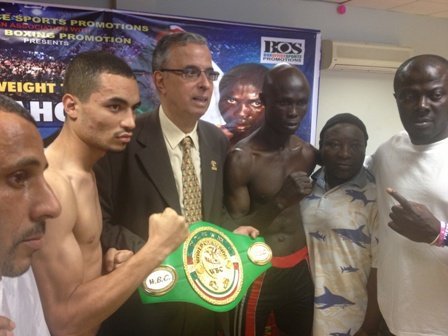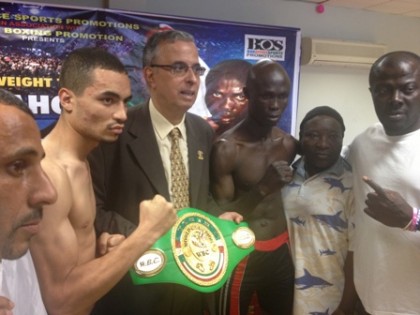 All is set for the epic clash for the WBC Youth Welterweight championship in Accra on Friday night after a successful weigh-in by Frank Dodze of Ghana and his Algerian opponent, Nasreddine Dahou Thursday morning at the Accra Sports Stadium.
The unbeaten Dahou has sworn to return home as the new WBC Youth champion but Dodze is equally adamant the title is staying right here in Ghana after Friday night, setting the stage for a thriller at the Will Power Boxing Gym after both boxers weighed exactly 147 lbs under the supervision of WBC Africa President, Houcine Houichi of Tunisia.
"Ghana is my country, they like me and they like my team. I personally love the (Ghana national soccer team) Black Stars and I'm very happy to fight here in Ghana. I thank my team, Box Office Promotions, Mr. Otoo and the GBA for bringing me this title fight. It's my dream to win the WBC title and I promise to give you a good show with a good fight," Dahou told the Ghana based website, www.sportsinghana.com after clearing his weight.
But not ready to give in is the determined and swashbuckling Frank Dodze who is so confident of victory he has predicted how the fight will pan out tomorrow night.
"So far as the title has come to Ghana, it won't return, it's remaining here. I promise Ghanaians that I will win for the country. I believe that God is just giving this title to me. No arguments, no debates, I've already taken this title. He will not go past six rounds," Dodze said, abashedly.
However, the Algerian's father who also doubles as his manager, Mokhtar Mohammed Dahou who led Team Dahou into the country on Tuesday, says claiming the WBC Youth belt is the first step on the road to many glories for his son cum boxer.
"It's with so much pleasure to see my son who is at the same time my boxer fight for the highly regarded WBC title in our second country, Ghana. I trust my boxer, I'm not here to return to my country empty handed because he's been training for this fight for 5 months. He is undefeated with two titles already, the Algeria title and UBO (Universal Boxing Organisation) All-Africa which he won in Tanzania," Dahou Snr said.
Mohkhtar Mohammed Dahou explained further: "I know he will win this title because I already saw him fight and win in Tanzania. He's young, only 21 years old but with a good experience to win this fight. My dream as a promoter is to win world title with him in US and I believe my brother, Solomon Otoo who got this WBC title fight will also create the chance. To me he is the best matchmaker ever, I am so grateful to him."
Also in on the victory chorus for Nasreddine Dahou is his trainer, Benaceur Khaled who is setting some lofty targets for himself as well as the boxer, of course.
"I'm here to win with my boxer, not to play but win the title and take back to the people of Algeria. It's my dream to win a world title with Nasreddine so this is just the first step," former Algerian champion, Khaled said.