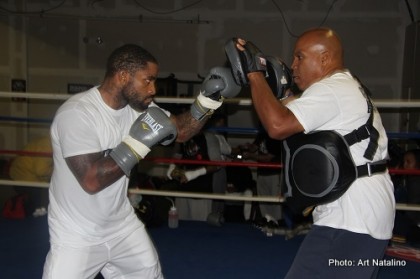 Brooklyn's Curtis Stevens took the time to discuss his upcoming Nov. 2nd showdown with WBA/IBO Middleweight Champion Gennady Golovkin, on Wednesday. Formerly the training base of legendary World Heavyweight Champion Larry Holmes, Pintabone's Boxing Gym serves as the host for Stevens' training camp, as he prepares to challenge the dangerous Golovkin at The Theater at Madison Square Garden. The ever loquacious challenger exuded confidence as he broke it all down for press. The fight will be televised live by HBO.
Does his power concern you?
"The question is does my power concern him?"
If you hit Golovkin and he doesn't go down, what are you going to do?
"Hit his ass some more!"
Abel Sanchez says Golovkin has a good chin. It seemed like you were doing work to the body today and he hasn't really been tested to the body. Is that part of your focus?
"We are focusing on everything – head, body. You gotta break the body down, then the head will come. (We're working on) different things, plan A, plan B, plan C. It's not going in with just one game plan. It's not just one thing. It's a different variety of plans."
It seems like Gennady respects you, but his trainer doesn't. How do you feel about his trainer not respecting you?
"His trainer I believe is trying to keep Gennady focused on what he's doing. I believe he's trying to keep him level minded. Gennady is giving me respect, I believe he has some type of fear of me. I think Abel was trying to say different things to balance it out… It covers the middle. It's not a good thing. It's not a bad thing. I just gotta prove Abel wrong and Gennady right."
Obviously Gennady has the length advantage on you. How are you going to overcome that?
"Romero Johnson had the length; Ayala had the length; Roman had the length; Jose Spearman had the length. This is how it's been all along. I've always been the shorter guy. To me it really doesn't matter. I believe I have a little more reach than him. It's my power. I know I'm much more strong than him. So all that stuff really don't matter."
What is the plan for this fight?
"I'm going in there to relax and I'm going in there to have fun. I'm going in there to do what I do. The question is, will he come out and fight me just as much as he do the other fighters, you know, when I come towards him? He may bounce around the ring, he may shadowbox . I've seen him fight. I gotta see what he comes out with. I'm not gonna change my game plan. I'll box just as much as I can pressure you. I'm coming in there ready to win."
Is it going to be Curtis Stevens the puncher or Curtis Stevens the boxer?
"I don't know. I may mix it up. I may get on his toes, I may razzle and dazzle his ass, cut him up. Or I may just go in there and take it to him, move a lot, just beat him down. But it all depends on him you know? I don't know, he may come in there and want to fight. He may want to come in there and box. Because he knows I have power, he may be leery of that in his mind. Abel says he's gonna knock me out. I don't know if Abel is just hyping him up or hyping just to talk in general. But Gennady only fights one way – it's come forward. I believe he's going to come meet me in the center of the ring. And if he does, it should be an early night."
Is Golovkin the animal or monster people say he is?
"No…I'm not sold. So on Nov 2 I'm just going to put him back on the shelf!"
"On November you can expect fireworks. I don't know if it's going to be the first, the twelfth or somewhere in between, but there are sure going to be fireworks. I'm coming to win!"
Any Final Words?
"I feel great, strong as ever. I'm moving faster, I'm quicker than I expected. I'm just ready. I'm just ready to go in there and destroy him."