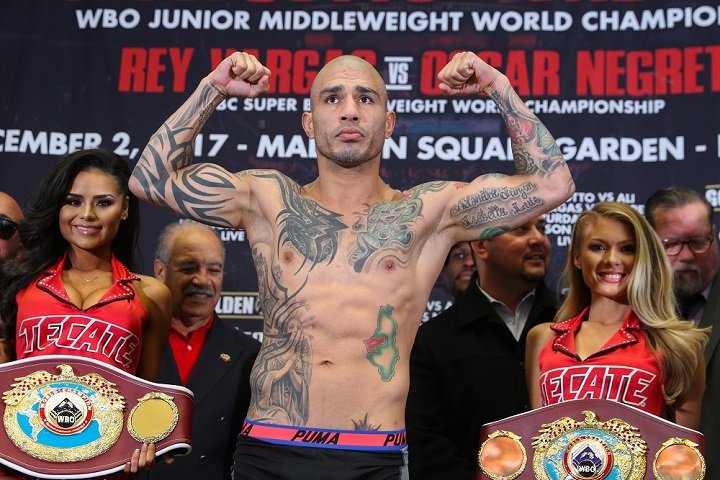 Arguably the finest fighter to have come out of Puerto Rico, four-weight champion Miguel Cotto said goodbye last night in New York, leaving the sport he lit up in a major way with class and dignity. Cotto doesn't go out with the win he and his fans wanted – a faster, younger, bigger Sadam Ali instead winning a pretty wide 12 round UD over the 37 year old great, but Cotto goes out on his own terms all the same.
Cotto was unable to cope with the speed and movement of Ali, 26-1(14) and the former king also injured his biceps in the seventh-round. Dropping a decision that read 116-112, 115-113 and 115-113 again, Cotto walks away with a 41-6(33) record. But more than that, Cotto walks away "feeling good," with no excuses.
We are not surprised at the way Cotto refused to make any excuses about last night's defeat, as the proud and hugely popular warrior has always been both humble in victory and gracious in defeat. Though there was nothing controversial or debatable about last night's decision, Cotto has throughout his career suffered a couple of points defeats that were debatable. Cotto, for example, remains convinced, along with his great trainer Fredie Roach, that he deserved the decision after his 12 rounds with Canelo Alvarez a couple of years ago.
But Cotto has never moaned or groaned, he was a proven great who always fought the best and he always gave the best he could on the night. In time, fans will largely forget about Cotto's loss to Ali, instead recalling the great nights Cotto had against the likes of Ricardo Torres, Paulie Malignaggi, Zab Judah, Antonio Margarito (Cotto scoring sweet revenge over the ultimate bad guy in fight-two) and Sergio Martinez.
And in defeat, against Manny Pacquiao, Foyd Mayweather, Margarito (who was, we all strongly suspect, aided by "loaded gloves," or wraps) Austin Trout, Canelo and Ali, Cotto was heroic and inspirational. Cotto's departure from the sport really does signal the end of an era and we will all miss Cotto.
It's an absolute certainty that the former 140, 147, 154 and 160 pound ruler goes into The Hall of Fame when the time comes. All that remains is for his many millions of fans to say thank you to Cotto for all the great fights.