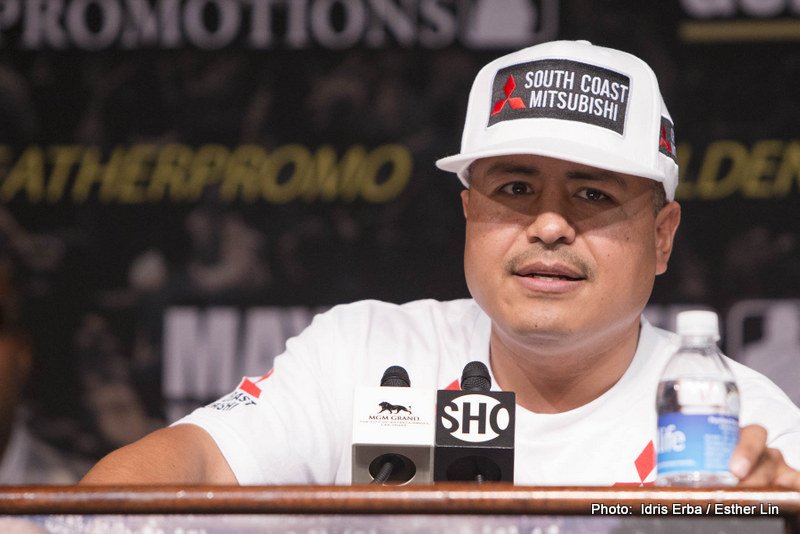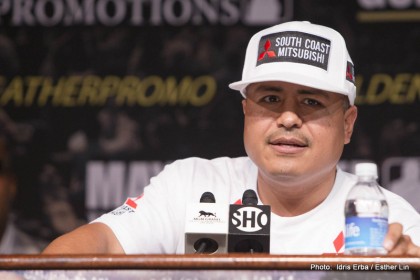 California based trainer Robert Garcia has weighed in on the issue of the vacancy left at the top of the sport by Floyd Mayweather's retirement, picking Mexican 154 lb star 'Canelo' Alvarez and murderous punching middleweight Gennady Golovkin as those best placed to take over "Money's" mantle as boxing's biggest star.
Speaking to fighthype.com from his Oxnard training base, Garcia also predicted that his younger brother Mikey could also start troubling the upper echelons of the P4P rankings when he eventually returns to action.
The younger Garcia – an undefeated former 2 weight champ – is currently sitting out the terms of his disputed Top Rank contract – which he claims ended after January 2014 fight with Carlos Burgos, although the company disagrees. Legal proceedings continue to grind through the courts, although Mikey has stated many times previously he would be happy to stay with Top Rank, just under improved contractual terms.
"At this point I'd say Canelo is up there, where he's got a big following," Robert said."Triple G is getting huge in boxing, he's starting to get a tremendous following – and he's already gonna be headlining a PPV, without even having to fight a big Mexican name or something.
"I feel he's gonna do really good, so Triple G, Canelo, they're up there. I think when Mikey comes back and you give him 3 or 4 fights – 1 or 2 might be too soon – in a year, year and a half, then I think Mikey could take that position too."
Twitter @Undilutedpoison