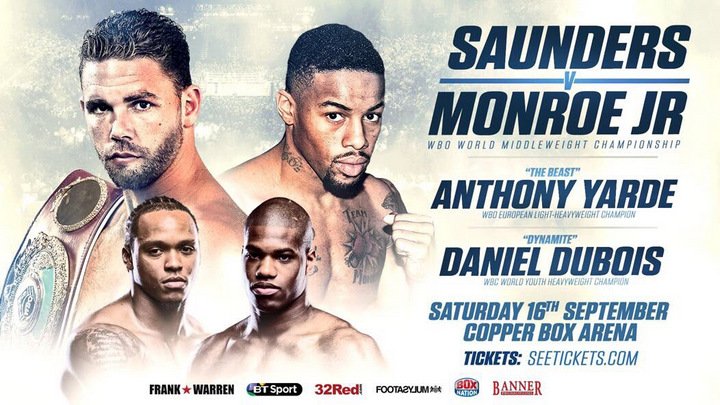 The undisputed middleweight championship of the world. This is the lofty title that one fighter may lay claim to before the end of 2017, or in the early stages of 2018.
Not too long ago, unbeaten and, before now, heavily avoided Kazakh warrior Gennady Golovkin looked like the only fighter capable of scooping up all four universally accepted 160 pound titles – WBC,WBA,IBF,WBO – but now, with GGG's upcoming fight with Canelo Alvarez viewed by most as a 50/50 clash, and with the winner set to face the winner of the WBO title fight that will go down that same night, between Billy Joe Saunders and former GGG victim Willie Monroe Jr, there are differing opinions on who may become THE middleweight king in five to seven months from now.
We are all currently debating what will happen when Triple-G and Canelo rumble in Las Vegas on September 16, and it has now been said that the winner of the biggest fight of the year will move on and face the winner of Saunders and Monroe, who will fight that same night, in London.
Not since the glory days of Marvelous Marvin Hagler has the middleweight division and its undisputed title been so hot. It may be that GGG proves too hot for the smaller Canelo, then beats the BJS-Monroe victor to make his dream of holding all major middleweight belts a reality. Then again, maybe Mexican superstar and destructive body puncher Canelo, having waited for the perfect time to get it on with GGG, will score his career-best win in September.
Whoever wins in Vegas will likely, without disrespect, have little to worry about in facing whoever it is who emerges with the WBO belt that same night. Monroe of course has already been stopped by GGG (even though his fast hands gave Golovkin a few problems early on) and the Philly slickster would be a big underdog against Canelo; while not too many people seem willing to give Saunders much of a shot at beating either GGG or Canelo.
But strange things happen in boxing, and maybe, just maybe, Monroe gives Canelo fits, or maybe Saunders gives either GGG or Canelo real trouble. We will find out if things go as plan, and we will, in the coming months, have an undisputed world middleweight king.
Who will it be: GGG? Canelo? BJS? Monroe Jr?
It's going to be fun finding out, and the whole world will be watching. The fight, the one that will see two fighters slug it out for all four world middleweight titles, will be one huge, huge deal.