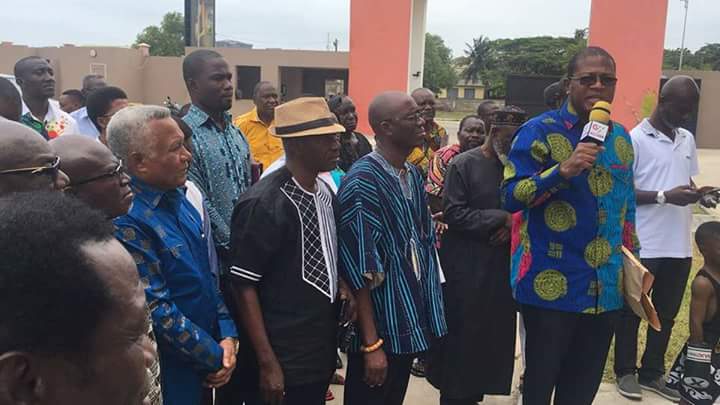 Boxing is on the rise in Ghana and the official launch of a new boxing league christened 'Bukom Fist of Fury' to bell off on September 28 as well as opening of a new office for the operations of the Ghana Boxing Authority (GBA) at the plush Bukom Boxing Arena in Accra on Friday has just taken it a notch higher. As well, a new 7-member juvenile committee was inaugurated to chiefly supervise the juvenile division of the Bukom Fist of Fury in partnership with the Ghana Education Service in a bid to encourage boxers to combine the sport with school.
Fight talent has never been in short supply in the West African country famous for producing Azumah Nelson, the 'Professor' who thrice held the world title, a feat achieved by seven others from this country most recently, Isaac 'Royal Storm' Dogboe, the 23 year old who captured the WBO junior featherweight strap so impressively in April.
Aside Nelson and Dogboe, Ghanaian boxing has produced several other world beaters over the years, David 'DK Poison' Kotey, 'Marvelous' Nana Yaw Konadu, Alfred 'Cobra' Kotey, Ike 'Bazooka' Quartey, Joseph King Kong Agbeko, Joshua 'The Hitter' Clottey and Emmanuel 'Game Boy' Tagoe have all lifted the Ghanaian flag on the world stage at various times and the newly re-launched boxing league to feature juvenile, amateur and professional fights each fight night every two weeks, has been hailed as the perfect platform to unearth and hone talents to further enhance boxing's already undoubted credentials as Ghana's most successful sport.
"This is a step in the right direction and we are delighted to give the GBA our full support. Over the years boxing has produced a lot of world champions, boxing is the sport that lifts the flag of Ghana high globally. I'm informed that if we invest a quarter of what is invested in football into boxing, the sky would have been our limit," said Majeed Bawah, Acting Director-General of Ghana's National Sports Authority (NSA).
"The problem is that Ghana doesn't have a sports policy to influence such decisions but I think the time has come for us to revisit the issue of sports policy. Our doors are always open at the NSA to support everything we can all do to lift the name of boxing in Ghana," Mr. Bawah added.
The brainchild of former GBA Chairman, Moses Foh-Amoaning under whose tenure, the defunct Mortein boxing league in the mid-2000s so successfully unearthed and pushed up talents including future world beater, Agbeko and George Ashie who will go on to win the Commonwealth title, this new tournament sponsored by state-owned Ghana National Petroleum Company (GNPC) with support from Agricultural Development Bank (ADB), will be interlaced with musical performances by some of Ghana's top artistes like Sarkodie and Shatta Wale as well as fashion shows depicting Ghanaian culture backed by an available food court to serve Ghanaian dishes and eventual after-fight parties, all in efforts to create and enhance business, recreational and tourism ventures for Ghanaians of various persuasions.
Launched in the presence of the first man to win a world title for Ghana way back in 1975, D.K. Poison as well as Joseph Agbeko who twice held the IBF world title, the over 48 boxing gyms in Accra are scheduled to be metamophorsed into 18 to engage each other in ring battles in all juvenile and amateur divisions in collaboration with the Ghana Boxing Federation which runs amateur boxing in Ghana every fight night alongside a sizeable number of title fights in the professional ranks. Not to be left out will be exhibition fights by combined teams from each of the rest of Ghana's ten regions who were also presented with a boxing ring and equipment each by the GBA on Friday as the agenda to develop the sport nationwide gains momentum.
"Competition is basic to the success of any boxing nation so 26 tournaments bi-weekly in a year, this is just what our boxers need. We shall have professional fights for national and Africa titles each night and I'm told we have a Commonwealth title fight confirmed for our first event on September 28," Mr. Foh-Amoaning explained at the launch.
"We want to focus on juveniles because for any sport, if you don't bring the juveniles up to develop into amateurs who will go to the Olympic Games and other international competitions for exposure then become professionals ready to take on the world, then you have a problem. Juvenile boxing will be school based so the schools will also be here to cheer on their colleagues," Foh-Amoaning said.
But most grateful of all certainly was Peter Zwennes, the affable President of Ghana Boxing Authority who couldn't hide his excitement over the quadruple of events he was overseeing in a single day about a year into his second term leading the revival of Ghanaian boxing.
"It's just a sense of relief because since the maiden Mortein Boxing League with resounding success several years ago, successive administrations tried to get support for the boxing league to be revived again but it has been difficult. We all know how helpful the league will be to the futures of our boxers so we are delighted its back thanks to GNPC who graciously agreed to sponsor due to the good work of our former chairman, Mr. Foh-Amoaning," said Mr. Zwennes.
"We are very grateful to GNPC especially their board chairman, Freddy Blay whose late brother, Eddy Blay was incidentally one of the best amateur boxers this country has ever produced. We hope that the return of the league will enable professional boxing as it has always done, continue to produce world champions and put Ghana on the world map as one of the best boxing countries," the Ghana boxing chief added.