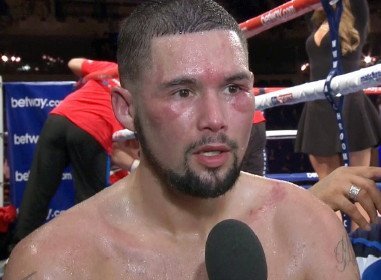 Though the fight hasn't been officially announced yet there has been plenty of talk over how WBC cruiserweight champ Tony Bellew will make the first defence of his belt against BJ Flores on October 15 in his native Liverpool. Eddie Hearn, Bellew's promoter, is expected to make an official announcement regarding the Liverpool show next week some time. But Flores, at 37 knowing he will be getting what will likely be his last title shot, is already promising to both school and then knock out Bellew – a fighter he has been calling out even before "Bomber" won the WBC belt by smashing the dangerous Ilunga Makabu in May.
Speaking with RingTV.com, Flores, 32-2-2(20) said he feels Bellew will underestimate him, to his detriment.
"Nothing Tony can do will break me down or surprise me," Flores said. "Yet he will greatly underestimate me and be very surprised in the very first round. I will take him to school before I knock his ass clean out!"
Bellew and Flores have been going back and forth on Twitter for some time now, swapping insults. Bellew calls Flores a "nightclub fighter," who he doesn't like, perhaps because Flores is good friends with David Haye, another fighter Bellew wants to tangle with. Bellew says Haye has been conning the fans with the poor quality of his recent comeback opposition. The Haye fight may come later for Bellew, but first comes (or is expected to come) Flores.
Never stopped in his long pro career (that has had some inactive spells), Flores has fought some good names, such as Danny Green in Australia and, in his last but one fight, Beibut Shumenov. That fight, last summer, contested the interim WBA 200-pound title and many people agree with Flores when he says he was robbed of a deserved win. The loss still angers Flores and it seems he is ready to make the most of his shot at Bellew, 27-2-1(17).
Will Bellew prove too strong, aggressive and too hard a puncher for Flores, or will the challenger do as he says and shock the Brit? It could be a good fight, hopefully an exciting one.