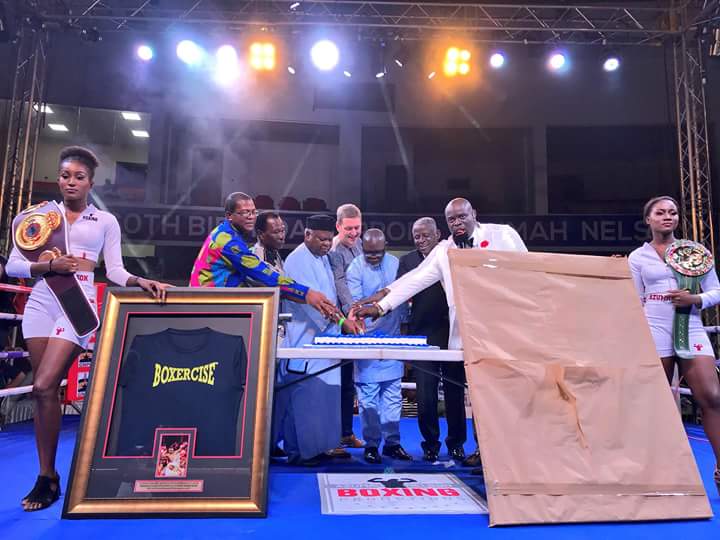 Patrick 'Alige' Ayi defied the odds to annex the Ghana super featherweight title via a split points decision in Accra on Saturday night despite fighting with one hand all night long in the main event of the Azumah Nelson Fight Night in honour of the legendary Ghanaian boxer.
Ayi, an orthodox boxer came into the fight apparently with a broken right hand but impressively adjusted into a southpaw mode to render Osei Bonsu's game plan totally redundant whilst delivering one telling blow or another. In the end, two judges at ringside saw enough to award Ayi 117-115 and 117-113 against the third who scored it 117-114 for Bonsu who thus lost the title he won only last December at the very first defence.
On a night dedicated to celebrating the legend of Azumah Nelson, the former 3-time world champion who turned 60 years on Thursday, Sheriff 'One Time' Quaye was also a big winner after scoring a round 7 TKO against old foe, Benjamin 'Daddy Lumba' Lamptey to repeat his win over the same opponent in their first clash back in 2016. Quaye edged a close split points decision back then on the night the Bukom Boxing Arena was officially commissioned by then Ghana President, John Mahama but Lamptey never accepted the verdict. Quaye promised to silence him for good and that he did on Saturday night, dominating and punishing the obviously rusty Lamptey (in his first fight since their 2016 battle), so much the referee had no choice than to call off the fight and hand Quaye the Ghana lightweight title just after halfway of their scheduled 12-rounder.
Big talking Michael 'One Bullet' Ansah lived up to his pre-fight brags by turning out a clinical performance to see off Isaac 'Zongo Fire' Dowuona on unanimous points in their Ghana super featherweight eliminator. 99-93, 99-90, 99- 94 the scorecards read in favour of Ansah who has now called out newly crowned Ghana champ, Patrick Ayi of course.
In a stunning upset however, world title chasing Emmanuel 'Kwahu Tyson' Danso suffered a round 6 knockout at the hands of Stephen 'Anero' Abbey. It's a third straight defeat for Danso but the first on Ghanaian soil, throwing all his championship ambitions into question.
The first fight of the night saw WBA Pan-Africa super featherweight champion, 'Seunzy' Wahab Oluwaseun score a round 6 knockout against Mouibi 'Togo Warrior' Sarouna in their international super featherweight contest to maintain his march towards world glory.
But the biggest cheer of the night obviously belonged to the great Azumah Nelson who once again received a plethora of eulogies as well as presentations from various individuals and entities including the World Boxing Council (WBC) whose featherweight and super featherweight world titles he won a total of three times during a staggering pro career spanning 46 fights, 39 victories. The WBC who also named Nelson their greatest super featherweight of all time in 2014 after his induction into the International Boxing Hall of Fame in 2011, this time gave him a silver vase as well as customised belt and jacket which is sure to sell all over the world.
"I want to say a big thanks to Ghanaians for the love you have and continue to show me. I kept you up at night many times during my active boxing career but instead of being angry with me, you rather loved me. You accepted me, fasted and prayed for me, you sacrificed your sleep just to see me knock out my next opponent," Nelson said in a speech after a birthday cake was cut for him in the ring.
"I can't pay each one of you for the resources spent on me but ask God who is the creator of the universe to give you hundred times whatever you have spent and always remember that Azumah Nelson loves you. God bless you, God bless Ghana boxing and God bless Ghana," said the legend.
Azumah Nelson added: "To the WBC, I appreciate the honour and I hope it inspires young boxers to work hard."
Ghana Boxing Authority President, Peter Zwennes who presented the WBC vase, belt and jacket to Nelson, minced no words in his eulogy about the 'Professor.'
"This legend has been a blessing to this country. Singlehandedly in the 1980s, he lifted high the flag of Ghana. He put this country on the world map and since then we've had our recognition because of him," Mr. Zwennes said.
"We are grateful for his life and thank God for mercies. We pray that he finds success in his endeavour just as he did in his title fights and defences," the Ghana boxing chief stated.