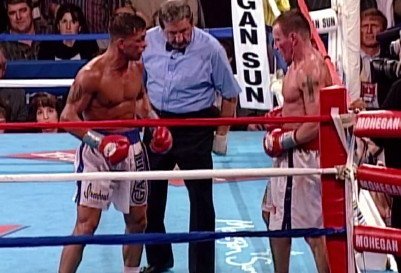 By James Slater: Sadly, as we all know, Arturo "Thunder" Gatti passed away in July of 2009 (with still no definitive answer as to what happened that tragic day in Brazil), but had he lived, Gatti would soon be very interested in seeing whether or not the boxing writers of the day deem him worthy of being enshrined in The Hall of Fame in Canastota.
Gatti, who retired with a 40-9(31) ledger, is on the 2013 inductions ballot; leaving it to today's influential and highly respected experts to either vote him in or decline to do so. One such expert, ESPN.com's Dan Rafael, has said it will be a tough call indeed. For while Gatti lost nine times, being stopped on 5 occasions, "The Human Highlight Real" lit up the sport like few other pugilists (the nickname really says it all). Some argue how Gatti is THE most exciting warrior of modern times, if not in all of boxing!
Sure, that's some praise, but maybe Gatti is deserving of it. Maybe Gatti is also deserving of being voted into IBHOF hands down. And it sure will be tough for anyone who ever saw Gatti thrill to forget the thrills this amazing warrior with a ton of heart and limitless bite-down courage and guts provided his sport with.

Some highlights from the incredible career of "The Human Highlight Reel:"
WU12 Tracy Harris Patterson, Dec. 1995 – Gatti's first world title winning fight and one of his first classics.
WU12 Patterson, Feb. 1997 – the rematch.
WTKO5 Gabriel Ruelas, Oct. 1997 – an awesome slugfest with a stunning ending.
LS10 Ivan Robinson, Aug. 1998 – Gatti lost this one, and the return, but he sure gave his all in providing some of his most mesmerising action.
LU10 Robinson, Dec. 1998
LM10 Micky Ward – May 2002 – Arguably THE greatest action fight of Gatti's entire career, with a round that Emanuel Steward told us was "the round of the century!"
WU10 Ward and WU10 Ward, Nov. 2002 and Jun. 2003 – Putting way more than just the finishing touches to this once-in-a-lifetime trilogy.
Gatti won world titles at super-featherweight and light-welterweight and he took part in a number of Fights Of The Year.
Quite simply, there never will be another fighter like him.
But being enshrined in The Hall is arguably THE highest single honour a fighter can have bestowed upon him. Is Gatti deserving? What do you guys think? (it really would be interesting to see how the votes came in if the fight fans – the guys and gals who pay a fighter's wages – were allowed to vote on such matters).
Gatti aside, boxing has seen other amazing, blood and guts warriors give their all in the squared circle: fighters such as three-weight king Iran Barkley and British slugger and two-weight, long-time ruler Nigel Benn for two examples. These guys aren't in at Canastota, should Gatti have the posthumous honour?
As some have already noted, this one is a tough, tough call.
For what it's worth, this fight fan put a big cross in the box next to Gatti's name. Arturo should be among the immortals.