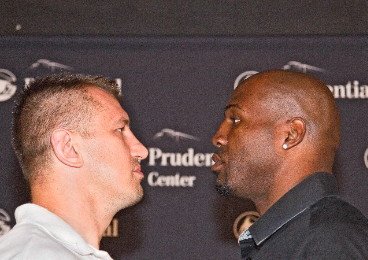 By Rob Smith: Former two division world champion Tomasz Adamek (46-2, 28 KO's) faces 6'4 1/2″ Travis Walker (39-7-1, 32 KO's) next month on September 8th at the Prudential Center in Newark, New Jersey. The reaction to this fight is mixed with many Adamek supporters seeing the 33-year-old Walker as being a good test for the 35-year-old Adamek, whereas others see it just another one of Adamek's many recent fights against 2nd tier opposition.
It's difficult to look at Walker's poor record of success in the last two years against decent opposition and think it's a good test for Adamek. Walker has lost pretty much every time he's stepped it up against better opposition and in some cases, he's even getting beaten by 2nd tier quality opponents. In the past two years, Walker has lost to Johnathan Banks, Alex Leapai, Ruslan Chagaev and Kubrat Pulev.
While I think Banks and Leapai are decent opposition, I don't feel that either of them are top 15 quality contenders. I know Banks is ranked #15 by the World Boxing Organization, but I don't agree with that ranking at all. To me, Banks is a 2nd tier fighter, and the fact that he knocked Walker out tells me that Adamek has done his homework really well by picking yet another beatable opponent out for him to look good against.
Adamek was stopped last year by WBC heavyweight champion Vitali Klitschko in the 10th round in a fight where Adamek looked like he didn't belong in the same ring with Vitali. Before that, we'd seen Adamek beating guys like Andre Golota, 42, Michael Grant, 39, Kevin McBride, 37, Vinny Maddalone, 36, Jason Estrada and Chris Arreola. The win over Arreola was a good one, except that it's still unclear if Adamek would have won had Arreola not hurt his left hand in the 2nd round. But the soft opposition that Adamel fought to get a world title shot against Vitali failed to prepare him in any way for what he was going to have to deal with in that fight, and it was embarrassing to see how overmatched Adamek was.
Since losing the fight to Vitali, Adamek has beaten Nagy Aguilera and a ring rusty Eddie Chambers. I had Adamek looking the fight to Chambers last June, but Chambers may have been asking for it by agreeing to fight Adamek in his hometown venue in Newark, New Jersey.
Walker certainly has the power to KO Adamek if he's able to land some of his big shots, but it's not inspiring to see how badly Walkers' struggled each time he's stepped it up against good opposition. Recently, he was soundly beaten by contender Kubrat Pulev in a sickeningly one-sided 12 round decision loss last October. Walker did rebound from that defeat to beat 42-year-old Kali Meehan by a 6th round stoppage last March, but that's kind of meaningless given Meehan's advanced age at this point in his career.