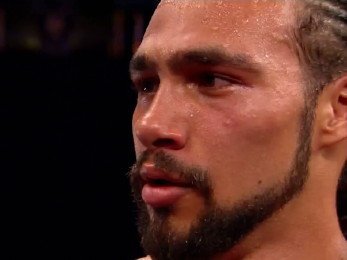 By Rob Smith: Andre Berto (28-2, 22 KO's) was beaten tonight by WBC interim welterweight champion Robert Guerrero (31-1-1, 18 KO's) by a 12 round unanimous decision at the Citizens Business Bank Arena, Ontario, California, USA. Guerrero knocked Berto down once in the 1st and another time in the 2nd. Those knockdowns helped Guerrero pound out a unanimous decision by the scores of 116-110, 116-110 and 116-110.
Berto, sporting a Mayweather-like left shoulder roll, chose to fight off the ropes the entire 12 rounds instead of the middle of the ring. This prevented Berto from taking advantage of his fast hand speed. However, it looked like he did this out of necessity for fear of running out of gas.
With Berto pinned against the ropes, Guerrero was able to dominate the action simply by tapping him with slapping shots for the entire fight. Berto landed some really big punches that snapped Guerrero's head in every round, but just like Selcuk Aydin, Guerrero's last opponent, Berto wasn't active enough to win the fight.